« Kate Obenshain Discusses Media Efforts To Bring Palin Down | Main | Glenn Beck Tells Off A Typical Stupid Socialist Medicine Loving Woman LOL Good One! »
July 18, 2009
Al-Qaeda Vows To Hit China Over Uighur Unrest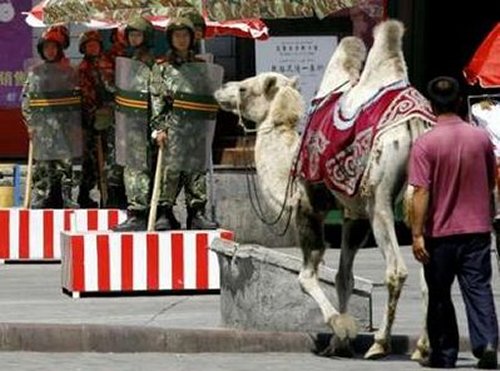 An ethnic Uighur man ushers his camel along in front of Chinese paramilitary policemen in riot gear standing on a platform on a main street in the city of Urumqi in China's Xinjiang Autonomous Region July 16, 2009. Security remains heavy in ethnic Uighur neighbourhoods of Xinjiang regional capital Urumqi after riots on July 5 between the Muslim Uighur minority and majority Han Chinese wounded more than 1,600.


.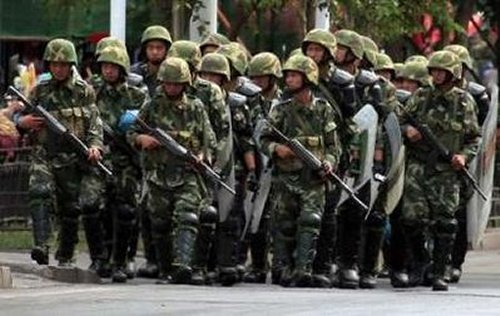 Armed Chinese paramilitary police in riot gear patrol a main street in the city of Urumqi in China's Xinjiang Autonomous Region

Al-Qaida declares jihad against Chinese
Response is to violent crackdown on Muslim Uighurs
Beijing is facing a new problem because of its recent harsh response to demonstrations in Xinjiang province resulting in the deaths of Muslim Uighurs – a threat of retaliation from al-Qaida.
The terrorist group has suggested it might attack overseas operations linked to China, which has dispatched hundreds of thousands of workers to the Middle East, North Africa and Latin America – all regions where al-Qaida has a capability of launching attacks.
Initial reports of the ethnic riots in Xinjiang province said that the number of Uighurs killed since the July 5 riots began in the city of Urumqi was 156, with another 1,100 injured. But the World Uighur Congress, or WUC, reported that the Uighur death toll exceeded 800.
In addition to the harsh Chinese troop takedown of Uighurs, the WUC reports that other Uighurs were lynched by Han Chinese. According to WUC general secretary Dolkun Isa, some four Uighur women students attending Urumqi University's medical school were killed and their heads cut off.
While thousands of Chinese troops were sent into Urumqi, their mission apparently was not to protect the Uighur minority. Uighur leaders said that Chinese troops opened fire on the Uighurs who were initially protesting peacefully.
"We have been hearing that bodies are lying in the streets in Urumqi," said WUC vice president Asgar Can. The WUC's main office is located in Munich, Germany.
WUC has called for Uighurs worldwide to demonstrate in front of Chinese embassies.
China had offered strong support to Washington against terrorism following the Sept., 11, 2001, terrorist attacks on the United States.
Human Rights Watch, however, is concerned that China "has construed that support against terrorism as a pretext for gaining international support – or at least silence – for its own crackdown on ethnic Uighurs in the Xinjiang Uyghur Autonomous Region."
"Beijing has long claimed to be confronted with 'religious extremist forces' and 'violent terrorists' in Xinjiang," a Human Rights Watch statement said. "Much like Tibetans, the Uighurs in Xinjiang have struggled for cultural survival in the face of a government-supported influx by Chinese migrants, as well as harsh repression of political dissent and any expression, however lawful or peaceful, of their distinct identity.
"Chinese authorities have not discriminated between peaceful and violent dissent, however, and their fight against 'separatism' and 'religious extremism' has been used to justify widespread and systematic human rights violations against Uighurs, including many involved in non-violent political, religious, and cultural activities," Human Rights Watch added.
While it may not help the Uighurs by having the terrorist group al-Qaida embrace their cause, the reality is that a branch of al-Qaida, the Algerian-based Al-Qaida in the Islamic Maghreb, or AQIM, has called for reprisals against China for its actions toward them.

Al-Qaeda vows to hit China over Uighur unrest
HONG KONG
Al-Qaeda is threatening for the first time to attack Chinese interests overseas in retaliation for the deaths of Muslims in the restive region of Xinjiang, according to a risk analysis group.
The call for reprisals against China comes from the Algerian-based offshoot Al-Qaeda in the Islamic Maghreb (AQIM), according to a summary of its report sent to AFP by the international consultancy Stirling Assynt.
"Although AQIM appear to be the first arm of Al-Qaeda to officially state they will target Chinese interests, others are likely to follow," said the report, which was first divulged by the South China Morning Post Tuesday.
Osama bin Laden's network has not previously threatened China, but the Stirling report said a thirst for vengeance over Beijing's clampdown in Xinjiang was spreading over the global jihadist community.
Hundreds of thousands of Chinese work in the Middle East and North Africa, including 50,000 in Algeria, estimated the group, which has offices in London and Hong Kong providing risk advice to corporate and official clients.
"This threat should be taken seriously," Stirling said, basing its information on people who it said had seen the AQIM instruction.

.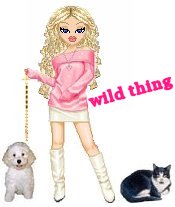 Wild Thing's comment........
I don't think the Chinese are going to start asking, "Why do they hate us?"
That the Chi-Coms are being threatened.....no I don't care about that. Sorry, I am not going to phony it up and act like oh dear me how horrible. Not as long as Chi-Coms are killing Christians in China which they are. Or that the al-Qaeda terrorists Muslim group the Uighurs are being threatened...nope not them either.
China will go all Tiananmen Square on any group that attacks their people, and they won't give a hoot about the U.N., or anyone else for that matter. China won't read them their Miranda rights, that's for sure.
al-Qaeda is about to find out what it means to take on someone who will take the fight right back to them without handwringing and politicking. They're going to wish they hadn't. The Chinese don't worry about having little boy kings on the throne who want to make nice with the enemy.

Look at this...............
China Trained Taliban And Al-Qaeda Fighters Says US Intel
6-22-02
China's military provided training for Afghanistan's Taliban militia and its al Qaeda supporters, according to a U.S. intelligence report.
The intelligence was obtained from anti-Taliban Afghan sources. It was surprising to U.S. analysts because China is a target of Islamic separatists, who are known to have been trained in terrorist camps in Afghanistan.
The training of the Taliban forces took place before September 11. It was carried out in cooperation with Pakistan's ISI intelligence service, defense officials told us.
The report, and others like it, was unwelcome news for some of the pro-China analysts within the U.S. government who are pushing the Bush administration to adopt a more conciliatory posture toward the communist government in Beijing. These officials point to China's cooperation in the war on terrorism, which has included intelligence sharing of limited value.
U.S. intelligence officials do not know why the Chinese provided the military training to Islamic radicals. But some analysts believe it was an attempt to gain influence over the Taliban and al Qaeda.
Another theory is that the Chinese military training was a high-risk variation on the Soviet deception operation in the 1920s known as the Trust. The operation created a false dissident organization in Russia. The group lured regime opponents back to Russia, where they were imprisonment or executed. The Chinese training could have been part of an effort to identify some of the thousands of Uighurs in China's western Xinjiang province, who are working with al Qaeda.
Evidence of Chinese military backing for the Taliban continues to surface. Late last month, U.S. Army Special Forces troops discovered 30 HN-5s, the designation for Chinese-made SA-7s surface-to-air missiles, in southeastern Afghanistan.
Other intelligence reports indicated the Chinese shipped missiles to the Taliban after September 11. China's government has denied supporting al Qaeda and the Taliban. ..."
.

....Thank you JohnE PFC U.S. Army for sending this to me.
Posted by Wild Thing at July 18, 2009 06:45 AM
---
Comments
Good news. Let the communist Chinese and the radical muslims go after each other. Kind of like the Iraq-Iran War in the 80's. A win-win situation for America.
Posted by: TomR at July 18, 2009 02:01 PM
---
Yeah the Chinese will not read them their Rights, on bullet and that will mirandize'em.
Posted by: Mark at July 18, 2009 03:29 PM
---
Hopefully red china will bleed itself white, and may they die by the same weapons that they gave to the taliban.
Posted by: JohnE PFC U.S. Army at July 18, 2009 03:46 PM
---
hi Mark,
Yes China will not read them their "rights" (as if they
have any) and hopefully will do what our troops should
be doing. Exterminating them like the vermin they are.

Posted by: Bob A at July 18, 2009 05:12 PM
---
Posted by: Wild Thing at July 18, 2009 05:38 PM
---
Mark,LOL that's for sure.
Posted by: Wild Thing at July 18, 2009 05:44 PM
---
JohnE PFC U.S. Army, that would be ok
with me.
Posted by: Wild Thing at July 18, 2009 05:46 PM
---