« Nancy Pelosi Unsure of Cap and Trade Bill's Passage | Main | Michael Jackson dies in LA hospital »
June 25, 2009
Troopathon 2009 Care Packages For The Troops

The "Honor Their Service" 8-hour pro-toop "web-a-thon" sponsored by Move America Forward runs from 1:00pm - 9:00pm Pacific // 4:00pm - 12:00pm EST, to send the largest shipment of care packages to U.S. troops in history.
Care Packages include many varieties of items, always with Coffee, Cookies, Beef Jerky, Gatorade and Jelly Bellys, and could also include any or all of the following:
Boca Java Gourmet Coffee
Oreo Cookies
Chap Stick
Deodorant
Premium Beef Jerky
Planters Trail Mix
Ocean Spray Craisins Trail Mix
Gatorade
Candy Diplomacy Jelly Belly Jelly Beans
For The Troops CDs
Hot Chocolate
Hot Apple Cider
Bug Repellent
Battery Operated Fans
Wet Wipes
Foot Powder
Sunblock
EVERY CARE PACKAGE comes with a personalized letter, note or comment from YOU to the receiving Soldier, Sailor, Marine, Airman or Coast Guardsman

.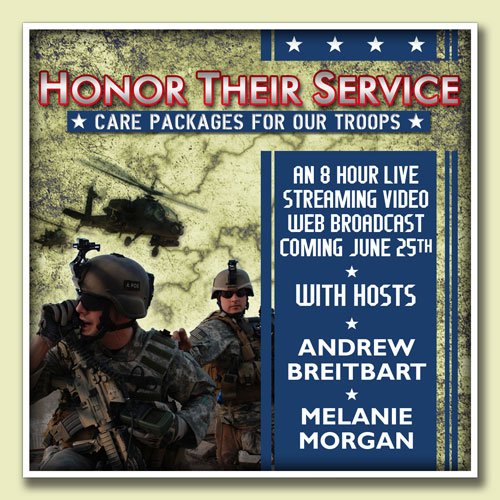 Posted by Wild Thing at June 25, 2009 07:55 PM
---
Comments
Wow, compared to C-rats those are gormet meals. Those care packages look and sound great.
"While some troops absolutely enjoyed C-Rats (or at least one or more items from them), seemingly everybody we interviewed (all services) agreed that the least liked ration was Ham and Lima Beans (referred to as "Ham and Muthas"), while the most hotly contested ration component in all branches of service was the fruit cocktail."
Every 4th box had a John Wayne key(Army called them P-38's) with it so after a couple of days everybody had there own key. That candy bar in the goody bag would bind you up for at least a day and a half. Of course every goody bag had 4 cigarettes, SP(most important), chicolites and matches. The "ham and limas" were especially gross, when opened, on the top, the first thing to greet you was a huge plug of fat about a 1/2 inch thick, cold you threw it away, if you could heat it and mixed it in it wasn't too bad.
A variety of 12 different meals. Old saying, 'Everyday's a holiday and every meal a feast.'
Have they ever come a long way. The MRE's are suppose to be pretty good.
Posted by: Mark at June 25, 2009 10:15 PM
---
Hiya, I saw the shootout and wanted to donate through your site sweetie. Thanks for making the event available.

--mech
Posted by: mech at June 25, 2009 11:16 PM
---
Posted by: Melissa In Texas at June 26, 2009 12:39 AM
---
Mark, thank you so much for adding that.

Posted by: Wild Thing at June 26, 2009 12:59 AM
---
Mech, thank you so much, I really appreciate
it.
Posted by: Wild Thing at June 26, 2009 01:01 AM
---
Melissa, hi good to see you.
Posted by: Wild Thing at June 26, 2009 01:02 AM
---