« Japan Apologizes for Bataan Death March | Main | Prime Minister Binyamin Netanyahu's Speech Was Brilliant »
June 15, 2009
Stephen Colbert Visits Our Troops ( Vidoes and Photos)

A clip of Stephen Colbert's first episode of when his show (The Colbert Report) goes on the road to Iraq for a week


.
.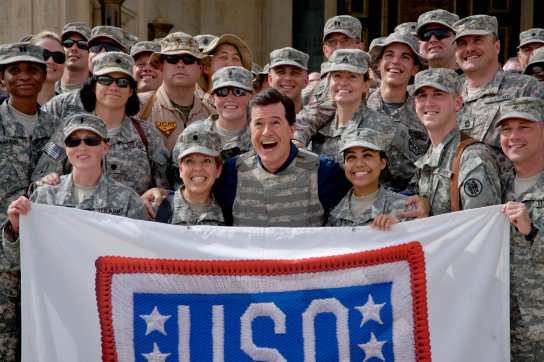 Stephen Colbert takes a photo op with service members at Camp Victory's Al Faw Palace in Baghdad, Iraq, June 5.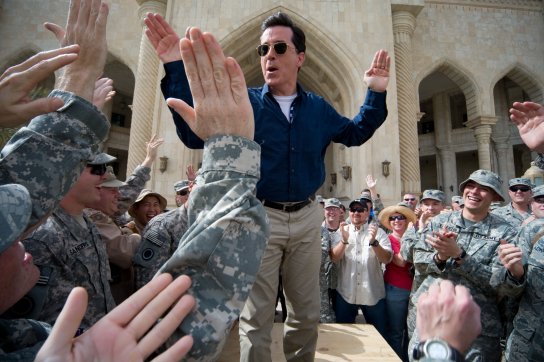 Stephen Colbert greets troops and civilians at Al Faw Palace at Camp Victory in Baghdad, Iraq, June 5, as part of his "Operation Iraqi Stephen: Going Command" tour
.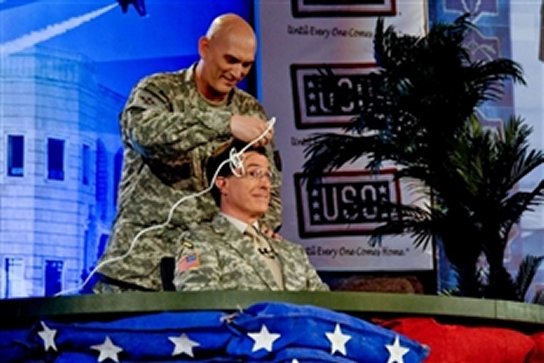 LOST LOCKS - Multinational Force Iraq Commanding Gen. Raymond T. Odierno helps Stephen Colbert become more "soldierly" by shaving his trademark hair into a more traditional military "buzz cut" in an episode of "The Colbert Report" broadcast from Baghdad. Colbert filmed a week of episode's from Camp Victory's Al Faw Palace in Baghdad as part of a USO tour. U.S. Army photo by Lee Craker
.
CAMP VICTORY, BAGHDAD, Iraq
It is official — Stephen Colbert came, saw and conquered Iraq, claiming victory on day three of his six-day adventure to the Middle East.
Arriving in a C-17 from Kuwait, Colbert landed at the Baghdad International Airport, June 5, and began preparing for his shows at Camp Victory's Al Faw Palace, as part of his tour "Operation Iraqi Stephen: Going Commando."
"We wanted to call it 'Feelin HOT, HOT, HOT: Papa's got a brand new Baghdad', but it was too many words," he said.
In March, Colbert announced his visit the Persian Gulf, but was forced to remain tight-lipped about the event in true operational security style. Since then, he introduced a new segment on his hit night-time talk show, trying to guess which one of the seven Persian Gulf countries occupied by U.S. forces he would visit.

Iraq was the winner.
In order to prepare for the trip, Colbert attended basic training at Fort Jackson, S.C. The training lasted a total of eight hours, although he says he "might have dipped out an hour early."
Now a slightly trained killer, armed with a smile and his "A" bag full of satirical humor, Colbert was ready to take his show live to Baghdad, where it would be recorded, edited and sent back via satellite to the U.S. It is something the United Service Organizations said was a first for any overseas tour they have organized.
Multi-National Force - Iraq Commanding General Ray Odierno asked Colbert to come and perform for the troops. However, Colbert says he came here for the buzz cut President Barack Obama ordered Odierno to give to him during the opening show at the palace, June 7.
"I also want to claim this as my military time if I decide to run for president in 2012," he said.
Colbert filmed four shows, which began airing in the United States the week, of June 8. The reaction from the service members here has been amazing, he said.
"It's been fantastic," he said of his welcoming. "All these people are so nice out here; I don't understand why they want to fight with each other."
Colbert noted that he knows nothing about the country of Iraq, aside from the few days he has been at Camp Victory.
"It's hot, it's sandy, the sun is blazing. It seems like Texas, but with fewer guns," Colbert said of Iraq.
He added that if he were to describe the country to Americans, concrete and blast walls would sum the landscape, and he compared the air quality to that of an exhaust system.
"Who had the idea to build an entire country in the tailpipe of a car?" he asked a crowd of about 400 people during his first show.
Stephen Colbert Greets Soldiers at Al Faw Palace
.
Soldiers, Airman, Sailors, and Marines packed the palace's rotunda every night of tapings, their thunderous cheers echoed off of three stories of marble walls. In addition to Odierno, guests included Iraq deputy prime minister Dr. Barham Saleh; Lt. Gen. Charles Jacoby, Jr., Multi-National Corps - Iraq commanding general; Command Sgt. Maj. Frank Grippe, MNC-I command sergeant major; Sgt. Robin Balcom and Spc. Tareq Salha.
Balcom, a native of Houston, Texas, is a military police officer with the 8th MP Brigade, 93rd MP Battalion's 463rd MP Company stationed in Fort Leonard Wood, Mo. Balcom was nominated for the show by her commanders because of the multiple tours she has served in Iraq. Being on the show was an opportunity she was glad she didn't pass up because it only happens once in a life time, she said.
Salha, an interpreter with 3rd Battalion, 7th Field Artillery Regiment, 3rd Brigade, 25th Infantry Division (Light), based in Schofield Barracks, Hawaii, said he enjoyed meeting Colbert because he was such a genuine person.
"He is trying to express what we, as Soldiers, go through in a fun way [on his show], and he succeeded," Salha said. "It was an outstanding experience, and I really enjoyed being able to speak on behalf of myself."
President Obama, Vice-President Joe Biden, John McCain, Sarah Palin and Tom Hanks sent out special thanks to the troops in pre-recorded messages that aired during the show. McCain's comment to "always take the time to remember to clean your musket," grew boisterous laughs, as people shook their heads in amusement. McCain said he learned the importance of a clean weapon during Valley Forge.
Sgt. Jennifer Miller, an awards clerk with Company B, Special Troops Battalion, Task Force Courage, had not seen The Colbert Report before attending the June 7 show.
"His comedy covers all ranges. He is willing to pick on anyone," Miller, a Madison Heights, Mich., native said. "He is very funny!"
Miller said Colbert's antics will definitely keep her watching from now on.
In addition to the night's performances, Colbert spent time meeting and greeting service members on Camp Stryker, another camp located within Baghdad's Victory Base Complex.
Roughly 200 people showed up for a chance at a picture, a laugh and a handshake with the comedian.
"It's a nice break in the day to come in here and meet him," said Staff Sgt. Jason Moldan, an Army Reservist with the 401st Engineer Company out of Oklahoma City, Okla. An avid fan, Moldan said it's been hard to catch Colbert's show since he's been deployed, but he still remains a steadfast member of the Colbert Nation.
"It's really great that celebrities can come over here and see us," said Moldan, a Minneapolis, Minn., native.
When asked if this was a great USO tour or the greatest USO tour, Colbert didn't miss a beat when he answered "the greatest." Camp Victory agrees.
.
.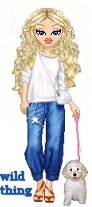 Wild Thing's comment......
LMAO I hope you all get a chance to watch each of the videos they are really good.
The only icky part is the one for a few second the POS Obama is on it telling him he has to get a hair cut. But If you can just ignore that tiny part all the rest of all of them are well worth it.
Very joyful to know our Troops got a few well derserved laughs.
They have magazines at the gym and the other day I read an article in Newsweek that Colbert guest-edited. He seems to be sincerely troubled at the current lack of coverage given to the war in Iraq and genuinely concerned that the sacrifices of our servicemembers aren't forgotten over there. He has raised hundreds of thousands of dollars for the Yellow Ribbon Fund (a charity that assists injured service members and their families), and he's a board member of DonorsChoose.org, which benefits the schools of military kids.
I have never seen his show and don't really know that much about him at all. But I am thrilled he went to see and thank our troops.He really has been supporting our troops and that makes me sooooo happy.
There is something else I noticed. When a celeb or anyone else that is well known goes to see our troops, I have noticed the ones that are the most sincere about being there, about their support, when they introduce themselves and give their name. It shows a humble attitude in a certain way that they realize the real Stars are our troops, and how we owe them everything. It isn't the attitude of you all should know who I am and be grateful that I am here, but instead it is HI my name is so an dso and I am honored to meet YOU and thankful for your service, how it is not about the celeb but about the solider, Marine, airman, Sailor etc. Bob Hope did that too and Gary Sinise as well and many others, it is just someting I have noticed.
Posted by Wild Thing at June 15, 2009 04:48 AM
---
Comments
I have not seen Colbert's show either. I will watch for it.
It is always grand when entertainers take the time and make the effort to visit The Troops. They bring a bit of America with them and show The Troops that they are recognized and appreciated.
Posted by: TomR at June 15, 2009 10:36 AM
---
Colbert IS very much a lefty Democrat, but he is at least grateful for the troops. My estimation of him has risen.
Posted by: Curmudgeon at June 15, 2009 11:41 AM
---
Tom, I agree, my favorites are when the
entertainer is there and he or she gets
the troops involved in the fun on stage
and makes them a part of the show.
He did this with his various videos and
that was really great.
Posted by: Wild Thing at June 15, 2009 07:20 PM
---
Curmudgeon, thank you for the information.
I actually hardly knew anything about him.
It doesn't change that for sure, but like Robin Williams too he is a total liberal and he loves our troops and they are wild crazy about him
too. I try to give credit to them for the
one thing, because it is so very important.
Posted by: Wild Thing at June 15, 2009 07:25 PM
---