« In Country With Our Troops in KABUL, Afghanistan | Main | Obama Insists Zelaya Remains the President of Honduras ~ LMAO Hello Obama »
June 30, 2009
Semper Fi and a Daughters Call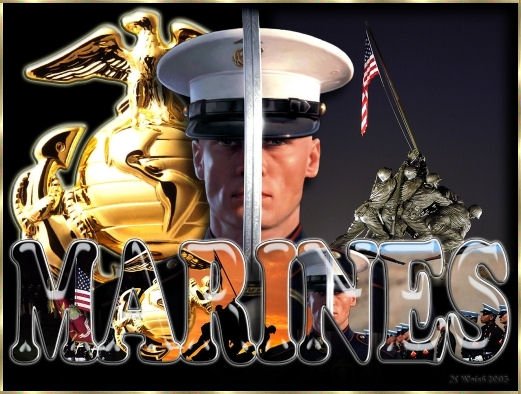 .

"My dad Angelo was in the hospital in Tacoma, Washington. A former Marine and veteran of the Korean War, he was having his third knee replacement surgery.
A long and very painful operation was going to be made even worse because dad was going through it alone. There was no one to hold his hand, no familiar soft voices to reassure him. His wife was ill and unable to accompany him or even visit during his weeklong stay.. My sisters and brother lived in California, and I lived even farther away, in Indiana. There wasn't even anyone to drive him to the hospital, so he had arrived that morning by cab.
The thought of my dad lying there alone was more than I could stand. But what could I do from here? I picked up the phone and called information for the Puyallup, Washington, Marine Corps recruiting station, where I joined the Marines ten years before. I thought that, if I could talk to a Marine and explain the situation, maybe one of them would visit my dad. I called the number. A man answered the phone and in a very confident voice said,
"United States Marines, Sergeant XXXX. May I help you?"
Feeling just as certain, I replied, "Sergeant XXXX, you may find this request a little strange, but this is why I am calling. " I proceeded to tell him who I was and that my father was also a former Marine and 100 percent
disabled from the Korean War. I explained that he was in the hospital, alone, without anyone to visit and asked if Sergeant XXXX would please go and see him.
Without hesitation, he answered, "Absolutely. "
Then I asked, "If I send flowers to the recruiting station, would you deliver them to my dad when you go to the hospital?"
"Ma'am, I will be happy to take the flowers to your dad. I'll give you my address. You send them, and I will make sure that he receives them," he replied. The next morning, I sent the flowers to Sergeant XXXX's office just as we
had planned. I went to work and, that evening, I returned home and phoned my dad to inquire about his surprise visitor. If you have ever talked with a small child after that child has just seen Santa Claus, you will understand the glee I heard in my dad's voice.
"I was just waking up when I thought I saw two Marines in their dress blue uniforms standing at the foot of my bed," he told me excitedly. "I thought I had died and gone to Heaven. But they were really there!" I began to laugh, partly at his excitement, but also because he didn't even mention his operation. He felt so honored; two Marines he had never met took time out to visit an old Marine like him.. He told me again and again how sharp they looked and how all the nurses thought he was so important.
"But how did you ever get them to do that"? he asked me.
"It was easy. We're all Marines, Dad, past and present.. It's the bond."

After hanging up with my dad, I called Sergeant XXXX to thank him for visiting my dad. And to thank him for the extra things he did to make it special: wearing his dress blue uniform, bringing another Marine along. He even
took a digital camera with him... He had pictures taken of the two Marines with my dad right beside his bed. That evening, he emailed them to me so I could see for myself that my dad was not alone and that he was going to be okay.
As for the flowers, they hardly mattered, but I was glad for the opportunity to express my feelings. The card read:
"Daddy, I didn't want just anyone bringing you flowers, so I sent the World's Finest.. Semper Fi. "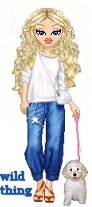 Wild Thing's comment.........
I love these stories. God bless this family and the Marine that answered the phone and the Marines. God bless all our military.

.

....Thank you Mark for sending this to me.


Mark
3rd Mar.Div. 1st Battalion 9th Marine Regiment
1/9 Marines aka The Walking Dead
VN 66-67


Posted by Wild Thing at June 30, 2009 05:45 AM
---
Comments
Love it! This is what Devil Pups do. Marines are the most loving and caring people around. Don't get me wrong, they are tough as nails, but they are also the biggest softies! Semper Fi!
Posted by: Lynn at June 30, 2009 08:26 AM
---
That's one great Daughter. Of course they'd come to visit another Marine, We take care of our own.
Semper Fi.
Posted by: Mark at June 30, 2009 12:28 PM
---
Thank you Chrissie, and Mark.
I both dread and look forward to visiting the American Lake Veterans Facility, no doubt Angelo was/is an outpatient there. You see the 'Angelo's' there at triage, every day, every damned day. You don't have to be a patient to pay your respects either, members of all branches appreciate a visit and a thank you. If you wonder why the sick call at AL, it's not NSU, m'kay :)
Thanks Marines.
Posted by: Jack at June 30, 2009 01:13 PM
---
Posted by: Odin at June 30, 2009 02:39 PM
---
Lynn, I agree,my two favorite Uncles, one
was a Marine and the other was Army.
Posted by: Wild Thing at June 30, 2009 07:08 PM
---
Mark, thanks again for the wonderful
story. It brought tears and a joyful
heart.
Posted by: Wild Thing at June 30, 2009 07:09 PM
---
Jack,thank you for sharing that.
I agree too, a person doesn't have to
be a patient or Vet. to visit and say
thank you.
Posted by: Wild Thing at June 30, 2009 07:14 PM
---
Posted by: Wild Thing at June 30, 2009 07:17 PM
---
Posted by: BobF at June 30, 2009 09:01 PM
---