« Far Left Group Greenpeace Opposed Waxman-Markey | Main | Terrorists Keep U.S. Aviation Licenses »
June 27, 2009
Obama's Pro-Sharia Legal Advisor Harold Koh Confirmed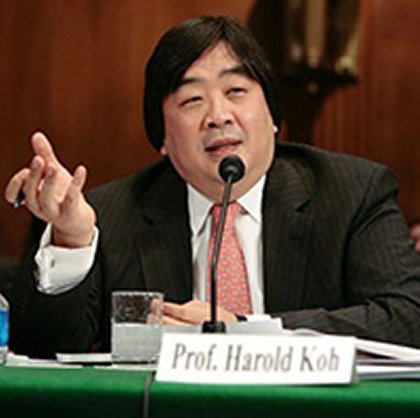 Obama's pro-sharia Legal Advisor Confirmed

Harold Koh Confirmed After Long GOP Delay

Yale Law School Dean Harold Koh was confirmed as the State Department Legal Advisor in a roll call vote, 62-35.
Koh was tapped for the job nearly four months ago, but has faced criticism from some conservatives for an alleged "transnational" approach to the law. But ranking Senate Foreign Relations Committee Republican Sen. Richard Lugar (R-IN) threw his support to Koh, in a statement Thursday:
"After reading his answers to dozens of questions, attending his hearing in its entirety, meeting with him privately, and reviewing his writings, I believe that Dean Koh is unquestionably qualified to assume the post for which he is nominated."
"Dean Koh is one of the foremost legal scholars in the country and a man of the highest intellect, integrity, and character," SFRC chairman John Kerry (D-MA) said in a statement. "He is exactly the type of Legal Adviser we need at the State Department, and I thank my colleagues for supporting his nomination."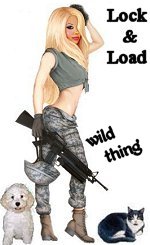 Wild Thing's comment....................
Koh is also a big Gun grabber. This guy is real bad news. But he fits Obama's agenda perfectly.
Obama's pro Islamist, anti American, anti Christian and black racist goals couldn't be more clear.
My other posts about KOH.......
Obama nominee sees no "reason why sharia law would not be applied to govern a case in the United States"

Critics Decry Obama Nominee for State Dept. Legal Adviser Harold Koh
"This is international imperialism. Under Koh's plan, the Constitution would become secondary and international law would take precedence regardless of what Americans said about the matter."
B.Hussein Obama's Most Perilous Legal Pick Harold Koh
On top of that, this Obama pick believes that "America's focus on the War on Terror [is] 'obsessive.'" And his list of countries that flagrantly disregard international law highlights North Korea, Iraq, and the U.S.A. -- which he collectively calls "the axis of disobedience."
Posted by Wild Thing at June 27, 2009 04:50 AM
---
Comments
EIGHT republicans voted in favor of this fat chicom fucker: Lamar Alexander (R-TN), Susan Collins (R-ME), Judd Gregg (R-NH), Orrin Hatch (R-UT), Richard Lugar (R-IN), Mel Martinez (R-FL), Olympia Snowe (R-ME) and George Voinovich (R-OH). Weak kneed traitors and cowards the lot of them. I'm beginning to think that there are certain turncoats sceming against America. Get ready for Waco and Ruby Ridge 10X. IMHO all the ATF can do is file BS charges to cover up their incompetence, burn down private residences and shoot kids in the back.
Posted by: JohnE PFC U.S. Army at June 27, 2009 12:43 PM
---
Thanks JohnE, that's the gospel.
Posted by: Jack at June 27, 2009 12:47 PM
---
Another anti American, anti Constitutionalist, globalist, Yalie. I would consider it amazing that Obama knows about all these people, but I have to remember that Obama has been running for president for years and also has the Soros group behind him to guide him with his picks. The Leftists are completely in power and they have many extremists to offer up for public office.
Posted by: TomR at June 27, 2009 01:00 PM
---
One more thing I'm very dissapointed in Fox. I know that these u.n. loving commies in the senate voted on this conveniently on a Friday so the state run media wouldn't talk much. But fox is just running with their usual celibrity-death 96 hour straight coverage just like anna nicole smith. There are more important things going on like the kenyan's agenda being just narrowly passed in washington, always because of a bunch of rinos; and the iranian version of Tiananmen Square. You know things just a bit more important than friggin michael jackson.
P.S. I'm really suprised Sen. Hutchinson didn't vote for him. I mean why not? She's voted for increased taxes, abortion, and if I'm not mistaken gun control. She's a blue blooded rino and I hope she loses to Perry in this next Texas gubernatorial election.
Posted by: JohnE PFC U.S. Army at June 27, 2009 06:53 PM
---
This is why I have lost faith in the GOP. Lamar Alexander (R-TN), Susan Collins (R-ME), Judd Gregg (R-NH), Orrin Hatch (R-UT), Richard Lugar (R-IN), Mel Martinez (R-FL), Olympia Snowe (R-ME) and George Voinovich (R-OH). In other words,the usual gang of RINOS . What has happened to Hatch? (he has the balls to e-mail me for campain $-no thanks) Ohio's Voinovich shows that he has no charactor/no class-he not going to stand for re-election at the end of this term. The Libs who run to replace him will attack his "record" regardless of the fact that he nearly always voted with them. Finally, "Lex" Lugar-advocated artificially high gas prices to "save" the US auto industry; supported international registration of firearms owned in the USA ,and now this. PEOPLE OF INDIANA_STAND UP AND "PRIMARY" THIS BUM OUT !!!
Posted by: Willy at June 27, 2009 07:36 PM
---
JohnE PFC U.S. Army,Good one!! anyone that
voted for this guy KOH cannot love or even like
our country. I am so sick of these people
that use our freedoms and hate those that
fought for them then also turn around
and vote in people that will destroy our
country with a simple signature on a bill etc.
Posted by: Wild Thing at June 27, 2009 07:53 PM
---
Tom, you are so right, this kind of thing
Obama has been doing all so fast and the
worst of the worst in humanity has taken
a lot of planning. A lot longer then just
these last two years, more like back to
his college days and when he ran for the
Sen.
Posted by: Wild Thing at June 27, 2009 08:00 PM
---
JohnE PFC U.S. Army, I am soooo sick of hearing
about child molester Michael Jackson. I did
one post about it and even there said that now
children in the world will be a lot safer.
This worshipping of anyone makes me sick.
I agree with you about how even Fox has caved
in on this stuff. BS is right.
Posted by: Wild Thing at June 27, 2009 08:03 PM
---
Willy, DITTO all you said. And I tired three
times to call the GOP and tell them about
this very thing about the rino's and all
they did was pass my phone call from office
to office and no one would even listen.

Posted by: Wild Thing at June 27, 2009 08:06 PM
---