« Union Workers Would Be Exempt From Dem Health Care Tax | Main | Latest Abuse By CIC To Our Military ~ Unforgivable »
June 23, 2009
JibJab Satire of the Left's Hero Worship of Barack Obama

"JibJab puts the rock in Barack with a new, over-the-top satire that debuted in front of the President himself this Friday at the Radio & Television Correspondents Dinner!"

JibJab Obama Song Steals Show at Correspondents Dinner
JibJab has spoofed Obama before, but JibJab got to do it to Obama's face last night. JibJab.com, a premiere e-card site, entertained Obama and his guests at the Radio and JibJab Obama Song Steals Show at Correspondents DinnerTelevision Correspondents' Association dinner last night. JibJab sent Obama their newest e-card and song parody, in which Obama is every bit the superhero the left advertised him as, and hopes he still is.
JibJab's new song parody was sung to the tune of "When Johnny Comes Marching Home" only with more of a rock-and-roll beat. President Obama was a JibJab superhero saving the USA, and the world, like magic.
In this world created by JibJab, Obama fixed every economic problem, karate chopped the Taliban, did battle with pirates again - and all in a red superhero outfit.
This view of Obama as a superheroic messiah has constantly been joked about and ridiculed by the right since Obama became a threat for President. JibJab used it for laughs, and to show off their e-card animation to the President and his audience.
.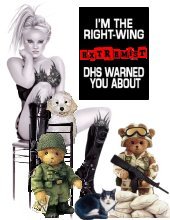 Wild Thing's comment.......
Wow, some of the best animation I've ever seen. LOL ears make the whole video.hahaha the ears popping out when Obama puts on his superhero hood! You can see his ears flap in the wind when he's flying to get the pirates.
Obama's supporters probably think the video is a documentary. His drones really do think he's a superhero, or worse a god, or even worse THE God.
I think it is poking fun at Obama-mania and the messianic self-image of the Chosen One, but it's so true to the view of the media and the Kool-Aid drinkers that the satire would be lost on them.

.

....Thank you Rhod for sending this to me.

Rhod
Vietnam
25th Inf Div 66 and 67
Posted by Wild Thing at June 23, 2009 08:50 AM
---
Comments
He's in the middle of his press conference right now. He's got a third-degree wedgie because he's getting some difficult questions.
So far, no one's asked him about the marmalade at the White House. He's trying to joke his way through the ordeal, too. What a a lightweight.
Posted by: Rhod at June 23, 2009 01:27 PM
---
Marmalade ? Hmmm... that must be some kind of high tech Pomade only with a white-ish oder.
The JibJab cartoon says exactly how the media treats this Soutpiel Puppet, like some kind of urban superhero. He spends everybodies elses money and contributes nothing to the cause.
He talks about skin in the 'game' where the hell is his donation.
Posted by: Mark at June 23, 2009 03:58 PM
---
Rhod, LOL gosh I love how you put that
about the third -degree wedgie..good one.
Posted by: Wild Thing at June 24, 2009 05:29 AM
---
Mark, it sure does, they did a really good
job on it.

"He talks about skin in the 'game' where the hell is his donation."
Excellent!!

Posted by: Wild Thing at June 24, 2009 05:31 AM
---
I posted this on 6/20 but had a problem with the embed code from jibjab. I will delete those posts and redo with youtube.
Bob A.
Posted by: Bob A at June 24, 2009 07:58 AM
---