« Obama Tracking Poll Sinking Fast | Main | What Did John Conyers Know About His Wife's Corruption? »
June 30, 2009
Israeli Navy Takes Control of Aid Boat Headed for Gaza (Cynthia McKinney AGAIN!)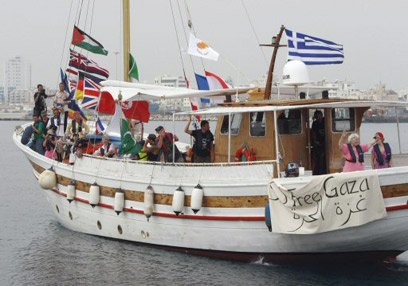 Small ferry carrying medical supplies that set sail from Cyprus Monday with 21 peace activists, medical supplies intercepted off Strip's shore; passengers say army jammed boat's radio signals.
At around noon Tuesday the Israeli Navy intercepted and took control of a boat that had set sail for the Gaza Strip with three tons of medical supplies, Palestinian sources said, adding that the Navy jammed the boat's radio signals.
The IDF Spokesperson's Office confirmed the report. Israeli military sources said there was no violence after the small ferry, sailing from Cyprus with activists from the US-based Free Gaza Movement, was intercepted off Gaza.
"The vessel, which was sailing under a Greek flag, left Larnaca, Cyprus on Monday en route to Gaza. After it was made clear that the boat was headed for Gaza's shore, it was told that Gaza was under a naval blockade. In light of this and the security hazards in the region, its entrance to Gaza was forbidden," the army said in a statement.
The army stressed that despite the warnings, the boat continued sailing toward the Strip. "The Navy vessel's crew took control of the boat and led it to the Ashdod port," said the military.
The boat is also carrying 21 peace activists, including former US Congresswoman Cynthia Ann McKinney (D-GA) and Nobel Peace Prize laureate Mairead Maguire.

Activist Luvana Masarwa, a 30-year-old east Jerusalem resident, said Monday that passengers "are excited about the possibility of contributing to breaking the siege."

"We want to show the Palestinian people in Gaza that they are not alone, and call on the international community to take a more active role in resolving the situation," she said.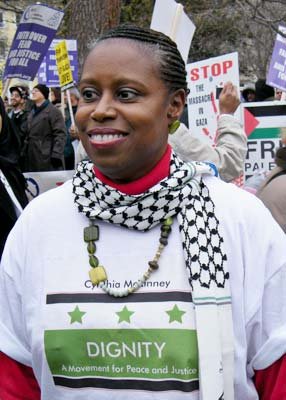 Navy Boards Activists' Ship: Ex-US Legislator: Call off the Dogs
As the navy surrounded the activists' boat, McKinney said by phone from the vessel, "I am extremely angry. We demand that the Israeli government call off their attack dogs."
The IDF made contact and told the boat it would not be allowed to approach because of security risks and a blockade which Israel has imposed to prevent terrorists and weapons from arriving, according to the IDF. "Despite warnings, they crossed into coastal waters and as a result of this, a naval force intercepted it and boarded it, with the intention of directing it to Ashdod port in Israel."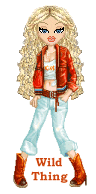 Wild Thing's comment.....
Cynthia McKinney is the kind of "person" that you could throw to the sharks and they'd suddenly become vegetarians.
Free Gaza is a pro-arab pro-muslim fascist pro-hamas pro-hezbolla outfit. Rather than deport these fine folks, the Israelis should incarcerate them for a time. This might be something that would discourage these idiot psuedo-peaceniks.

Obama and Cynthia McKinney are very similar:
Excerpt:
weekly standard
She is a Democrat, in 1992, she became the first black woman elected to Congress from Georgia.
Appearing in print just months after the September 11 attacks, McKinney's charges couldn't be excused. Nor could her list of campaign donors, which included both terrorist sympathizers like Abdurahman Alamoudi, the former executive director of the American Muslim Council, and apparent actual terrorists like former college professor Sami Al-Arian. Nor could her October 12, 2001, letter to Saudi prince Alwaleed bin Talal, in which she rebuked New York mayor Rudy Giuliani for returning the prince's post-9/11 "gift" of $10 million and urged bin Talal to donate the funds to "charities outside the mayor's control," especially those that dealt with "poor blacks who sleep on the street in the shadows of our nation's Capitol." Giuliani had returned the Saudi's money because it came with the implicit condition that America "address some of the issues that led to such a criminal [9/11] attack," among them "its policies in the Middle East," where "our Palestinian brethren continue to be slaughtered at the hands of Israelis while the world turns the other cheek." To Giuliani, such a statement made excuses for terrorism. This wasn't a problem for McKinney.
Posted by Wild Thing at June 30, 2009 06:48 PM
---
Comments
Does that 'thing' represent all blacks? She must, we don't hear any condemnations of her behavior from their quarter. I had to go to the ROK compound one day, there were heads in a pike at the entrance, wouldn't it be nice if her head turned up on a pike in Gaza. Geeeawed this country has turned to shit, the friggin' Democrats are trying their best to out Muslim the Muslims, and the Republicans can't kiss their friggin' asses quick enough to enable them.
Posted by: Jack at June 30, 2009 08:12 PM
---
Jack, LOL the thing from the swamp.heh heh
Posted by: Wild Thing at June 30, 2009 08:37 PM
---
Posted by: Duane at June 30, 2009 11:56 PM
---
They repeatedly ignored orders to turn about and tried to run the blockade anyway? Why didn't the Israelis just turn that boat into driftwood. They're on their way to deliver medical aid to hamas, who if I'm not mistaken is a self delcared "Enemy of the United States". Giving aid and comfort to the enemy not only to the U.S. but of Her Ally Israel. Hmm isn't that treason?
P.S. I think she and the rest of her commie black caucus compadres are stealing my mother's kitchen rags.
Posted by: JohnE PFC U.S. Army at July 1, 2009 12:05 AM
---
Are we all going to have to run for office?
Posted by: Avitar at July 1, 2009 12:09 AM
---
Perhaps everone should know that Cynthia got beat by a black runing against her.
That "we don't hear any condemnations of her behavior from their quarter." is a function of the MSM still too great ability to throw a wet blanket over opinions that they do not like.
Posted by: Avitar at July 1, 2009 12:14 AM
---
Looks like the Sun agrees with Ms. Mckinney. Free Gaza ? Is this some kind of cruel joke? We are sending almost a Billion dollars and tickets to the USA to the poor Palestinians, what do they need to be free from.
Obama is creating a welfare state in the middle east. If China calls in their marker, these people newly aquired Section 8's will be receiving money that is worthless. The Muzzies perceive us as a paper tiger again and will push obama to the limit for all they can get. Even the Arabs don't want this bedoin's.
As for Mckinney, and her crew, she finally found something she's good at being the useful idiot for some other corrupt organization.
Posted by: Mark at July 1, 2009 07:17 AM
---
How about the homeless vets that sleep in the shadow of the Nation's Capitol? Hmmmmmmm? Cynthia has a very severe short between the headsets.
Posted by: Glenn Cassel AMH1(AW) USN RET at July 1, 2009 08:03 AM
---