« Man With Record Scott Roeder Kills Serial Baby Killer Dr. George Tiller | Main | Obama Despite TORTURE Video Approves Plans for U.S.-UAE Nuclear Power Deal »
June 01, 2009
Israel: We Won't Bow to U.S. Settlement Requests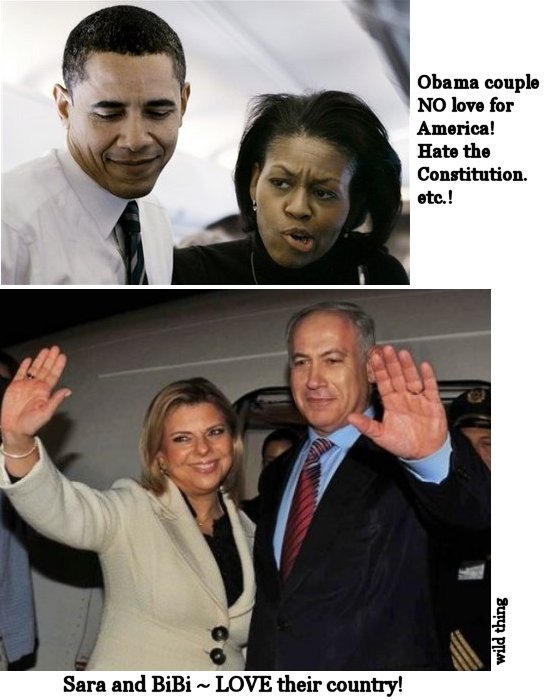 Photo of Sara and BiBI......JERUSALEM - MAY 31: Israeli Prime Minister Benjamin Netanyahu (L) convenes the weekly cabinet meeting May 31, 2009 in Jerusalem, Israel. Netanyahu said today that Israel would not relent on the blockade of Gaza.

Israel: We Won't Bow to U.S. Settlement Requests
Israel will not agree to U.S. demands to freeze all settlement activity in the West Bank, the AFP reported an official close to Prime Minister Benjamin Netanyahu as saying.
"I want to say in a crystal clear manner that the current Israeli government will not accept in any fashion that legal settlement activity in Judea and Samaria be frozen," Transport Minister Yisrael Katz said, using the Israeli term for the West Bank. "The government will defend the vital interests of the state of Israel."
It was the first high-level reaction to President Obama's call Thursday during a meeting with Palestinian President Mahmoud Abbas that Israel stop settlement activity, a key hurdle in Mideast peace talks.
Prime Minister Benjamin Netanyahu had said last Sunday Israel will continue to build homes in existing West Bank settlements, but would not allow any new settlements to be created.
"We will not build new settlements," he said, according to remarks released by his office. "But it is not fair not to provide a solution to natural growth."
Obama met Thursday with Abbas and challenged Israelis and Palestinians to be fair brokers in the quest for peace, calling on Israel to stop settlement construction in the West Bank.
"We can't continue with the drift, with the increased fear and resentment on both sides, the sense of hopelessness around the situation that we've seen for many years now," Obama said, referring to the idea of Palestinians and Israelis living peacefully as neighbors. "We need to get this thing back on track."
"I am confident that we can move this process forward," Obama said after meeting with Abbas at the White House. The president said that means both sides must "meet the obligations that they've already committed to" -- an element of the peace effort that has proved elusive for years.
Abbas told The Associated Press after the session with Obama that no meetings with Israeli Prime Minister Benjamin Netanyahu are on the horizon. He said there are no preconditions for such a meeting but "obligations" on Israel through the so-called road map for ending the Israeli-Palestinian conflict.
Abbas said he is meeting his commitments under the road map and that Israel should do the same. He cited continued settlement construction as a commitment Israel is not meeting.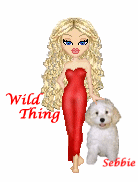 Wild Thing's comment..........
Bibi knows who and what he's dealing with in Obama. And I'm all for Bibi telling that jerk Obama off big time.
Obama is a monster and he is created something worse then what existed before. Nothing good will come from what Obama wants to be done.
They are really going after BiBI and putting ALL the pressure on him and on Israel.

from
Dry Bones
- Thank you
Netanyahu: "What the hell do they want from me?"
Thu, 05/28/2009
Last night, shortly after U.S. Secretary of State Hillary Clinton told journalists that the Obama administration "wants to see a stop to settlements -- not some settlements, not outposts, not natural growth exceptions," Israeli Prime Minister Benjamin Netanyahu called a confidant. Referring to Clinton's call for a settlement freeze, Netanyahu groused, "What the hell do they want from me?" according to his associate, who added, "I gathered that he heard some bad vibes in his meetings with U.S. congressional delegations this week."
In the 10 days since Netanyahu and President Barack Obama held a meeting at the White House, the Obama administration has made clear in public and private meetings with Israeli officials that it intends to hold a firm line on Obama's call to stop Israeli settlements.
Netanyahu: "What the hell do they want from me?"
Like all lib scumbags, they want your death and destruction, sir. Resist them. Spit in their faces and defend your great nation. God bless Israel. America's (real) Christians stand with you and your people.
.

....Thank you Mark for sending this to me.


Mark
3rd Mar.Div. 1st Battalion 9th Marine Regiment
1/9 Marines aka The Walking Dead
VN 66-67


Posted by Wild Thing at June 1, 2009 06:47 AM
---
Comments
It points out a major difference between Netanyahu and Osama Obama. Netanyahu loves his country and his people while Obama loves Muslim countries and their people.
Bob A.
Posted by: Bob A at June 1, 2009 08:57 AM
---
I'm just waitng for Bibi to finally come out and say, "Fuck You Osama."
Posted by: cuchieddie (DHS suspected terrorist)) at June 1, 2009 01:45 PM
---
Really. That would be something to hear and see! someone has got to stand up to him someday and get him to pull his head out of his butt!
Posted by: Lynn at June 1, 2009 02:16 PM
---
Lynn - his butt has one of his teleprompters in it. He HAS to have access to a teleprompter.
Posted by: TomR at June 1, 2009 03:16 PM
---
Like 'dry-bones' says, all the concessions are required of Israel, the Palestinians are responsible for nothing. Except maybe a free handout. Hell, in another year obama will have the whole damn world on Welfare.
Posted by: Mark at June 1, 2009 06:54 PM
---
Bob A., yes there sure is a huge
difference.
Posted by: Wild Thing at June 1, 2009 07:56 PM
---
cuchieddie (DHS suspected terrorist)),
dang I would LOVE that!!!!!!
Posted by: Wild Thing at June 1, 2009 07:58 PM
---
Lynn, heh heh if BiBi would say that
there would be a cheer heard around
the world. giggle I know I would for
sure.
Posted by: Wild Thing at June 1, 2009 07:59 PM
---
Tom, LOL Hhaahahahahahahaha
Love it.
Posted by: Wild Thing at June 1, 2009 08:01 PM
---
Mark, yesss he sure will. 666 Obama and if
it isn't him he is his twin.
Posted by: Wild Thing at June 1, 2009 08:06 PM
---