« ~ Happy Fathers Day ~ | Main | Barack Hussein Obama Ratings DOWN Points Since January »
June 22, 2009
In Country With 2nd Marine Expeditionary Brigade in Afghanistan
2nd Marine Expeditionary Brigade in Afghanistan

U.S. Marines from the 2nd Marine Expeditionary Brigade are taught how to use a robot to search for improvised explosive devices during training lesson at Camp Leatherneck in Afghanistan's Helmand province Tuesday June 9. AP / David Guttenfelder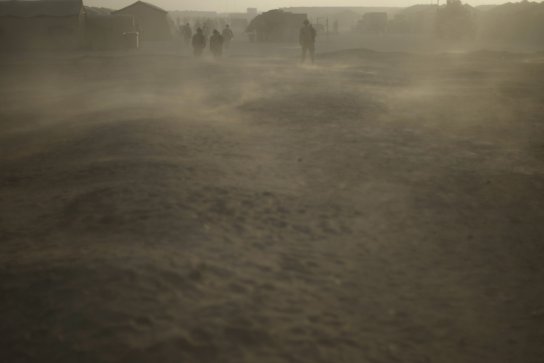 U.S. Marines from the 2nd Marine Expeditionary Brigade walk through blowing sand inside Camp Leatherneck in Afghanistan's Helmand province Tuesday, June 9. AP / David Guttenfelder


U.S. Marines from the 2nd Marine Expeditionary Brigade rest inside a tent at Camp Leatherneck in Afghanistan's Helmand province Tuesday June 9. AP / David Guttenfelder
Posted by Wild Thing at June 22, 2009 05:40 AM
---
Comments
This doesn't give you any idea where these guys are from. 2nd MEB I would assume 2nd MarDiv, but today everything is different.
You don't hear about BLT's or even RLT's anymore it is all at the Brigade level.
Posted by: Mark at June 22, 2009 12:32 PM
---
That's great WT. That middle photo reminds me of the summer of '67 out in the Mojave playing catch my scorpion, 'cept we didn't have tents, everything crawly tried to sleep next to your warm body where finding your buddy in the morning was as simple as locating two nostril holes in the facefull of blowsand, just like the one you woke to. One thing, it made you hate your own mother for giving birth to you. God I love grunts. Semper Fi Marines

Mark, we've apparently become dinosaurs, I have a tough time with the new terms, designations and unit alignments. I do take solace that tent life is about the same.:) Where else in the entire world can you stand in mud up to your tired ass and have dust blowing in your face. That's true grit!!!
Posted by: Jack at June 22, 2009 05:32 PM
---
Mark, yes this was all they had on them.
Posted by: Wild Thing at June 23, 2009 12:31 AM
---
Jack,thanks for sharing that, I can
just imagine from the description.
wow Thank you so much.
Posted by: Wild Thing at June 23, 2009 12:48 AM
---