« Gov.Palin is Awesome and The Left Can't Stand it! | Main | Pvt. Quinton Ezeagwula Army Recruiting Center Shooting Victim Speaks »
June 09, 2009
FBI Defends Use Of Informants In U.S. Mosques ~ Thank You FBI!

FBI Director Defends Use of Informants in Mosques

FBI Director Robert Mueller on Monday defended the agency's use of informants within U.S. mosques, despite complaints from Muslim organizations that worshippers and clerics are being targeted instead of possible terrorists.
Mueller's comments came just days after a Michigan Muslim organization asked the Justice Department to investigate complaints that the FBI is asking the faithful to spy on Islamic leaders and worshippers. Similar alarm followed the disclosure earlier this year that the FBI planted a spy in Southern California mosques.
"We don't investigate places, we investigate individuals," Mueller said during a brief meeting with reporters in Los Angeles.
"To the extent that there may be evidence or other information of criminal wrongdoings, then we will ... undertake those investigations," Mueller added. "We will continue to do it."
He called relations with U.S. Muslims "very good," but acknowledged disagreements without providing specifics.
The Council of Islamic Organizations of Michigan sent a letter to U.S. Attorney General Eric Holder after mosques and other groups reported members of the community have been asked to monitor people coming to mosques and donations they make. The FBI's Detroit office has denied the allegations.
In the California case, information about the informant who spied on the Islamic Center of Irvine came out at a February detention hearing for a brother-in-law of Osama bin Laden's bodyguard, an Afghan native and naturalized U.S. citizen named Ahmadullah Niazi who is accused of lying on his citizenship and passport applications about terrorism ties.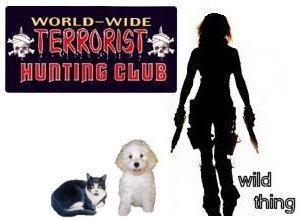 Wild Thing's comment.........
I think the information that the FBI is penetrating mosques is the best news I've heard today. Worshipers in Mosques are possible terrorists.
Eric Holder, a coward and a white hating racist, should have stopped this dead in it's tracks at HIS desk.
The FBI should not have had to say a damn thing to confirm or deny the enemy's allegations/complaints or concerns.
Mapping Sharia in America Project, sponsored by the Washington-based Center for Security Policy, has trained former counterintelligence and counterterrorism agents from the FBI, CIA and U.S. military, who are skilled in Arabic and Urdu, to conduct undercover reconnaissance at some 2,300 mosques and Islamic centers and schools across the country. So far of the over 100 mosques mapped, 75 should be on a watchlist, according to staff experts. Many of the mosques are operating under Saudi financed influence and the Muslim Brotherhood.
Well...there you have it! "Our friends, the saudis" and the muzzie brotherhood in league with each other doing their best to attack the US by proxy & doing a damn fine job at it while the freakazoid Muslim Obama and Eric Holder make that stupid pledge they made last week to protect American Muslims.
Posted by Wild Thing at June 9, 2009 06:15 PM
---
Comments
Thanks Robert Mueller. Know your enemy, even if that dickbreath son of a bitch is in the White House!!!

Posted by: Jack at June 9, 2009 09:55 PM
---
Good idea; let the MUZZIES be the paranoid ones for a change!
Posted by: Rick at June 9, 2009 10:56 PM
---
How long will it be before Obama and Holder pull the plug on this?
Posted by: BobF at June 9, 2009 11:00 PM
---
Jack, yes the biggest one is in the Oval
office.
Posted by: Wild Thing at June 9, 2009 11:33 PM
---
Posted by: Wild Thing at June 9, 2009 11:37 PM
---
BobF., yes that will be on their agenda
after this happening.
Posted by: Wild Thing at June 9, 2009 11:38 PM
---
Mosques, where the faithful radicals gather. Of course they should be spied on. Maybe The One is afraid they will find some links to him. I bet Mueller is replaced.
Posted by: TomR at June 9, 2009 11:40 PM
---
All Muslims may not be terrorists, but most terrorists ARE Muslims. We can't afford them to have any dark corners to hide in and plan their next hit.
Posted by: cmblake6 at June 10, 2009 02:05 AM
---