« Our Troops Have an Awesome Sense of Humor | Main | Japan Apologizes for Bataan Death March »
June 15, 2009
Carter Warns US and Israel On Collision Course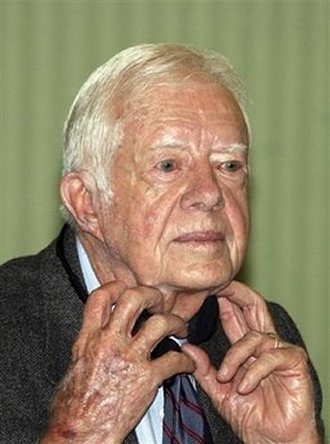 Former U.S. President Jimmy Carter speaks during a press conference after meeting with Syrian President Bashar Assad at al-Shaab presidential palace, in Damascus, Syria.
Carter, who is on a Mideast peacemaking trip to promote constructive dialogue on the Israeli-Arab conflict, held talks with Syrian President Bashar Assad.(AP Photo/Bassem Tellawi)

Carter warns US and Israel on collision course
Israel is headed for a clash with main ally the United States over the issue of Jewish settlements, former US president Jimmy Carter said in an interview on Sunday.
Asked by the liberal Haaretz newspaper whether the Jewish state was looking at a "head-on collision" with the United States if it doesn't comply with Washington's demands, Carter said "Yes."
Obama's efforts to push forward the peace process has raised fears in Israel that Washington may ease its support of the Jewish state as it tries to improve relations with the Muslim world.
Carter is also due to visit the Hamas-run Gaza Strip on Tuesday as part of a regional visit.


Wild Thing's comment........
Yo Carter, islamic terrorists who target innocent Israeli civilians are the "biggest hurdle" to peace in the Mideast, not settlements.
As usual,Jimmah is absolutely,positively,1000% wrong. Where does this guy get off talking on foreign policy? He had his chance. He was a colossal failure.
Carter is one of this country's most noted anti-Semites, I bet the next thing will be he will attack BiBi.
Posted by Wild Thing at June 15, 2009 04:46 AM
---
Comments
I would dare say what peanut nuts is doing is just the opposite of a peace mission. By beating on Israel both he and Islama Obama only embolden the muzzies.
Bob A.
Posted by: Bob A at June 15, 2009 10:37 AM
---
Is Jimmy once again a part of the White House? Is he an official representative for Obama? They are both America haters and Israel haters. These two liberal clowns are going to get one hell of a war started as they try to destroy Israel.
Posted by: TomR at June 15, 2009 10:48 AM
---
Posted by: Wild Thing at June 15, 2009 07:27 PM
---
Tom, they sure seem to be working together
against Israel. Your so right they both
hate the same things.
Posted by: Wild Thing at June 15, 2009 07:30 PM
---
Wow, does carter look ugly or what ? And what is he grabbing at, he looks oily and dirty, well that sort of describes all democrats.
Posted by: Mark at June 15, 2009 10:06 PM
---