« Waxman Tries To Stop Boehner | Main | Obama Withdraws July 4 Party Invitations to Iranians »
June 27, 2009
California School Mosaic of 'Capitalism Will Fail' and Communism Symbol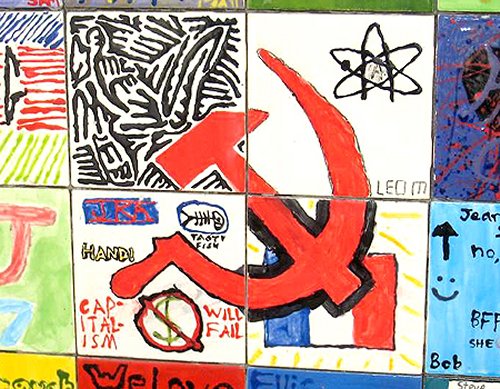 Communism's hammer and sickle is seen in the "Class of 2007" mosaic outside of the Black Pine Circle School in Berkeley, Calif.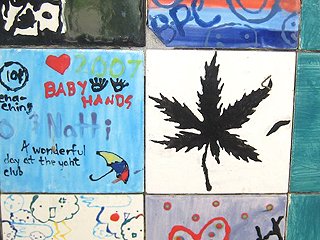 'Capitalism Will Fail,' Marijuana Leaf Part of California School Mosaic
Symbols of communism and marijuana and a prediction that "capitalism will fail" aren't exactly the sort of end-of-year messages you'd expect from an eighth grader.
But that's precisely what some students at the Black Pine Circle School, a private school in Berkeley, Calif., chose to include in their "Class of 2007" mosaic.
The symbols, which are prominently displayed outside the school, have prompted questions about the appropriateness of images like a hammer and sickle and a marijuana leaf on school grounds — and have led critics to say they are blatant proof of political indoctrination of young children.
Black Pine Circle bills itself as a day school where students from kindergarten through eighth grade will be "maximally free of all the 'isms' which pervade most aspects of the world around them: from racism to sexism to the less obvious forms of discrimination," according to its Web site.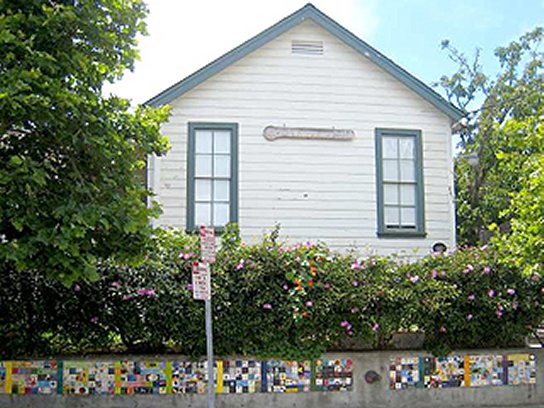 Capitalism, even if it fails, apparently isn't one of those: Tuition for a 10-month term costs more than $17,000.
Laura Wolff, assistant director and head of BPCS's Lower School, told FOXNews.com that each graduating student makes a tile to commemorate his or her time there, sometimes teaming up with other students to make a "dual tile." She said school officials do not edit or otherwise influence the end products.
"Being Berkeley, of course, we don't censor their creative expression," Wolff said. "It's fun to see what they come up with."
During a brief interview, Wolff said she was not familiar with the images in question — including the four-tile hammer and sickle depiction — and referred inquiries to John Carlstroem, director of the school, and art teachers Kieren Dutcher and Kim Buckingham. Multiple messages seeking additional comment were not returned.
Ron Reynolds, executive director of the California Association of Private School Organizations, said the images were in "bad taste," but stopped short of calling for their removal.
"I am certainly not enamored by that particular expression and I certainly disagree, but I don't think there's a law against someone expressing a stupid thought," Reynolds told FOXNews.com. "If they felt capitalism will fail, I'd be curious to see what their alternative is."
The mosaic's location on the perimeter of the school serves as an "advertisement for discriminating parents," according to Reynolds, who said he thought the images were conjured up solely by the students.
"Living in Berkeley, I don't think it's a tremendous stretch," he said. "If it were in Irvine or Van Nuys, yeah, I think there would be some raised eyebrows."
Alice Davis, 21, attended Black Pine Circle School from 1998 to 2001 and remembers painting her own tile — a "cityscape scene at nighttime." Davis, now living in Brooklyn, N.Y., said she doesn't recall receiving any instruction regarding the content of her creation.
"They left it up to a bunch of 13-year-olds to decide," Davis told FOXNews.com. "They were hands off in telling us what was appropriate and what wasn't. It was left to our judgment."
Meanwhile, Danae Condos, president of the Berkeley College Republicans, said she found the images "shocking" and not suitable for young children.
"I know some people might say it fits in with the Berkeley atmosphere, but it does say something about the type of education the students are receiving," she told FOXNews.com. "It's obvious that they're receiving some political indoctrination from the school or from their parents. There's no doubt in my mind they're being politically influenced in their education."
Condos, a 19-year-old student at the University of California-Berkeley, said she doubted that school administrators would allow any and all symbols.
"They wouldn't allow a swastika symbol," she said. "It shows where the school's standards lie. If you're seeing this at one of the top-notch schools in the area, imagine what's going on it other schools that don't have the same privileges."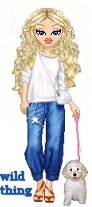 Wild Thing's comment.......
I wish more conservatives would retrun to teaching. There may be some now but it sure seems over run by the left, socialists, communists re-writing our history and this like this in the story. Destorying our country in their propaganda instead of real teaching of subjects like they used to do.
School for future John Walker Lindhs', Bernadine Dohrns', nd William Ayers'.
.

....Thank you Richard for sending this to me.
Posted by Wild Thing at June 27, 2009 04:47 AM
---
Comments
Would they have "censored" it had there been a star of David or a Christian cross or picture of Jesus??
I would venture to say probably. A picture of Mohammed, probably would be OK.

Posted by: Bob A at June 27, 2009 08:37 AM
---
My family farmed some ground for the late Sen. William E. Jenner. My uncle related to me some years ago that in the 50's Bill Jenner told him "the country is too far gone, it's over the hill." I thought this an odd statement, especially from a person of his status.

Given the socialist policies of the past 6 months, I've done a bit of research on Sen. Jenner. He is a fascinating subject. He and his good friend Joe McCarthy fought some bloody battles in the senate during the 50's. Sen. Jenner was quite concerned with socialism in our education system. If I am connecting the dots correctly, that's why we're in our present situation. Joseph McCarthy lost his battle so badly that from that point forward no one was able to question who was a socialist ever again, lest they be accused of McCarthyism. The socialists went about getting their people in the positions in our education system.

2 or 3 generations hence, we are now reaping the harvest of what the socialists or communists have sown. I suppose Bil Ayers would be a somewhat extreme example of this educator. People of lesser education, like myself, believe in the Constitution and have largely conservative views. It's those that have spent years on college campuses that seem to have gone through this indoctrination and lean to the left.

I found a quote in a book by Bill Jenner, "It won't be men who'll change it. It'll take a calamity, a disaster, a fiscal collapse, something worse than the Hoover Depression....Out of the ashes of ruin, a man might come along to help us. If we're lucky, it'll be a man like Goldwater. It could be a man like Walter Reuther. What would we do then?"

Barack Obama is not unlike Walter Reuther. Have I connected the dots correctly?
Posted by: jim at June 27, 2009 09:13 AM
---
Good thing I don't have grandchildren attending this "school" or one like it. The Administration would have the proverbial "bad day at Black Rock"
Put two and two together. 3-7-77
Posted by: Glenn Cassel AMH1(AW) USN RET at June 27, 2009 09:30 AM
---
Seems those who voted this Bill Ayres aberration into office are the same parents who keep fixing those broken schools in the cause of doing it for the chillin'. Been that way as long as I can remember, forfeiting parental rights to the state and an always broken school system. We tolerate the brainwashing from kindergarten through graduate school. What was that Einstein thing, something about doing the same thing over and over with the same result. Like Jim, I have watched this crumble all my life, I do believe you have the dots correctly.
Posted by: Jack at June 27, 2009 01:14 PM
---
Bob A., yes anything with Mohammed would
probably be just fine.
Posted by: Wild Thing at June 27, 2009 11:43 PM
---
Jim thank you so much for sharing about
Sen. William E. Jenner wow this is so
interesting. I wish we did have a Goldwater
show up instead of a Walter Reuther (Obama).

Posted by: Wild Thing at June 28, 2009 12:05 AM
---
Glenn Cassel AMH1(AW) USN RET, LOVE it
and I agree 100%.
"The Administration would have the proverbial "bad day at Black Rock"
Posted by: Wild Thing at June 28, 2009 12:10 AM
---
Jack, that is a fact, it starts at
kindergarten and then all the way up
the ladder.
Posted by: Wild Thing at June 28, 2009 12:15 AM
---