« Mullahs Supporter Obama a Week Late Has Press Release~ Damage Control Failed | Main | In Country With 2nd Marine Expeditionary Brigade in Afghanistan »
June 21, 2009
~ Happy Fathers Day ~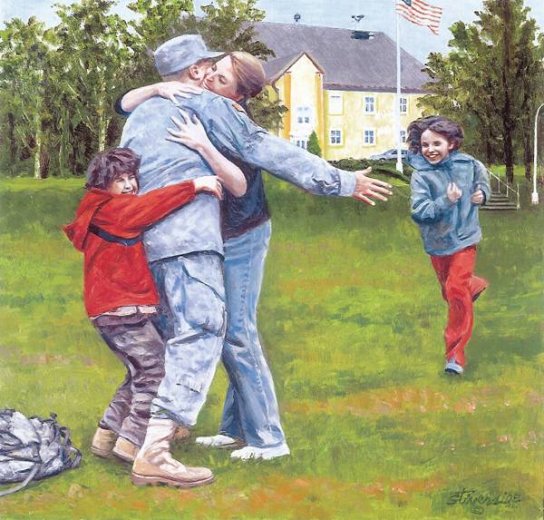 To all Team Theodore Fathers, and all military Dad's...a very happy Fathers Day to you!
May God bless and protect all of our brave soldiers that are keeping America safe on this Father's day.
*hugs* ~ Wild Thing

.
Father's Day............can be any day!

". . .a small boy felt himself lifted from bed. Then he was borne in his father's arms, with the swiftness of a dream, down the porch steps, out onto the beach.
"'Watch!' his father said. And incredibly, as he spoke, one of the stars moved...it flashed across the astonished heavens. And before the wonder of this could fade, another star leaped from its place, and then another, plunging toward the restless sea. 'What is it?' the child whispered. 'Shooting stars,' his father said. '. . . I thought you'd like to see the show.'"
"Decades have passed, but I remember that night still, because I was the fortunate 7-year-old whose father believed that a new experience was more important for a small boy than an unbroken night's sleep. . . . What I remember is the night the stars fell, the day we rode in a caboose, the time we tried to skin an alligator, the telegraph we made that really worked.
". . . Or the time we explored a cave, and at one point far under ground, snapped off our flashlights and sat there in darkness and silence so profound that it was like being in the void before the beginning of time. After a while Father said, in a whisper, 'Listen! You can hear the mountain breathing!'
"I remember the books left by my bed that pushed back my horizons and sometimes actually changed my life.
"Did my father deliberately set out to manufacture Father's Days for his children? I doubt it. . . . I don't think he was primarily seeking to instruct or inspire or enlighten us. He was satisfying his own curiosity–and letting us in on his discoveries. He was indulging his own sense of wonder–and letting us share it. . . and when this happens, there is no satisfaction in the world quite like it.
"My father had . . . the gift of opening doors for his children, of leading them into areas of splendid newness. This subtle art . . . doesn't necessarily require a great deal of time. It simply involves doing things more often with our children instead of for them or to them.
"This is the stuff of which real Father's Days are made . . . and when it happens, there is no satisfaction in the world quite like it."
-Arthur Gordon - "A Touch of Wonder" © 1974
Posted by Wild Thing at June 21, 2009 07:55 AM
---
Comments
Thank you Chrissie.
Everyday is fathers day if you appreciate and respect your parents, no need for a special day of recognition. Today we should reflect on those who have lost their fathers and cannot honor them except in memory. Pick up that phone or better yet say it in person.

Posted by: Jack at June 21, 2009 10:20 AM
---
Thanks, Chrissie.
We had the easy part. Over the computer here is a "sceptre" or magic wand they made for me many years ago...a crooked maple stick with the bark stripped off and a ball of aluminum foil taped on the end.
It came with three coupons for chores they drew up, with the denomination of "not too hard". I never redeemed them.
It seemed like only a short time from there to them jumping out of C-130's.
Posted by: Rhod at June 21, 2009 10:45 AM
---
Thanks Chrissie;
Rhod and Jack well said.
Posted by: Mark at June 21, 2009 11:59 AM
---
Great story by Arthur Gordon. I always wanted more time with my dad, but he was a very busy doctor. He also died too young. Luckily the times we did have together are etched in my mind for continued and everlasting enjoyment.
I feel for those who have no fathers or lost them at an age too young to have memories.
Posted by: TomR at June 21, 2009 12:52 PM
---
Posted by: Bob A at June 21, 2009 05:06 PM
---
Thanks Chrissie:
Of all my accomplishments, my fathering leaves me proudest. I stood by them little suckers no matter how ugly they looked and how stinky their pants were. I knew that someday they would grow up to have the same benefits as I have enjoyed----- Kids, noisy, mis-behavin', hell raisin' KIDS! Wouldn't trade it for the world. But maybe for a good sportfishing trip.
nuf sed
Posted by: Frankly Opinionated at June 21, 2009 05:46 PM
---
Thank you all for shairng about today.
(((( hug ))))
Posted by: Wild Thing at June 21, 2009 11:45 PM
---