« Store Clerk Murdered; Customers Keep Shopping | Main | Older Recruits Challenge Army and Vice Versa »
June 18, 2009
793rd Military Police Battalion in Basra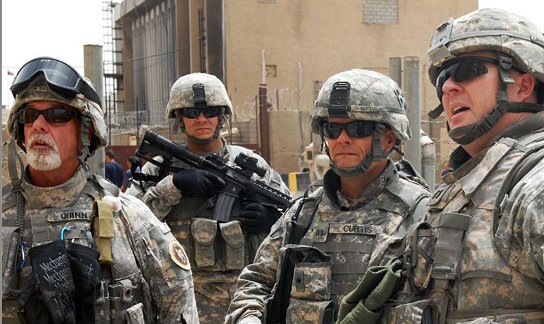 Capt. Jay Cash, assistant operations officer with the 793rd Military Police Battalion, attached to the 2nd Brigade Combat Team, 4th Infantry Division, and Keith Curtis, the law enforcement professional for 2nd BCT, 4th Inf. Div., inspect the Basra Provincial Police Headquarters during a key leader visit
793d MPs, IPs work to build forensic lab in Basra

By Staff Sgt. Carlos M. Burger II
2nd BCT, 4th Inf. Div., PAO

As Soldiers from the 793rd Military Police Battalion, attached to the 2nd Brigade Combat Team, 4th Infantry Division, toured the forensics crime laboratory at the Basra Provincial Police Headquarters May 27, they were instantly impressed and amazed by what they saw.
The laboratory was littered with ballistic evidence and dominated by high-powered microscopes. Some commented that the room looked more like a lab they would find in a stateside police station than what they were expecting in Iraq. Impressive as the room was, the Iraqi Police and 793d MPs know there is a long way to go before the building
reaches its full potential.
"Things are progressing and that's good. I have seen the progress since we have started and the IP have come a long way," said Capt. Jay Cash, assistant operations officer with the 793rd MP Bn.
The overall plan for the building consists of a complete overall of its infrastructure and security. Then the building has to pass a cleanliness test and the IP lab techni-=cians have become certified forensic specialists.
Once that's completed, the last step is to move in more than $2.5 million worth of state-of-the-art forensic
equipment into the building, said Keith Curtis, the law enforcement professional for 2nd BCT, 4th Inf. Div. The IP are already well on the way to meeting these requirements. Since the project began, the IP have removed four truck loads of rubbish from the area, cleaned the upper levels of the building and have sent seven of their lab technicians to Baghdad to become certified in forensic science, said Brigadier General Abed Kariem Gabar, chief operations officer for the provincial police forensics crime lab, through a translator.
He added that when his technicians return, they will be able to perform many levels of forensic operations, such as analyzing DNA, chemicals and explosive residue.
"We are building now, so everyone needs more (time), but we are learning (our jobs)," Kariem continued. One challenge the general continues to face, however is gaining the people's confidence in forensic science. Fortunately, the IP recently arrested criminals accused of burglary and theft and the forensic team played a critical part leading up to their arrest. This seemly simple action went a long way to establishing the team's credibility.
"We've faced some problems; before the people didn't understand (what we do). We gained the trust of the people and we proved how important our role was," Kariem said. As the Soldiers and IP parted ways, the general gave his thanks to the U.S. forces for their continued support in making both Basra province and Iraq a safer place for its citizens.


Wild Thing's comment.......
So many culture differences, I am so proud of our troops. They really have so many things to work through just to be able to do what they are trained to do.
Posted by Wild Thing at June 18, 2009 04:40 AM
---
Comments
All we can do is give them OUR BEST, then the ball isin their court. IF THEY ARE EVER, EVER going to 'come into the future/present' in their thinking and culture, THE IRAQIS MUST SUCCEED, and we will have given them the BEST CHANCE THEY HAVE EVER-EVER HAD, and will likely, EVER HAVE. The honest, and sincere of the Iraqi Police are very brave men, for they wear a target on their back, and the psychotic scum have hair triggers......
Posted by: pontiff alex at June 18, 2009 02:05 PM
---
Alex, I agree, there is only so much that
we can do then they have to want it and
strive for it themselves. If that happens
the taste of their freedom will mean even
more to them.
Posted by: Wild Thing at June 18, 2009 06:03 PM
---