« Special Words from Ronald Reagan ~ Memorial Day | Main | Obama's Fault Dollar Hits New Multimonth Low »
May 24, 2009
Vietnam Veterans Memorial Day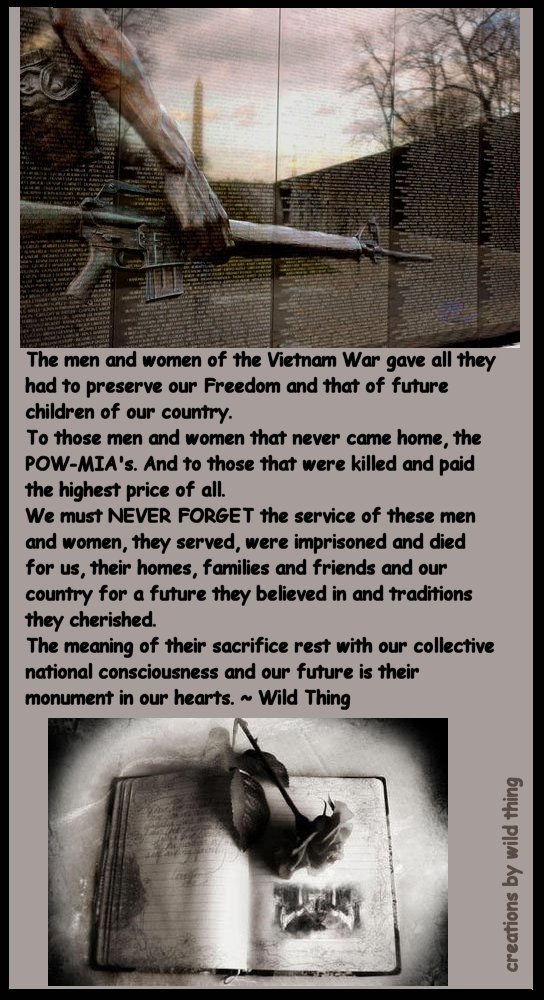 .
From my website:
Posted by Wild Thing at May 24, 2009 05:55 AM
---
Comments
Posted by: John 5 (VN69/70) at May 24, 2009 08:14 AM
---
Thanks Chrissie. So much of our sacrifice has been overlooked and belittled. We came back as young men to a country that harassed us for doing our duty. It makes us appreciate even more the few that stood by us like you. Thanks again for your love and belief in us.
Posted by: TomR at May 24, 2009 10:39 AM
---
As Memorial Day comes, I had to look at your Vietnam section again. Thanks for a fantastic site!
I wish I had had an opportunity to see one of your Christmas shows.
And thanks for posting one of my photos on your site. I am sincerely flattered.
Posted by: Marvin Mathiak at May 24, 2009 02:27 PM
---
Thanks Chrissie on behalf of my hubby, one of the forgotten Vietnam Vets.
Posted by: barenakedislam at May 24, 2009 03:00 PM
---
Thanks Chrissie great tribute.
Damn I hate the Days like this, I don't know what to say. When I left we were winning, as has been said before. What the hell happened. What has happened to our country. Since 1967, it seems to have gotten worse. Now, I hope is the peak (?) A President of the United States is cavorting around the world apologising for the United States. I can't understand for the life of me what we have done wrong and what we need to apologize for.
Now we are celebrating another Memorial Day, dedicated to the Soldiers who have gone before us and us and the ones still serving. But the men we dedicate this day to, He is apologising for.
Sorry I am confused.
Posted by: Mark at May 24, 2009 03:00 PM
---
Thank you my wonderful brothers and sisters for your unflagging support of veterans and our troops.
Thank you Chrissie for the great tribute. Much love and appreciation.
Is Hussein apologizing for his personal behavior or the collective behavior of Congress and his presidency? Maybe he only respects his Communist, Fascist and Islamist brothers, it shows!
I don't feel apologetic for fighting the cold war or the hot ones!!!
Go ahead and apologize for your own lack of manhood and patriotism Barry but don't do it for me, it's insulting!!!

Congress has failed to do it's job for over 65 years. Deferring their Constitutional duties to the President for prosecuting wars but withholding any declaration of war. Then with Congress pulling their support once heavily engaged.
Gotta protect their sorry malfeasant asses every 4 years, by making it look like the nation failed and we the troops get the blame for their failures.
This has left our troops maligned by fellow "americans?" for the failures of the Congress and the presidency. Dishonored for serving in failed wars where the troops won all the battles before Congress pulled out and for those souls lost as MIA or POW abandoned by our countrymen.
Congress, Obama, despicable!!!
Posted by: Jack at May 24, 2009 04:44 PM
---
Not gonna mix pot-lickers with Heroes.
Just remembering my crews who gave the
ultimate sacrafice.I still miss them.
To all here who served this reat Nation,
and support us,THANK YOU! Chief
Posted by: Chief at May 24, 2009 04:57 PM
---
I thank all of you who took a moment to comment and especially thank those that served. Many of them gave their lives so that we may be free and those that came home were often treated with contempt by those whom they gave the right to, to be a*%holes. God bless our troops, all of them and God Damn those that people don't.
Bob A.
Posted by: Bob A at May 24, 2009 08:14 PM
---
John 5 (VN69/70), I thank you.
Posted by: Wild Thing at May 25, 2009 12:16 AM
---
Tom, it is such an honor to be able to
say my friend and Vietnam Veteran Tom.
Posted by: Wild Thing at May 25, 2009 12:20 AM
---
Marvin, thank you so much for letting me
put your photo there it really meant a
lot to me.
Posted by: Wild Thing at May 25, 2009 12:23 AM
---
Barenakedislam, thank you I hope he
knows we that will never forget way
out number the other ones, the icky
yukky ones.
And please thank your husband for me.
Posted by: Wild Thing at May 25, 2009 12:26 AM
---
Mark, these are hard days, one that
cuts into the heart.
None of you Vietnam Veterans have
anything to apologize for, nothing.You are
America's heroes and will be into forever.
Posted by: Wild Thing at May 25, 2009 12:31 AM
---
Jack, to all the brotherhood that nothing
can touch, and I love that so much. Truly
nothing can get in and mess with that, it
has a life of it's own and is so very
special.
Posted by: Wild Thing at May 25, 2009 12:33 AM
---
Chief, thank you and from me too,
a grateful heart to your crews
and those that are missed so very
much.
Posted by: Wild Thing at May 25, 2009 12:36 AM
---
Bob A., I agree 100%, damn the people that
don't.
Posted by: Wild Thing at May 25, 2009 12:38 AM
---