« Guess how DHS defines who is a terrorist now? | Main | "CHECK, PLEASE! " by Mark Steyn »
May 04, 2009
USAF Staff Sgt. Eric Began Brings Calm Over Camp, Beethoven Brings in Buyers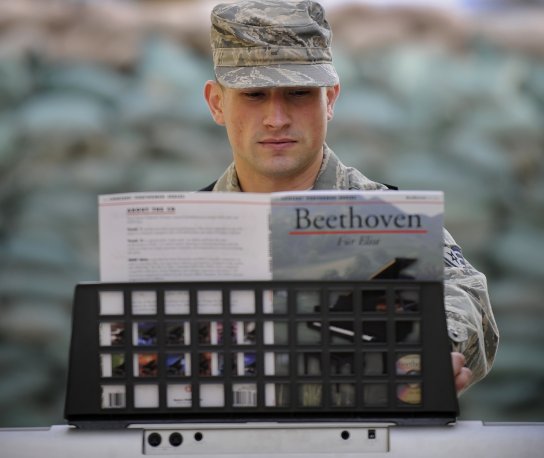 U.S. Air Force Staff Sgt. Eric Began, a Vehicle Operator for the Paktya Provincial Reconstruction Team poses for a portrait, April 12, Forward Operating Base Gardez. Began teaches himself how to play the keyboard as a way to pass time during his deployment to Afghanistan.
NCO Brings Calm Over Camp, Beethoven Brings in Buyers
by Staff Sgt. Stacia Zachary
FORWARD OPERATING BASE GARDEZ, Afghanistan
Strings of classical music stream from the doorway of a weather-beaten building in the middle of the Afghan countryside.
Housed within these whitewashed walls is a lone store on base to restock supplies. Staff Sgt. Eric Began, Paktya Provincial Reconstruction Team, is responsible for stocking the shelves, seeing to the needs of those on FOB Gardez as well as adding a little culture to the desolate base housed within a niche of the Afghan mountainside.
"There is little to come by here but people donate supplies on their way out or the extra goodies from packages from home that get mailed in," said Began, a Lancaster, Pa., native finishing up his 6-year enlistment. "Someone needs to be here to make sure what little we have is available. It's the small comforts of home that are stocked."
With only a few stragglers entering the Army and Air Force Exchange Service outpost, the staff sergeant has idle time on his hands. Intent on making the most out of his time, Sergeant Began has started learning the piano.
"In January, I decided that I would teach myself how to play so I ordered some beginner books and started to learn how to read music," he said. "Once I felt comfortable with the notes, I started out with easy Christmas music. At first it took almost a minute to find each key."
After a while the sergeant decided to move on to other types of music. After hearing some classical music, he decided to learn a ballad by Ludwig van Beethoven. Before long, that became too easy and he moved onto the concerto version of Fur Elise.
It is this melody that can be heard most streaming from the listing doorway attracting the attention of the FOB wayfarers.
"I like the spirit of [the music]," said Army 1st Lt. Justin Roman, 549th Military Police Company at FOB Gardez. "It takes discipline to [learn the piano] and is a very productive use of his time. It's important to make the most out of this time away from home."
A self-confirmed jack-of-all-trades, Began is on his third deployment in support of the Global War on Terror. On all three deployments, he has been tasked as an Army asset. During his first deployment to Iraq, the sergeant provided convoy security as a driver and later as a .50 caliber gunner for anyone who needed a gun truck when leaving the confines of the base. On the second deployment, Began was stationed in Kuwait as a line haul truck convoy driver.
Both previous deployments dealt Began his fair share of frustration, often without an outlet to relieve the stresses of everyday life dealing with difficult missions and different personalities.
"On my last deployment, I was angry for an entire month and it took me a while to get over a lot of things," he said. "On this deployment, I was reaching that point where I was getting angry at certain situations so when this opportunity presented itself for me to do something for me, I took it. Teaching myself how to play the piano has given me a certain calm that is helping me get through this deployment."
One night in the early stages of learning the basic fundamentals of playing the piano, the power went out in his building. The ivory of the piano keys were luminous in the pale green glow of the keyboard's reserve battery. This light allowed the sergeant to continue playing.
"Only the shadows of the keys were visible but there was enough lit that I continued to play," Sergeant Began said. "In that moment, alone in the dark with the rain pouring down, I was able to forget where I was at. It was so peaceful."
With only a few months left on his enlistment, Sergeant Began has already set his mind on his next adventure.
"This will be my last deployment and that's a good thing," he said. "I have learned a lot about myself and what I want [in life] from my time wearing this uniform. I'm ready to move on to college and other pursuits. Life is short and being [in Afghanistan] has showed me I need to experience everything life throws my way."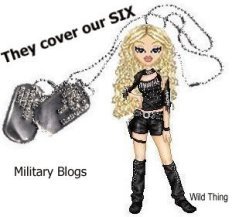 Wild Thing's comment.......
How cool for him to do this, I love classical music. He is also bringing something to an area in the world that never heard the sounds of Beethoven and other wonderful classical music.
Posted by Wild Thing at May 4, 2009 05:55 AM
---
Comments
Who doesn't love classical music? I know I do.
Good for him--learning something new, keeping it fresh. I'm sure those who are not against us are enjoying hearing it, even if he does miss a few notes here and there. We have to win their hearts and then the minds will come around. We aren't bad people. We only want to see everyone happy and free.
Posted by: Lynn at May 4, 2009 08:11 AM
---
Sometimes I have classical music on for 24 hrs, especially when I am on the computer.
Staff Sgt Began has had an interesting military service. He sounds like a very intelligent and capable fellow and I hope his future plans work out. Thank you for your service Eric.
Posted by: TomR at May 4, 2009 11:33 AM
---
Thank you Staff Sgt Began, bringing culture and good music to the battlefield. It never fails to amaze me at the talent residing in the troops.
Here is what happens when a fellow with a high school band sousaphone background, Hilary Stagg (named for Sir Edmund Hillary, the famous mountaineer) was an electrician when in his mid-twenties he attended an Andreas Vollenweider concert. He is self taught, I discovered this talent about 30 years ago in a mountain top shelter on Kuaui during a torrential rain, one of the tourists had a cassette tape player with Stagg playing, I wrote the name down on a cigarette pack and spent a long time trying to find his music. I ordered his CD's from an outlet in Toronto, Canada. I don't have a link to his Pachelbel Canon in D.
I like classical music too, thanks for sharing Chrissie.

Posted by: Jack at May 4, 2009 03:39 PM
---
I read where Mozart could hear the whole Piece in his head, not just one concerto but every instrument and all that needed to be done was to write it down. That is why I think the classics are timeless.
It can be a great benefit in a situation that Staff/Sgt. Began is in and a comfort too. Some things never grow old just get better with age.
Posted by: Mark at May 4, 2009 04:12 PM
---
Lynn, I agree, I wish all people in the
world knew the freedom we all have had
in our country.
Posted by: Wild Thing at May 4, 2009 06:20 PM
---
Tom, that is wonderful.
Yes, I love how he wanted to do this and
did it. He is making in a difference in
many ways.
Posted by: Wild Thing at May 4, 2009 06:24 PM
---
Jack, what an amazing and wonderful story.
Thank you Jack for the link to the music
too. I am listening to it, it's beautiful.
Posted by: Wild Thing at May 4, 2009 06:27 PM
---
Mark, that is so interesting about Mozart,
truly gifted. I agree the music is timeless.
Posted by: Wild Thing at May 4, 2009 06:30 PM
---
Eric is a very intelligent individual and I am proud to call him my brother. His deployments have been difficult on Eric and our family, but knowing he has something like his music to help him through is comforting. We need to support the deployed soldiers and help provide them with comforting distractions like music.
Posted by: Tara Jones at May 9, 2009 06:31 PM
---
Hi Tara nice to meet you. It was such an honor
to be able to post about Eric. I try to find
stories about our awesome troops and share them
on here at my blog. The comments you see are
always by Veterans and others that support our
troops. I don't even allow comments through unless
they are pro mililtary and our service members and their families.

God bless you Tara and your family. I am so glad you saw this post and shared about your wonderful brother. He is one of America's heroes.
Posted by: Wild Thing at May 9, 2009 06:58 PM
---
OH just one more thing giggle..I usually allow future comments up to 5 days for each post so I am especially glad you commented before I put it on frozen where it does not get more feedback.

This was very special for you to stop by.
Posted by: Wild Thing at May 9, 2009 07:00 PM
---