« GI Film Festival | Main | Doctors in Montana Face Orders to 'kill on demand' »
May 03, 2009
Troops At GITMO Watch National Geographic Gitmo Documentary
Members of Joint Task Force Guantanamo gather at O'Kelly's Irish Pub to view the National Geographic Channel's, "Explorer: Inside Guantanamo," April 5, 2009. The program was a behind-the-scenes look at life "inside the wire" of the detention facilities. JTF Guantanamo conducts safe, humane, legal and transparent care and custody of detainees, including those convicted by military commission and those ordered released. The JTF conducts intelligence collection, analysis and dissemination for the protection of detainees and personnel working in JTF Guantanamo facilities and in support of the Global War on Terrorism. JTF Guantanamo provides support to the Office of Military Commissions, to law enforcement and to war crimes investigations. The JTF conducts planning, and on order, responds to Caribbean mass migration operations.

Guantanamo Service Members Watch National Geographic Gitmo Documentary
by Staff Sgt. Emily Russell

GUANTANAMO BAY, Cuba
You could hear a pin drop in the unusual silence at U.S. Naval Station Guantanamo Bay's O'Kelly's Irish Pub, April 5, when National Geographic Channel aired the two-hour show, "Explorer: Inside Guantanamo."
The documentary, which reveals the day-to-day life of the detention center guards at Joint Task Force Guantanamo, provided a rare, behind-the-scenes look at the world's most talked about detention operation.
The show was highly anticipated by members of the JTF. The pub was full – standing room only – for two hours. With special consideration from Morale, Welfare and Recreation Food and Beverage Manager Eric Nikkel, Troopers were able to watch the special, which aired only on satellite TV.
As the show began, Troopers held their breath in anticipation of how the JTF would be portrayed.
"I believe that this show was created with an un-biased perception," said Air Force Tech. Sgt. Thomas Cougill, a member of the Office for the Administrative Review of the Detention of Enemy Combatants. "It showed the truth about the lives and emotions of the guards here at GTMO, while at the same time it had to be 'politically correct,' showing the lawyers' and detainees' point of view that they were being 'unlawfully confined and mistreated.' I had a lot of mixed emotions."
National Geographic Channel's ability to capture the story while maintaining an overall delicate political balance was evident, yet made some viewers question the message of the documentary.
"I thought [National Geographic] did a good job representing the guards and what they do," said JTF Guantanamo Senior Enlisted Advisor, Air Force Chief Master Sgt. Brian T. Schexnaydre. "However, I was disappointed by some of the comments the lawyers made. I felt that they put a negative spin toward the end of the show on what the reality is here, leaving the general public in question as to whether we're doing the right thing, or whether it should be closed."
According to JTF Commander, Navy Rear Adm. David M. Thomas Jr., there is no question when it comes to doing the right thing. Our mission is safe, humane, legal and transparent care and custody of detainees.
"Showing the public that these guards aren't all big burly men mistreating detainees was a relief," Cougill said. "These guards can be young males or females with families, who are not able to live a normal life outside the wire. My heart and prayers go out to these young troopers who have this on their shoulders, and their minds."
"We as a joint task force know what the guards go through and what they do on a daily basis," Schexnaydre said. "I think the coverage on what they do was pretty thorough; however, I don't feel they should take any negativity from the show to heart because they do a hell of a job here, regardless of what is portrayed to the public."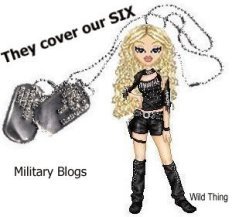 Wild Thing's comment........
I realize they are holding back with their comments,but I don't have to.
The ONLY reason there would be a docu made about GITMO is to try and do a trash piece on our troops. IF the docu said anything good it was only a cookie handed out to someone after they were beat up. Like that would take away the beating. I am so sick of this attacking our miltiary and it needs to be pointed out whenever it is seen or done. Shame on National Geographic !
Hey National Geographic , not do a documentary on the Kenya Muslim POS unConstitutional president. Let's see how much truth you are trying to seek out and document.
God bless our troops and thank God for each one of them.
Posted by Wild Thing at May 3, 2009 04:40 AM
---
Comments
I did not see this show. These days you almost have to praise a documentary if it is not blatantly and totally anti American. Hopefully this one at least showed the American personnel at Gitmo in a favorable light.
Posted by: TomR at May 3, 2009 01:35 PM
---
Thanks for the exposé Chrissie, National Geographic has not been objective for many years, maybe since it's founding, sure they have great photography but they also deceitfully hide their leftist agenda. Rewriting history to fit their view of it is not being objective, just as they've let the slime (lawyers) influence the end of their Gitmo story. Just under the Radar, we shouldn't have to seek the truth elsewhere to verify their's when they say one thing and their body language says another. It's like watching a Cuban documentary on the Castro's. No Cigar Comrades!!!
Posted by: Jack at May 3, 2009 04:15 PM
---
The Lawyers were concerned about the rights of these bastards who have already killed so many Americans. This is 'rich', where the hell do they get off worrying about a bunch of killer Terrorists. Obviously they are worried about their next Slip and Fall lawsuit. These moslem heathens got a break just by being at Gitmo. They are really going to be pissed when berry puts them down here on Welfare they won't get the same great treatment they get in Gitmo.
Unfreakinbelievable.
Then these low life lawyers can suit berry for abuse.
Posted by: Mark at May 3, 2009 07:23 PM
---
Tom, I never noticed it either. I am glad,
like you said maybe it will not be seen by
that many people and die out, with all it's
lies.
Posted by: Wild Thing at May 3, 2009 11:45 PM
---
Jack, yes it is sad too,I remember my parents
getting the magazine when I was a kid.
Posted by: Wild Thing at May 3, 2009 11:48 PM
---
Mark, DITTO all you said.
Posted by: Wild Thing at May 3, 2009 11:49 PM
---