« Hillary Clinton Warns North Korea for 'Belligerent' Behavior | Main | Obama's Green Guru Calls for White Roofs »
May 28, 2009
Transporting Detainees (Terrorists Prisoners)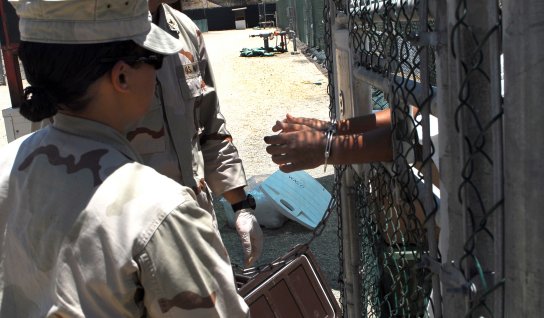 Detention operations center escorts explain the process of transporting a detainee to his legal visit at Joint Task Force Guantanamo's Camp 4, May 5. Sailors from the Navy Expeditionary Guard Battalion conduct detainee operations as part of the ongoing detention mission at Joint Task Force Guantanamo. JTF Guantanamo conducts safe, humane, legal and transparent care and custody of detainees, including those convicted by military commission and those ordered released. The JTF conducts intelligence collection, analysis and dissemination for the protection of detainees and personnel working in JTF Guantanamo facilities and in support of the Global War on Terrorism. JTF Guantanamo provides support to the Office of Military Commissions, to law enforcement and to war crimes investigations. The JTF conducts planning for and, on order, responds to Caribbean mass migration operations.
.

Properly Transporting Detainees
GUANTANAMO BAY, Cuba
In order to ensure safe, humane, legal and transparent care of the detainees in custody at Joint Task Force Guantanamo, troopers are assigned to escort detainees to medical appointments, lawyer appointments and commissions.
The Naval Expeditionary Guard Battalion conducts detainee escorts at JTF Guantanamo as part of the ongoing detention mission. They also escort contractors who come into the camps to do enhancement projects.
"My mission is to support detainee movements," said Navy Petty Officer 2nd Class Brian, non-commissioned officer-in-charge for Detention Operation Center escorts. "We also escort contractors throughout the camps."
Most of the troopers who are escorts were guards in the camps for several months until earning the opportunity to become escorts.
"They normally work in the camps for a few months until they learn about the environment," said Navy Senior Chief Petty Officer Glen Porter, senior enlisted advisor for the escorts. "They are then properly trained on how to be an escort."
The escorts are broken into teams, and a dispatcher assigns the team's task.
"When I come into the office, I lay out a plan for the day," said Navy Petty Officer 2nd Class Tyler, an escort dispatcher. "There are [many] detainee movements every day and it is imperative to make sure everyone is on time."
The escorts pick up the detainee at the camp, where he has already been informed of an appointment.
"We go pick up the detainee as a team, then safely transport him," Porter said.
The detainee has the right to refuse to be transported. They are never forced to attend an appointment of any sort.
"If they refuse to go, we cannot force them," Tyler said. "If it is an appointment that is important, someone will visit them at their location."
The escorts are also responsible for maintaining the flag program. This program supports trooper morale by affording the opportunity to have a flag flown over Camp Delta. After the flag is flown, the individual for whom the flag is flown receives an official certificate for the flag.
The troopers of the DOC escort program work hard and have daily struggles like many others who are deployed, but that doesn't change their focus on the mission.
"I think we are doing what needs to be done here," Tyler said in regards to the mission at JTF Guantanamo. "I am proud to be here during this historical period."
.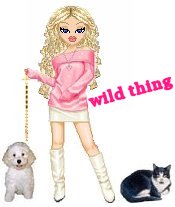 Wild Thing's comment.........
I was surprised about this, I always thought the doctors and lawyers came to the prison not the other way around.
Posted by Wild Thing at May 28, 2009 05:44 AM
---
Comments
This is choice they are trying to take away our guns so that when they release the terrorists from Gitmo they will have an easier target. I guess it makes sense to the Terrorists.
Obama = shit for brains.
Posted by: Mark at May 28, 2009 02:43 PM
---
Mark, unarmed and terrorist abound, not
a good mixture at all.
Posted by: Wild Thing at May 28, 2009 07:40 PM
---