« Biden to US: Hunker in the Bunker! | Main | Excellent GOP Ad ~ " Do You Feel Safer?" »
May 01, 2009
Toby Keith Entertains Troops in Afghanistan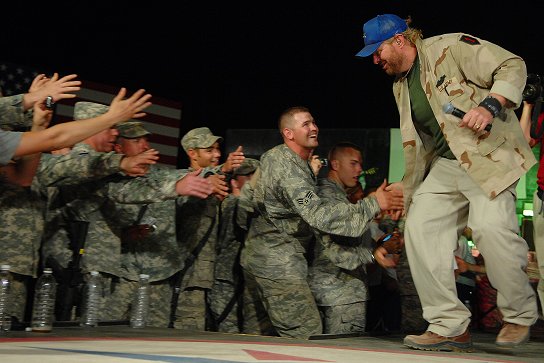 Country music performer Toby Keith, right, grabs the outstretched hand of U.S. Air Force 332nd Expeditionary Security Forces Squadron Senior Airman Brent Contratto during a concert for U.S. military service members at Balad Air Base, Iraq, April 28, 2008, during Operation Iraqi Freedom. U.S. Air Force photo by Senior Airman Julianne Showalter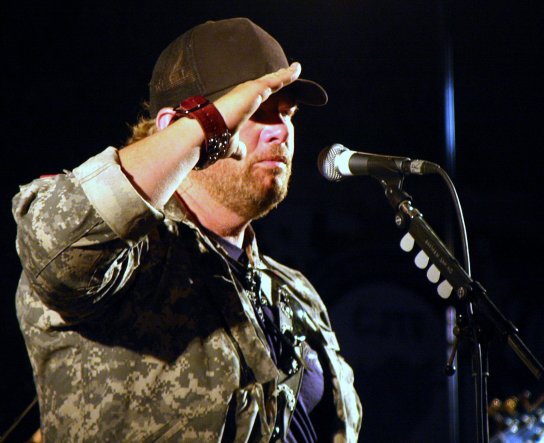 Country singer/songwriter Toby Keith salutes more than 1,000 service members who came to see his concert at Bagram Air Field, Afghanistan, April 27. This was Keith's seventh tour with the United Service Organizations. U.S. Army photo by Capt. Michael Greenberger
BAGRAM AIR FIELD, Afghanistan
by Capt. Michael Greenberger

Country singer and troop supporter Toby Keith finished up a 15-show tour in Afghanistan yesterday as he drew near the end of his seventh tour with the United Service Organizations.
Keith spent five days criss-crossing the war-torn country visiting bases large and small in a whirlwind of handshakes, autographs, photo-ops and of course – country music shows.
Whether it's hundreds of Marines at Camp Bastion or a crowd of thousands at Kandahar Air Field, countless hours of preparation and manpower go into making each show special.
"It's a three-pronged attack," said Rachel Tischler, USO vice president of entertainment operations. "The crews get to work setting everything up for the larger shows as most of the band goes to see people at the larger bases. While they are doing that, [Toby] and a few others visit the more remote locations."
Keith's tour visited Forward Operating Bases Tillman and Boris, near the Pakistan border, in addition to the larger bases, like FOBs Sharana and Salerno.
"It was important to Toby and the crew to visit as many of the smaller, remote locations as possible," said Tischler. "Never mind getting entertainers – some of them don't have running water!"
Keith, was taught early on to respect the military and those who serve in it.
"My father was a soldier. He taught his kids to respect veterans," said Keith. "It's that respect and the thank-you that we have a military that's in place and ready to defend our nation; our freedom."
Since 2002, Keith and company have visited war zones, military bases and ships at sea to bring a little levity and light into the lives of those in harm's way. He loves his job, he said.
"It's a break from the monotony in their life," Keith said of his duty to the troops. "They're under fire and tremendous workloads trying to accomplish their goals, so when we show up, it changes that for a little while. We try to put smiles on their faces."
According to the roaring crowd in the "clamshell tent" on Bagram, he succeeded.
"The energy level was so high," said Army Spc. Jennifer Cook. "It brought all the soldiers in, no matter what kind of music they liked."
Keith's forte is playing country music. He's been doing it for more than 23 years. Some of the hits he poured into the night sky over Afghanistan have been staples of country music for years – as well as favorites of those in uniform, such as "Courtesy of the Red, White, and Blue" and "American Soldier."
Written after his first visit to Iraq, "American Soldier" is a tribute to service members everywhere. Keith salutes military mothers, fathers, brothers and sisters -- ordinary people all over who volunteer to serve their country and give their lives for it if necessary. Keith took many of his first interactions with the military in Iraq, such as a remembrance ceremony for a fallen service member, and turned it into something many could understand.
"Those kinds of things just bore into your soul," Keith said. "I would have never been able to complete 'American Soldier' if it weren't for the experiences I had."
The troops appreciate Keith just as much as he appreciated them.
"This show was awesome," said Air Force Senior Airman Patrick McGuire. "I saw Toby Keith stateside and it was smoky and the crowd was just different. Here, it's like he was here for us, not just a show. It just felt like he was here for us."
Keith doesn't just raise spirits though, he raises awareness too.
"It's great to be supported by someone in the music business," Cook said. "It also keeps us on people's minds back home."
Keith ended more than an hour of guitar whompin', foot stompin' music with a promise he's echoed over 150 times: "I'll see you next year."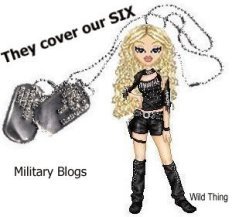 Wild Thing's comment......
More good feeling spreading around and lots of thank you's and appreciation for our awesome troops! Yesss that makes me so happy!!!
Posted by Wild Thing at May 1, 2009 05:40 AM
---
Comments
For a Liberal Democrat and Obama supporter, he is a strong supporter of our military. A perfect oxymoron.
Posted by: BobF at May 1, 2009 09:56 AM
---
I wonder what he feels now after 100 days of losing freedoms and Liberty.
I admire his support for the Troops and thank him for that but I can not forgive him for supporting obama. Because he is then part of the problem.
Posted by: Mark at May 1, 2009 02:11 PM
---
BobF., yes like Robin Williams too. He has
been there a lot and the troops absolutely
love Robin Williams but he is a liberal.
Both Robin and Toby Keith are very talented
I just wish they were not so messed up in the
head about who to vote for. Toby was for Bush
then switched when Obama came on the scene..
so weird.
Posted by: Wild Thing at May 1, 2009 07:46 PM
---
Mark, same here, I will always love talent,
and I love so much these peoople go to see
our troops. The troops love it and need it.
But what Toby did to vote democrat this time
hurt our troops and our country so much.
Posted by: Wild Thing at May 1, 2009 07:50 PM
---