« Obama Wants $190 Billion Tax Increase on Companies | Main | Next on Senate agenda? 'Pedophile Protection Act' »
May 05, 2009
Sarah Palin Honored by NRA With Assault Rifle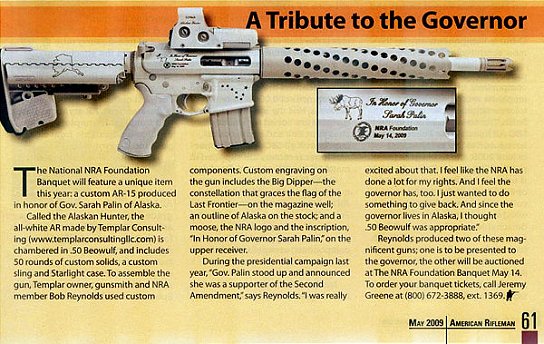 Alaska Gov. Sarah Palin was bashed for her pricey wardrobe, but now she's getting a lethal accessory.
The National Rifle Association Foundation will present Sen. John McCain's ill-fated running mate with a military-style assault weapon next week.
The all-white "Alaskan Hunter" - fashionable until Labor Day - is the civilian version of a modified M-4 rifle carried by U.S. troops overseas.
Alaska's feisty Republican governor, who is weighing a potential 2012 presidential bid, will receive the rifle made by Templar Consulting at a May 14 NRA banquet.
It's engraved with Palin's name and adorned with a map of the state on the collapsible stock - made legal after the expiration of the assault weapons ban in 2004. The Big Dipper from the state flag is etched on the magazine well behind a vented barrel guard.
The rifle is chambered in .50-caliber "Beowulf." It's the same caliber used by heavy machine guns, which can take down big game, and in war zones "can disable both motor vehicles and assailants with body armor," according to ammo manufacturer Alexander Arms' Web site.
Templar gun designer Bob Reynolds told the NRA's magazine that Palin had stood up for Second Amendment gun rights and "I just wanted to do something to give back."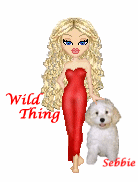 Wild Thing's comment.........
Wow, outstanding news. Congrats to Sarah! God bless Sarah Palin.

Posted by Wild Thing at May 5, 2009 05:48 AM
---
Comments
I have GOT to get me one of those! Do they have a Texas version?
Posted by: SSgt Steve at May 5, 2009 07:43 AM
---
It is very cool. I saw that in the NRA magazine and thought, "Wow--I'd like to have one of those!"
Posted by: Lynn at May 5, 2009 08:16 AM
---
I second the Texas Version.
Posted by: JohnE PFC U.S. Army at May 5, 2009 12:23 PM
---
Yeah, they got a Texas version, .75 cal just so y'all know it's from Texas.
My nephew bought one of those he was out back putting holes in the mountain.
Posted by: Mark at May 5, 2009 12:52 PM
---
I bet Sarah can handle that .50 cal.
Congratulations to the great state of Alaska on it's 50th anniversary of statehood. I imagine the gun owning state of Alaska would seriously consider joining other states in looking at secession if Obama pushes through his anti gun agenda.
Posted by: TomR at May 5, 2009 01:03 PM
---
This story has been all over the blogsophere and even the "news" media for days, and the event isn't until next week, so we can count on it to continue to generate news over the next 2 weeks. Even Palin's appearance on American Chopper is still being talked about. Notice how most of the news about this Council for New America is all about whether or not Palin will participate. Everything she does or says or doesn't do or doesn't say makes news, and generates more column inches than any other politician in the county except for 0bama. Much of it coming from people trying to convince us that she is unimportant.
Palin 2012
Posted by: greg at May 5, 2009 02:08 PM
---
SSgt Steve, giggle, if they don't now
I bet they will.
Posted by: Wild Thing at May 5, 2009 05:52 PM
---
Lynn, thanks for sharing about that. I am
a new member of NRA and my magazine has not
arrived yet.
I agree it is really neat.
Posted by: Wild Thing at May 5, 2009 05:56 PM
---
JohnE PFC U.S. Army, hahaha I hope they do
one. That would be awesome.
Posted by: Wild Thing at May 5, 2009 05:59 PM
---
Posted by: Wild Thing at May 5, 2009 06:01 PM
---
Tom, yes I could see Alaska joining in that.
They would fit right in too.
Posted by: Wild Thing at May 5, 2009 06:03 PM
---
greg, thanks, she is handling it well too.
I am sure she has to be sick of the attacks
on her, but she also see people are still
very much interested in how she is doing and
what she has to say.
Posted by: Wild Thing at May 5, 2009 06:06 PM
---