« Holy Joe's Cafe ~ Afghanistan | Main | Obama Trashed Travel to Vegas and Now Won't Meet NV. Gov. Gibbons »
May 18, 2009
Obama Wants Statehood and Netanyahu says Palestinians must accept Israel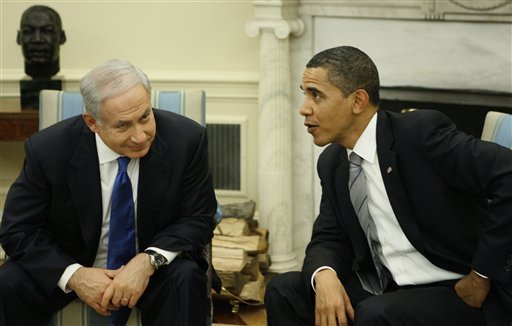 Netanyahu says Palestinians must accept Israel
Israeli Prime Minister Benjamin Netanyahu said Monday he is ready to resume peace talks with the Palestinians immediately, but any agreement is contingent on their acceptance of Israel's right to exist as a Jewish state.
Netanyahu and President Barack Obama met for more than two hours at the White House and focused on Mideast peace talks, Iran's nuclear program and the U.S.-Israeli relationship.
Obama said he expects a positive response from his diplomatic outreach to Iran on stopping its nuclear program by the end of the year.
The president said the United States wanted to bring Iran into the world community, but declared "we're not going to have talks forever."
At the same time, Obama said bluntly that it was important that Netanyahu, a hard-liner on peace negotiations with the Palestinians, get back to the negotiating table.
While his language was gentle, Obama's words were notable nonetheless for being made in public.
"We have seen progress stalled on this front, and I suggested to the prime minister that he has a historic opportunity to get a serious movement on this issue during his tenure," Obama said. "That means that all the parties involved have to take seriously obligations that they have previously agreed to."
Added Obama: "I think that there is no reason why we should not seize this opportunity and this moment."
.
Obama: U.S. backs Palestinian statehood
Barack Obama voiced support for creation of a Palestinian state in talks on Monday with Prime Minister Benjamin Netanyahu, who held back from endorsing the main cornerstone of Washington's Mideast policy.
With Israeli leaders mostly skeptical of Obama's efforts to engage Iran diplomatically, Netanyahu had planned to stress Israel's growing concerns about Tehran's nuclear ambitions, Israeli officials said before the talks.
Obama, speaking along with Netanyahu to reporters in the Oval Office, said after the two-hour meeting that he saw no reason to set an artificial deadline for diplomacy with Iran, but the U.S. would like to see progress with Tehran by the end of the year.
Obama also reminded Israel of its commitment, under a 2003 U.S.-backed peace road map agreement to cease settlement activity in the West Bank.
"We talked about restarting serious negotiations on issues of Israel and the Palestinians," Obama said, adding that it was in the interests of both sides "to achieve a two-state solution."
Netanyahu, in his remarks, reiterated that he supported self-government for the Palestinians but made no mention of a state, a position underscoring a rare rift in U.S.-Israeli relations.
"We don't want to govern the Palestinians. We want them to govern themselves," Netanyahu said, echoing statements he has made in the past.
.

Wild Thing's comment......
Listening to Bibi and Obama on FOX now. Bibi doesn't look happy. I can't blame him he knows how Obama has bowed to Saudi and favors the Hamas and Palestinians .
Netanyahu has already agreed to the formula, started in the Oslo Accords, for giving the Palestinians their own country. That's what the whole thing was about, and Netanyahu has already said that he and Israel will abide by their agreements (from Oslo forward).
Neither Netanyahu or Israel wants a "one-state solution" where Israel has all the land and all the Palestinians that go with the land. And they are not going to set up an "Apartheid State" either, so that will never work.
A one-state solution would be national suicide for Israel.
I hate that Netanyahu even had to sit down and discuss life and death issues for Israel with this incompetant community organizer. I don't think he is buying what the Neville Chamberlain of our times is saying. There was no confrontation and no blowup but the US and Israel have clear differences. That much is obvious from the end result of today's talks between the leaders of the two countries at the White House. God Help the USA! God Help Israel!
Posted by Wild Thing at May 18, 2009 02:55 PM
---
Comments
Don't ever knuckle under Bibi!!! The ragheads calling themselves Palestinians have made no contributions to their own society but hatred, they are welfare recipients under UNRRA, spending their welfare stipend on armed insurrection within Israel against their benefactors, that is known as biting the hand that feeds you.
Posted by: Jack at May 18, 2009 04:17 PM
---
I don't think the Soutpiel knows who he's dealing with. Netanyahu is not some schlep off the street.
In Israel they formed a Special Forces Unit in 1957 it was kept secret for a long time but finally leaked out. It is called the Sayeret Matkal. It's members are hand picked very similar to our Rangers. Netanyahu was one of those members. His Brother was killed in the raid on Entebbe also a member of this Elite Force. Benjamin was in the Sayeret Matkal from 1967-72 during the 67 War.
Netanyahu will not be bullied by Obama or the Ballerina Emanuell. Emanuell should know this up front if he doesn't he's in the wrong job.
A two state solution is rediculous. The Arabs don't want a solution they want Israel out of there. Obama's still trying to appease Iran, I don't think Netanyahu is going to wait forever for a solution as Iran gets ever closer to gaining a nuclear device. So the bamster ought to get off his dead ass and do something with Iran otherwise Netanyahu will.
Posted by: Mark at May 18, 2009 06:09 PM
---
Jack, yess he has to stay strong.Obama
is sly and cannot be trusted. I liked
how BiBi said "Palestinians must accept
Israel". Obama could care less about that
but it is the way it would have to be.

Posted by: Wild Thing at May 18, 2009 07:18 PM
---
I expected a stronger response from Netanyahu but being said, realize this is also a political world. God bless Israel and let us stand with them. I have my doubts about Obama. I have no doubts about Amanutjob and his Islamist friends.
Bob A.
Posted by: Bob A at May 18, 2009 07:21 PM
---
Mark, weel said "Netanyahu is not
some schlep off the street."
Exactly, and Obama meets class with
BiBi and Obama better listen and not
think he can dictate.
Posted by: Wild Thing at May 18, 2009 07:22 PM
---
There is already two states.
The Jewish State is Israel. The Palestinian State is Jordan. Enough with this bullshit, the arabs should just pack up their shit and go home already.
I wish I had more confidence in Bibi.
Posted by: LindaSoG at May 18, 2009 10:23 PM
---
Bob A., Netanyahu has the potential to be
an awesome leader, I have liked him for a
very long time. I only hope and pray he
will be strong and not give in to Obama.
He did not like today it was obvious and
he shouldn't have.
Netanyahu punching Obama out would be ok
with me.
Posted by: Wild Thing at May 18, 2009 11:23 PM
---
Linda, thank you.
I agree,they have plenty of places they
can go live. I want them out of Israel.
Posted by: Wild Thing at May 18, 2009 11:26 PM
---
NUKE PERSIA
NUKE PERSIA
NUKE PERSIA
Posted by: cuchieddie (DHS suspected terrorist)) at May 19, 2009 05:46 PM
---