« Visiting Our Troops Through Images | Main | Obama Set to Create A Cybersecurity Czar With Broad Mandate »
May 27, 2009
Obama To Visit Saudi Arabia To Bow Again on June 3rd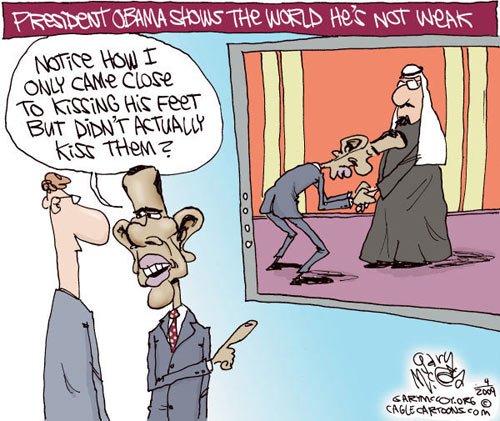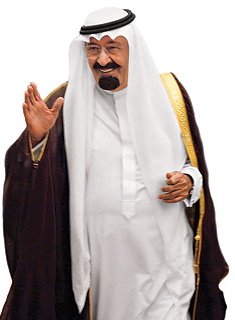 King Abdullah of Saudi Arabia
Obama Adds Saudi Arabia to Middle East
US President Barack Obama will visit Saudi Arabia on June 3 for talks on Iran's nuclear program and Washington's renewed push for a Middle East peace plan, the White House said on Tuesday.
White House spokesman Robert Gibbs said Obama would meet Saudi King Abdullah and would also discuss terrorism.
The addition of Saudi Arabia to the Middle East tour indicates added determination by President Obama to forge a regional peace in the face of hardening positions by Palestinian Authority Chairman Mahmoud Abbas and Prime Minister Binyamin Netanyahu.
"The president will meet with his majesty King Abdullah to discuss a range of important issues, including Middle East peace, Iran and terrorism," White House spokesman Robert Gibbs said late Tuesday. He is scheduled to deliver a major speech in Egypt, where he will continue attempts to reach out to the Muslim world.
The president's aides said the speech will focus on "safety and security" for Americans and Muslim nations.
Before leaving for the Middle East and Europe, President Obama will receive Abbas, two weeks after a visit by Prime Minister Netanyahu, with whom the president "agreed to disagree."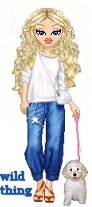 Wild Thing's comment.........
Gibbs said the two leaders would meet in Riyadh on 3 June to discuss the Mid-East peace process, Iran's nuclear programme and terrorism.....Afterwards, he will travel to Cairo to give a major policy speech addressed to the Muslim world, and then go on to Germany and France. ( source BBC )
I guess he has been practicing his bowing and wants to show off!
Posted by Wild Thing at May 27, 2009 06:50 AM
---
Comments
The Soutpiel is forcing a peace and the only one giving ground are the Israeli's. If everyone, Hussein, the Saudi's et al, are so concerned about the Palestinians, why don't they give a couple of thousands acres to the Palestinians, or Saudi Arabia they got plenty why don't they give up something afterall half of the Palestinians are Saudis. Peace is fantasy. They could care less about a two state solution it is a one state solution with no Jewish state always has and always will be.
Barry Soetoro is a moslem pure and simple. He is making his trip to see the Saudi King to pay homage and kiss his ass.
Posted by: Mark at May 27, 2009 11:39 AM
---
Just send Obama's severed head and his telepromter over there. Happiness would be Soros on one end and Obama on the other,of a rope, just one inch off the deck.
Posted by: Jack at May 27, 2009 11:41 AM
---
Will this meeting be considered a muslim to muslim conference. What else will Obama give up to keep the Saudis happy? I bet he is promising them Israel.
Posted by: TomR at May 27, 2009 01:28 PM
---
Agree with all of you. Iran and N. Korea are rattling sabers and Osama Obama is partying in Las Vegas rattling his tounge in support of Harry Greid. He really has these two scared. Actually he has me scared. If the Maersk Alabama is any indication the N. Korean military, unless our military acts on it's own, will be far south of Seoul before Barry makes a decision to act.
Posted by: Bob A at May 27, 2009 06:05 PM
---
Mark, your right and this time I think
the meeting is set to be private. So
good Lord no one will know what will go
on.

Posted by: Wild Thing at May 27, 2009 07:39 PM
---
Jack, heh heh I sent your Soutpiel quote to
Rush today. I just know he will love it,
not sure if he will use it on his show
or not but I bet he finds it perfect.
Posted by: Wild Thing at May 27, 2009 07:42 PM
---
Tom, that gave me goosebumps. He could
do that yes, he could just say he will
totally hold back any help to Israel
and side with Muslims completely.
Posted by: Wild Thing at May 27, 2009 07:44 PM
---
Bob A., there is so much happening it is
almost impossible to keep up. It reminds
me of how it says I think in the old
Testament in the Bible about how evil
thrives on confusion. With all Obama has
been doing and in such a short time he
encourages confusion so people do not
notice all the harm he is doing.
Posted by: Wild Thing at May 27, 2009 07:47 PM
---
Thanks Chrissie, I first heard the term Soutpiel on Kim Du Toit's original blog. I had to look up the term, it aptly describes all those who don't have a greater allegiance to the United States than a foreign country, especially those who live and profit from the sacrifices of our countrymen and refuse to integrate into our great society.
He dropped his blog like a stone and ultimately resurfaced under a less ranting American title, still a staunch patriot and upholder of our Constitution, sadly he's not blogging anymore, neither is Mrs. Du Toit. Both have quit preaching to the choir. Our loss is great. He graciously wore the bullseye of the left's vehemence.
He's more of an American than those born here, a fantastic man from South Africa, his wife is no slouch either. I miss his blog terribly, but I'm sure he was burned out and burned up over the lack of concern in the general population. It was costly for him also.
Posted by: Jack at May 27, 2009 09:31 PM
---
Jack, thanks for sharing abuot that.
Kim was always very kind to me as a new
blogger. Kim is a good man and yes I agree
he is missed.
Posted by: Wild Thing at May 27, 2009 11:49 PM
---