« Hot In Recession: Cheaper Wine, Chocolate, Spam | Main | Holy Joe's Cafe ~ Afghanistan »
May 18, 2009
NO To Two State Solution For Israel and NO to Funding Terrorists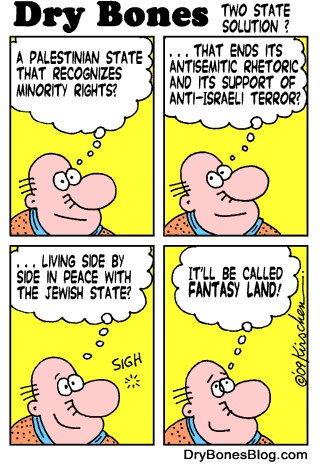 As the time nears for PM Netanyahu's May 18 visit to the U.S., there are worrisome signs that the U.S. administration will pressure Israel to make dangerous, premature concessions.
Israel must have the right to define its security needs and to ensure its survival.
Israel wants peace and an agreement with the Palestinians. But a lasting solution cannot be rushed, unconditional, or externally imposed.
Premature withdrawal from the West Bank may gravely risk Israeli lives, society and economy.
* The Palestinian Authority (PA) continues to host terrorist cells within a few kilometers of Israel's major cities. With independent freedom of movement and air space, they will be in a position to easily attack Israelis.
* Terrorist operations, including suicide bomb plans, have been launched from the PA jurisdiction without detection or restraint from Abbas's PA government.
* The PA government has proven unable or unwilling to block the influx of arms from Iran and other rogue states.
* A Palestinian state, under today's conditions, would likely become an Iranian proxy, just as southern Lebanon did. Iran openly seeks a genocidal military campaign to "wipe Israel off the earth" and funds and arms anti-Israel terror groups in the Palestinian areas and southern Lebanon.
* Hamas could easily take over the West Bank, where Fatah is unpopular and weak. The heart of Israel's population, economic centers, and Ben Gurion airport would be in direct, short-rocket range from key West Bank heights like Baal Hazor.

.
Obama's Supplemental Bill Passes, Gives Billions to Enemies?
from Creepingi Sharia
Barack Obama's 2009 Supplemental Appropriations for Iraq, Afghanistan, Pakistan, and Pandemic Flu was revised and "passed by the full committee". Not sure what the next step is, but based on the summary, it gives billions of U.S. taxpayer dollars to countries and entities that support sharia law and/or harbor, hide and support those who want to destroy the U.S. and our allies.
From David Obey's (D-WI) office: This is a PDF file
* 3.6 billion, matching the request, to expand and improve capabilities of the Afghan security forces
• $400 million, as requested, to build the counterinsurgency capabilities of the Pakistani security forces
• Afghanistan: $1.52 billion, $86 million above the request
• West Bank and Gaza: $665 million in bilateral economic, humanitarian, and security assistance for the West Bank and Gaza
• Jordan: $250 million, $250 million above the request, including $100 million for economic and $150 million for security assistance
• Egypt: $360 million, $310 million above the request, including $50 million for economic assistance, $50 million for border security, and $260 million for security assistance
• Pakistan: $1.9 billion, $591 million above the request
• Iraq: $968 million, $336 million above the request
• Oversight: $20 million, $13 million above the request, to expand oversight capacity of the State Department, USAID, and the Special Inspector General for Afghanistan to review programs in Afghanistan, Pakistan and Iraq
• Israel: $555 million of the $2.8 billion 2010 request for security assistance, $555 million above the supplemental request. (Note: that means Obama's original request did not include any money for Israel in 2009)
• Lebanon: $74 million
• International Food Assistance: $500 million, $200 million above the request, for PL 480 international food assistance to alleviate suffering during the global economic crisis
• Refugee Assistance: $343 million, $50 million above the request, …including humanitarian assistance for Gaza. Funding for the UN Relief and Works Agency programs in the West Bank and Gaza is limited to $119 million (Note: Gaza = Hamas)
• Disaster Assistance: $200 million to avert famines and provide life-saving assistance during natural disasters and for internally displaced people around the world, including Somalia, Zimbabwe, Ethiopia, the Middle East and South Asia
• Peacekeeping: $837 million for United Nations peacekeeping operations, including an expanded mission in the Democratic Republic of the Congo and a new mission in Chad and the Central African Republic
• HIV/AIDS: $100 million, $100 million above the request, for the Global Fund to Fight AIDS, Tuberculosis and Malaria to address a funding shortfall for grants in key countries such as Haiti, The Democratic Republic of the Congo, and Afghanistan. (Note: That means Obama's original request didn't include any money for AIDs)
• Africa: $151 million, $18 million above the request, for economic and security assistance for Kenya, Somalia, Southern Sudan, and Zimbabwe
* Mexico: $470 million, $404 million above the request, to address growing violence along the United States-Mexico border by supporting the Government of Mexico's war against organized crime and drug-trafficking
• Georgia: $242 million to fulfill the United States commitment to the people of Georgia
• Global Financial Crisis: $300 million, $148 million below the request, to address the global financial crisis in developing countries
• Nuclear Non-Proliferation: $55 million, $34.5 million below the request, for the National Nuclear Security Administration to safeguard nuclear material in Russia and other sites world-wide
• Department of Justice: $17 million, matching the request, for counter-terrorism activities and to provide training and assistance for the Iraqi criminal justice system
.
There's an online "SAY NO TO U.S. PRESSURE ON ISRAEL" Petition.
It's been put up by the Stand With Us people. It opposes "U.S. pressure on Israel for premature concessions that will put Israeli security at risk".
To see the petition click here.

.
And there is also this........
http://www.cfoic.com/saveisrael.jspChristian Friends of Israel Communities
Wonderful video , please click HERE

.

Wild Thing's comment.......
Obama favors Islam over Israel. It is insane to be giving money to countries that harbor terrorists and help them in anyway. Last month on Obama's trip he said " we are strengthening our hand by reaching out to enemies of the United States ".
I agree witih KNOW your enemy, but to reach out to our enemy, hmmmmm I don't think so.

....Thank you Mark for sending this to me.


Mark
3rd Mar.Div. 1st Battalion 9th Marine Regiment
1/9 Marines aka The Walking Dead
VN 66-67


Posted by Wild Thing at May 18, 2009 05:50 AM
---
Comments
I hate that my tax dollars are being blown all over the third world. We are not buying much relief. Instead we are basically subsidizing dysfunctional societies and enriching the Swiss bank accounts of dictators and crooks.
Posted by: TomR at May 18, 2009 08:20 AM
---
I just read on drudge, Obama tells Netanyahu to stop building in the West Bank. That is a buffer zone for Israel. Who does this putz think he is.
It has not been reported what BiBi's response is but I'm hoping he is not caving to obama's demands. Daily, I am convinced this jerk is a moslem pure and simple. As Tom says, he is paying off the Terrorists to make nice until Israel lowers its guard. I don't trust obama, he is nothing but a thug.
Posted by: Mark at May 18, 2009 02:41 PM
---
Back off O'Bummer you muzzy loving bastard.
God I wish the muzzies would take this traitor out, I know it's not American of me to feel this way.
Israel is a sovereign nation, known the world over officially as the State of Israel, not the state of Palestine.
Hussein, Bibi and even your precious Commie-Muzzy UN recognizes that distinction.
If you really want peace in the middle east quit supporting the organization that supports the terrorists and malcontents, the UN, specifically the United Nations Relief and Rehabilitation Administration, (UNRRA), the organization founded in 1943. UNRRA discontinued its operations in Europe on June 30, 1947. Its remaining work, chiefly in China, ended on Mar. 31, 1949.
Where has it been since? Damned right, expressly supporting the 'Palestinians' and funding them since 1948.
Get out of the UN and it's tenacious clutches that enslaves the world under it's domination.
Israel has 61 years of prosperous development in spite of perpetual war with it's neighbors and in spite of the vermin within, they contribute nothing but hate, they have not progressed beyond the 7th century under the dictates of the paedophile butcher and his death cult.
The United States hypocrisy of stated "not supporting terrorists" then pouring funds directly into the UN and into Hamas, directly funding their terrorism, is an utterly disgusting and offensive lie.
Posted by: Jack at May 18, 2009 04:08 PM
---
Tom, I hate it too and it has been increasing
too and getting worse.
" Instead we are basically subsidizing dysfunctional societies and enriching the
Swiss bank accounts of dictators and crooks."
This says exactly what is happening.
Posted by: Wild Thing at May 18, 2009 07:38 PM
---
Mark, you said it great that is horrible
that Obama said that. He is a putz for
sure. BiBi is a manly guyunlike Obama
I bet he was sitting there thinking one
swat across this punks face and he goes
across the room heh heh.
Posted by: Wild Thing at May 18, 2009 07:42 PM
---
Jack, HUGE DITTO to what you said.
Oh man that link has me so furious!!
Yesss it is lies, the IDF has been
way too good to the Gaza Arabs to
begin with and then to have lies
about how they are treated is
disgusting beyond belief.
I would want to just shoot them
all and put the Gaza Arabs out of
MY misery. If they did not die with
the first shot then k-pow another
shot. Better that then a suicide
bomber on the next bus or at the
outdoor cafe killing a lot of
innocent people.

Posted by: Wild Thing at May 18, 2009 07:48 PM
---