« TAX Imposed on Second Amendment Rights in Florida | Main | Challenger the Bald Eagle ~ This Is America! »
May 16, 2009
Maj. Steven Hutchison a Vietnam Vet and Served in Iraq ~ R.I.P.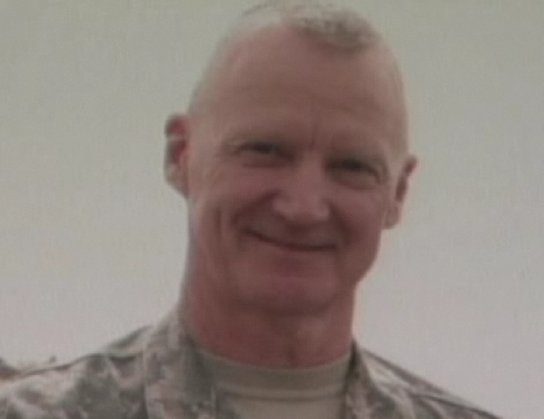 Army Maj. Steven Hutchison fought battles in the jungles of Vietnam and then Hutchison served in Afghanistan for a year before deploying to Iraq in October, heading a 12-soldier team that trained the Iraqi military. Later, he was assigned to help secure Iraq's southern border. He died in Basra, Iraq, of wounds from a roadside bomb in Al Farr.
He was part of the 2nd Battalion, 34th Armor Regiment, 1st Brigade Combat Team, 1st Infantry Division at Fort Riley, Kan.
.
Scottsdale soldier, 60, oldest to die in Iraq
Army Maj. Steven Hutchison, a senior soldier who served two tours of duty in Vietnam, wanted badly to defend his country after the Sept. 11 attacks, but his wife, Kandy, did not want him to re-up.
When breast cancer claimed Kandy Rohde's life in 2006, Hutchison, then 57, jumped at the chance to return to service, according to his brother, Richard.
Hutchison, 60, of Scottsdale, got his wish - but it ended tragically this week when an improvised explosive device detonated near his vehicle in Al Farr, Iraq. He died Sunday in Basra, according to the U.S. Department of Defense.

Hutchison, who would have turned 61 on June 5, was the oldest soldier to be killed in Iraq or Afghanistan, according to Defense officials. He was there through a military Retiree Recall program that permits older, experienced warriors to return to action.
"He'd been a soldier all his life, and that's what he wanted to do," his brother said.
Richard Hutchison of Mesa finds little solace in the fact that his sibling was the oldest Iraq war soldier to give his life.
"Doesn't make me feel much better," he said. "He was probably my best friend. I loved him very much. I'm going to miss him."
The incident surrounding Hutchison's death is still under investigation. He was the only soldier killed in his vehicle, according to his brother.
Hutchison was one of roughly 700 officers and senior non-commissioned officers now on active duty as part of the military's Retiree Recall program. Hutchison had previously served in Afghanistan from August 2007 to August 2008.
"He hadn't been drafted, he didn't have to go, and he chose that he felt that he could serve and make a difference," said Lt. Col. Nathan Banks, an Army spokesman.
As a member of the 2nd Battalion, 34th Armor Regiment, 1st Brigade Combat Team, 1st Infantry Team, Hutchison was an adviser on an Army Military Training and Transition Team that trains Iraqi army and police units.
But the mission had recently changed, according to Hutchison's niece, Lori Hutchison, and her uncle found himself defending Iraq's borders near Basra.
According to Pentagon officials, the armed forces can reinstate retirees voluntarily up to age 64 for general officers, age 62 for warrant officers and age 60 for all others. The Army has an age limit of 42 for new soldiers who do not have prior service.
Lt. Col. George Wright, an Army spokesman and a retired soldier who rejoined the Army through the recall program, said Hutchison's decision was not hard.
"In volunteering, it's not a difficult choice," Wright said. "It's something we choose to do. It's because we love our country, and we love the Army, and we love the soldiers who are in it."
Retiree Recall soldiers, Wright said, maintain an online message board.
"I read about the dedication and the high level of professionalism and the desire to be of continuous service, and our major was doing just that," Wright said of Hutchison.
Such soldiers, Wright said, must maintain a physical, mental and moral state similar to when they previously served.
Members of the armed forces, including the National Guard and the Army Reserve, also must pass fitness tests every six months, meeting requirements in push-ups, sit-ups and the 2-mile run, among other areas.
"He was more than capable," Richard said his brother. Steven was always a runner, Richard said, running 2 to 4 miles per day, multiple times each week.
The two brothers would go hiking together, with Steven wearing a backpack.
Steven Hutchison previously served two tours of duty in Vietnam from 1968 to 1970 as member of the 101st Airborne Division. A Bronze Star and Meritorious Service Medal recipient, he also was an Army instructor during his previous 20 years of service.
After earning an experimental-psychology degree in 1982, Hutchison served his final years in the Army as a research-and-development coordinator studying human engineering.
Upon retirement, Hutchison earned a doctorate in organizational psychology and went on to teach psychology at various California universities.
"If there's any definition of a lifelong learner, that would definitely have been him," Lori said of her uncle.
.
Wild Thing's comment............
God bless you Major Steven Hutchison, we owe you so much a debt that can never be repaid. You have a special place set aside for you in heaven.

....Thank you Jim for sending this to me.
Posted by Wild Thing at May 16, 2009 07:47 AM
---
Comments
Thank you Major... God bless you and your family...a brave rifle if ever there was... a booth at fidlers green awaits!
Posted by: James M at May 16, 2009 09:58 AM
---
Thank you for your loyalty to your country and fellow soldiers. You are part of the best and you are blessed. God will open all of Heavens Gates for you. You make us all proud!!!!!
Posted by: Lynn at May 16, 2009 11:15 AM
---
Rest in peace Sweet Prince you have done a lions share for a lifetime of protecting the clueless, witless and worthless at home. Your passing will be mourned by all your brothers and sisters and all those in the Big Red One where you selflessly served. You are a far better man than I. God bless your soul Steven Hutchison and your surviving family.
Thank you Jim and Chrissie.
Posted by: Jack at May 16, 2009 11:40 AM
---
Maj Hutchinson died doing what he wanted to do. He loved the Army and loved serving America. Now he is with his wife. May they rest in peace together.
Posted by: TomR at May 16, 2009 12:46 PM
---
wow, 60 and still at it. That is incredible. Great story of one incredible man. Tom nailed it he died doing what he enjoyed most, the Military.
God Bless him.
Posted by: Mark at May 16, 2009 03:12 PM
---
salute to you from Vfw mens aux. 8573 canyon lake texas
Posted by: charles McElroy at May 17, 2009 10:45 AM
---
I was a very good friend of Steve. He had only 2 days before flying out to Sydney, Australia. Only 2 days til. Im still in shock. I hadnt seen him in 7 months and we planned vacation in Sydney. My only problme from our vacation was I was not going to be able to take him home with me. He is home now.
Steve, I will miss you more than you would know.
You are with your "little chickadee" now...all is good in your world now.
Posted by: Susan Surdu at May 17, 2009 01:05 PM
---