« NO To Two State Solution For Israel and NO to Funding Terrorists | Main | Obama Wants Statehood and Netanyahu says Palestinians must accept Israel »
May 18, 2009
Holy Joe's Cafe ~ Afghanistan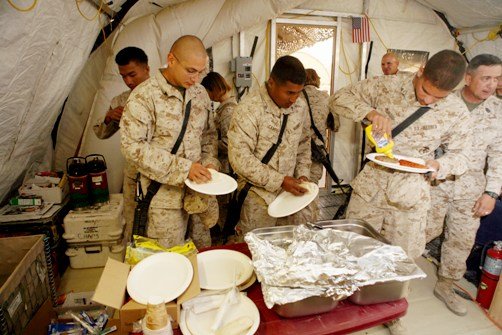 Marines with Combat Logistics Battalion 3, gather around a table full of barbequed hamburgers, hotdogs and quesadillas during the grand opening of Holy Joe's Cafe at Camp Barber, Afghanistan, April 20, 2009. The small outdoor patio-style cafe located behind the Camp Barber chapel, offers service members and civilians the opportunity to relax and drink a free cup of fresh coffee or tea. The cafe's operated by the chapel's religious ministry team and has received many donations through the Adopt-a-Chaplain Program, ensuring that service members receive some of the simple pleasures of life while forward deployed through the generosity of others. Photo by Lance Cpl. Ronald Stauffer
.

CAMP BARBER, Afghanistan
Sometimes it's the simple pleasures in life that can make a difference when deployed.
Service members carrying out their duties in support of counterinsurgency operations aboard Camp Barber, Helmand province, Afghanistan, can now enjoy the fresh smell of coffee and a relaxing lounge to sip a "cup of Joe" at Holy Joe's Café, April 29, 2009.
The Camp Barber café originally opened in March, providing free coffee, hot tea and breakfast snacks to service members and civilians serving at Camp Barber, but the moniker "Holy Joe's" isn't an entirely new name to forward-deployed service members.
The café at Camp Barber derived its name from the Holy Joe's Café project, which was started in 2006 by the First Congregational Church in Wallingford, Conn., as a coffee drive, providing military chaplains in Iraq, Afghanistan and Kuwait the opportunity to further support U.S. service members deployed overseas.
In an effort to support her fellow service members in what she calls "a little piece of home," Navy Lt. Karen J. Rector, the Combat Logistics Battalion 3 chaplain, collected matted flooring, put up camouflage netting for shade, and gathered benches and tables to give coffee and tea-drinking patrons a comfortable and appealing place to take a break. CLB-3 Sgt. Maj. Danny Duvall volunteered a bit of his spare time and artistry, decorating the café's tables and benches with an eclectic holy-Hawaiian-desert-patriotic motif to make things interesting for the patrons as they enjoy their "cup of Joe" or tea.
"Coffee in the morning helps you face the adversities that you're going to face that day," said 1st Lt. Jason D. Ryan, the supply officer assigned to Headquarters Company, CLB-3. "If you get a bad cup of coffee, you know it's going to be a bad day," joked Ryan.
Ryan said his day would be incomplete if he wasn't able to get his cup of coffee and feels it's an important part of his morning.
"Holy Joe's has the best coffee on Camp Barber," Ryan said. "There are some things in Afghanistan that are always tough, but it should never be your first cup of coffee."
Coffee isn't the only sustenance provided at Holy Joe's. The café also provides juices, cereal and cold milk and various breakfast foods to start off the day.
Rector attributes much of the café's success to the donated supplies she receives through the "Adopt-a-Chaplain Program" and the individuals who donate their time and effort to support the troops through the chaplains' services.
Holy Joe's recently held its official grand opening April 20, 2009, announcing its place in the camp and all that it has to offer. Those who participated in the social event were welcomed with a barbeque picnic, refreshments and a raffle of prizes to top the night.
Combat Logistics Battalion 3 is the logistics combat element of Special Purpose Marine Air Ground Task Force – Afghanistan whose mission is to conduct counterinsurgency operations, and train and mentor the Afghan national police.
.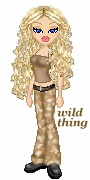 Wild Thing's comment.........
Fantastic! I am so glad they have this for our troops.
Posted by Wild Thing at May 18, 2009 05:55 AM
---
Comments
I remember our universal Padre during my tours of duty back in the 60's. We had fellowship, bug juice, coffee and tea and the comfort of being close to a man-of-the-cloth. He was a gentle soul who welcomed all. Mostly he put our fears to rest and reminded us that GOD had a plan and we were part of it.
Bless all the Padres and Chaplains and the USO who provided us a brief look at home from far away places.
Posted by: vet66 at May 18, 2009 08:31 AM
---
I love that name "Holy Joe's Cafe". Reminds me of a burger shop on Soc Trang airfield in RVN. It was named "Cheap Charlies". Cheap Charlie was Vietnamese slang for an American who didn't pay enough to a bar girl for her "friendship".
Posted by: TomR at May 18, 2009 12:36 PM
---
That is so wonderful WT.
I remember scary night missions under blackout conditions into the DMZ along QL9 to fun little places with nothing more than a hand drawn map for guidance and the security provided by the guy next to you. I was overjoyed when those night thingies were ended.
We had nothing of this sort to 'unwind' in, we did have interdenominational Chaplains available upon request, usually we went over to the nearby Big Red One. Not much of a Christian myself I reckon but it salved the soul and allayed my fears. It was a treat when a hometown Catholic Priest sought us out, we spent an entire night in the mess tent visiting that wonderful Father from the Army Chaplain Corps, we got half snockered together and enjoyed the fellowship, he was one of us even though he was the man of the cloth and an officer.
That same Monsignor has been to the two company reunions that I have attended over the past 40 years, he has lead Atheists, Christians and Jews in the opening prayer each time without a single protest.

Posted by: Jack at May 18, 2009 03:26 PM
---
vet66, how wonderful! Thank you so much
for sharing about that, that makes me
very happy. His being there, his presence
was making a difference and like now to
share about it is a good memory to have.
Posted by: Wild Thing at May 18, 2009 07:27 PM
---
Tom, giggle....thanks for sharing about
Cheap Charlles. That is so neat!!!
It really makes my day when I read about
this kind of thing going on or like the
ones they have had in the past.
Posted by: Wild Thing at May 18, 2009 07:30 PM
---
Jack, oh wow that was really something.
Thank you Jack for sharing about that.
This says so much, thank you.
"it salved the soul and allayed my fears"
See I wish they had these for few bases.
Like take so many base camps and then
have a place and then another grouping
and then keep adding so there are closer
ones as time goes by. They could all be
funded by business back here at home.
Heck what an honor it would be to have
a business and pitch in to do this kind
of thing.
Posted by: Wild Thing at May 18, 2009 07:35 PM
---
PRAISED BE JESUS CHRIST!
MY NAME IS THOMAS AND I RUN HOLY JOE'S CAFE AT MY
CHURCH: FIRST CONGREGATIONAL CHURCH - WALLINGFORD,
CT. WE ARE REALLY BLESSED TO BE ABLE TO GET THE
GOOD NEWS ABOUT HOLY JOE'S OUT AROUND THE COUNTRY!
HOLY JOE'S CAFE STARTED 3 YEARS AGO WITH A SIMPLE
COFFEE DRIVE FOR SATHER AB IN BAGHDAD AND TODAY WE
ARE SENDING COFFEE TO ANY CHAPLAIN THAT REQUEST
COFFEE REGARDLESS OF FAITH.
COFFEE IS A WAY THAT CHAPLAINS CAN OFFER A COFFEE MINISTRY IN A COFFEE HOUSE SETTING. THE RELAXING
ATMOSPHERE GIVES OUR TROOPS A CHANCE TO BE PHYSICALLY, EMOTIONALLY AND SPIRITUALLY RENEWED.
THIS PROVIDES A GREAT OPPORTUNITY FOR TROOPS TO SPEAK WITH A CHAPLAIN IN AN INFORMAL SETTING WHERE
CAREGIVING CAN BEGIN. IT HAS BEEN SO WELL RECEIVED
THAT WE ARE SENDING COFFEE TO OVER 120 CHAPLAINS
IN KUWAIT, AFGHANISTAN AND IRAQ.
MANY TIMES JUST A CUP OF COFFEE CAN HELP FOLKS RELAX AND TALK ABOUT SOME OF THE BURDENS THEY MAY BE CARRYING. IT IS IMPORTANT TO NOTE THAT THE
CHAPLAINS PERFORM COUNTLESS COUNSELING SESSIONS WHICH OVER 85% DEAL WITH HOMEFRONT ISSUES. THE TROOPS CAN FIND OUT PROBLEMS / ISSUES IN REAL TIME ON THE INTERNET AND OFTEN TIMES FEEL HELPLESS
TO RESOLVE THEM. FOR A SOLDIER TO BE LESS THAN
100% FOCUSED CAN HAVE DIRE RESULTS.
WE WOULD WELCOME YOU TO VISIT OUR BLOG AT
http://holyjoescafe.blogspot.com/

IF YOU WOULD LIKE TO FIND OUT MORE INFORMATION ON OUR MINISTRY AND ALSO TO FIND OUT MORE ABOUT THE GREAT WORK OUR CHAPLAINS ARE DOING!
THANK YOU AND GOD BLESS!
THOMAS

Posted by: holy joe's cafe at May 18, 2009 08:33 PM
---