« "10 Ways Obama Is a Direct Threat to Israel" by Aaron Klein | Main | Troops At GITMO Watch National Geographic Gitmo Documentary »
May 02, 2009
GI Film Festival
.
The only film festival in the nation to honor the service and sacrifices of the men and women in uniform.
.

The GI Film Festival is a non-profit organization, is the first film festival in the nation to exclusively celebrate the successes and sacrifices of the American military through the medium of film. They will present films from new and established international and domestic filmmakers that honor the heroic stories of the American Armed Forces and the worldwide struggle for freedom and liberty.
Some of the films screened will be fan favorites. Others will be screened for the first time. All will in some way express the courage and selflessness of our fighting men and women and the value of their work.
The GI Film Festival is open to filmmakers of every experience level, from first-timers to veteran directors and producers. Prizes will be awarded to winners of three main categories: feature, documentary, and film shorts.
.

Warriors...In Their Own Words ( Trailer )

What does it take to be a Warrior? Who fights for our freedom? Why do they do it? Hear it in their own words. Stories of Courage, Honor, Love.

.


The Artists in War
Eight World War II artists/veterans recount their service experience and their use of art for journalism, as a tactical tool and to preserve their own sanity. Their powerful imagery will enlighten, challenge, even amuse, showing that war is hell but that creativity can exisit in the face of destruction.
.
Everymans War (Trailer)
As the seasoned infantry and tank units of the German 11th Panzer 'Ghost' division move silently into position on the snowy hills around Nennig Germany ,a battle weary GI and his unit stand ready to defend the small town, a key position in the Allied advance to win the war. Outgunned and outnumbered, Sgt. Don Smith (Cole Carson) struggles to find hope and courage against overwhelming odds in one of the decisive confrontations in the 'Battle of the Bulge'.
.
Perfect Valor (Trailer)
Perfect Valor
Narration: Fred Dalton Thompson
Producer: David Bossie
Writer/Director: David C. Taylor
In 2004, coalition forces in Iraq launched Operation Phantom Fury, the battle for control of Fallujah. American troops fought through a city of enemy insurgents, moving house to house and street to street to seize control of the most dangerous city in the world. Perfect Valor is the story of the price paid by U.S. forces and the legacy of that campaign as seen through the eyes of the men and women who were there, risking their lives in service to their country.
.
Let Freedom Ring ( Trailer )

George Ciampa, a veteran of five campaigns in Europe diuring WW II ,decided in 2006 at the age of 81 years, to take four Southern California high school history teachers and several WW II vets to Belgium, in the area of the Battle of the Bulge, for the purpose of exposing the teachers to stories from citizens and freedom fighters who lived during the Nazi occupation as well as stories from the vets who served there. The purpose was to film the event emphasizing the importance of FREEDOM and more specifically to show what it is like to lose one's FREEDOM.
Mr Ciampa served with the 607th Graves Registration Company that landed in Normandy during the Invasion and later served in the Battle of the Bulge as well as three other campaigns. For eleven consecutive months from D-Day to the end of the war in Europe, his company gathered the dead on the battlefields without reprieve. He was eighteen years old when he landed in Normandy and has never forgotten the experience of that duty.


.


The Way We Get By (Trailer)
The Way We Get By follows three senior citizens, Bill Knight, Joan Gaudet, and Jerry Mundy as they battle with the critical issues common to the nation's ever-growing aging population. Through their candid and moving stories, viewers are provided with a truthful look at what millions of Americans are facing across the country.
.
Lioness (Trailer)
When I was a kid, it was considered a huge insult to say "your mother wears combat boots!" They even made a TV movie with the same title. And who can forget the bumbling 1980's Private Benjamin where Goldie Hawn's character was initially more interested in shopping and make up than conducting proper drill and ceremony. These were my first images of women in the military. (Naively, I entered West Point thinking it was going to be more like summer camp and less like Full Metal Jacket).
Fast forward 30 years post Judy Benjamin.
Enter the age of "Lioness." In this gripping documentary, a female solider on foot patrol with the Marines in Iraq is caught up in a deadly firefight against enemy insurgents. In another scene, a female soldier in full combat gear, is searching house to house in enemy territory; patting down the Iraqi women looking for hidden weapons.
Filmmakers Meg McLagan and Daria Sommers bring us the incredible untold story of the first group of women soldiers who were sent into direct ground combat. Through intimate accounts, journal excerpts, and archive footage, this films follows five women who served together for a year in Iraq. With captivating detail, this probing documentary reveals the unexpected course of events that began when US women soldiers were used to defuse tensions among local Iraqi civilians, but resulted in them fighting in some of the bloodiest counterinsurgencies battles of the war.
Lioness bridges the gap between the perception and the reality regarding the role women in the military are playing in Iraq.
Lioness will premiere at the GI Film Festival in May in Washington DC. For more information about the GI Film Festival please visit our website at www.gifilmfestival.com. The GI Film Festival is a 501-c-3 non-profit organization whose mission is to honor the services and sacrifices of the men and women in uniform. Please consider making a tax-deductible donation to help support our mission.
.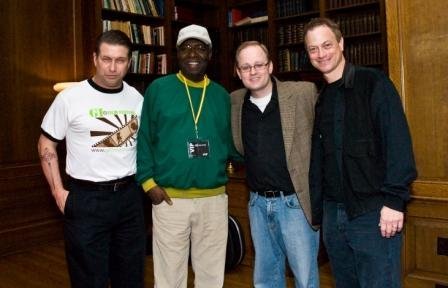 Stephen Baldwin and Co-founder Brandon Millett and Actor Gary Sinise.
.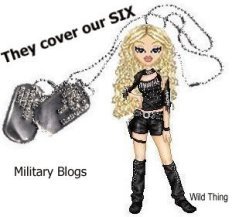 Wild Thing's comment..........

I posted about this GI Film Festival last year. I am so glad it is still going strong and they are doing it again this year.
There are many films that are entered, these are just a few of them, but I thought you might like to see the trailers of some of the films entered in the Festival.

....Thank you Marty for reminding me about the GI Film Festival this year.

Marty Rice
US Army
'71 to '74
" ex-treadhead tank commander"
Marty's A Tribute to Veterans....a GREAT article!
Posted by Wild Thing at May 2, 2009 06:55 AM
---
Comments
Chrissie,
Thanks for posting those vids. I got my list of must-see flicks now.
I remember when Appocalypse Now came out. It was overall goofy as hell but it excited me to see some fairly realistic countryside shots of Nam-looking scenes, then helicopters and grunts like real life.
I just wish they'd go ahead and do the movie about Dixie Chappelle. I believe Jennifer Anniston's outfit was going to do it. Dixie was KIA on a mission with my squadron, HMM362 Ugly Angels.
She would jump out of Col. Clapp's bird and run TOWARDS the enemy so she could turn and get photos of our birds landing or unloading troops.
Some guy stepped on a mine near her and she died being flown to a hospital She was a pro-America journalist, like we needed so badly back then. She worked for Nat'l Geographics.
Posted by: Billy Ray at May 2, 2009 09:08 AM
---
Thank you for posting those Chrissie, I can't remember the last time I went to a theater, I seldom watch a movie on TV unless it's out of sheer boredom, jaded I suppose from the 'agenda' set by Hollywood. I was sitting on a empty howitzer box in the mud watching John Wayne's 'The Green Beret' shown on a bedsheet and thinking man that's not what I'm seeing here. Where are the flies, the mosquitoes, the rats and those tiny translucent green or striped snakes and the tigers? Nobody breaking a sweat,I came home 35 lbs lighter.
But it was a motivational and entertaining movie.
Dickey Chapelle was born Georgette Meyer, sad, she was before my time there but she was true warrior in any sense, a correspondent in WWII and Korea.
Thanks Billy Ray and for the link, I rode in one of those piloted by an ARVN, he scared the hell out of me.
Posted by: Jack at May 2, 2009 10:20 AM
---
These trailers show what are likely to be some really good films. I hope I get a chance to see most of these. It's a good thing these films are being made. It would be nice if these films are shown in a lot of schools. That might counteract some of the blind anti war rhetoric being taught. I would like to see the Let Freedom Documentaries and get the reactions of the four high school teachers.
Billy Ray and Jack. I remember seeing the Natl Geographic story of Dickey Chapelle's last assignment. Many years later I read several stories about her. She was a dedicated journalist who sought the truth and presented the reality of stories, unlike many of todays propogandist reporters.
Posted by: TomR at May 2, 2009 12:01 PM
---
Part of a song written about her
"It was 1965
Over Chu Lai in a free fall dive
In a dawn patrol to cover the dead zone ground
She tiptoed through the land mines
All along the enemy lines
But she never saw the one that took her down
She captured the bloody pearls of war so well
That war was bound to steal the end of Dickey Chappelle."
3rd Marine Division(Rein),FMF, during Operation Starlite near Chu Lai, Vietnam on 18 August 1965. aka, 3/3/3 was suppose to be a lucky number according to my friend, PFC Paul Findlay of K/3/3. He was telling me one time he should have gotten the Bronze Star, I said, for what. He said, they were crossing a Rice paddy and he dropped a box of Ammo for the M-60, his platoon sargent told him to go back and get it amd he did. He also menntioned a Lady Photographer. So I don't know if she was the one but probably. After his first tour he had so much fun he decided to sign up for another one. Thats when I met him at Pendleton staging Battalion, Camp Garcia. So we stayed together throughout the next coming 13 months. He never did get out of the 3rd MarDiv.
Posted by: Mark at May 2, 2009 06:46 PM
---
Billy Ray, thanks for the link and information.
I hope they do too, the great thing is submissiions
( films submitted to the festival people) can be done
by anyone as long as they are supportive of the
military. I love that about it because there is a lot
of talent out there of peoople that make awesome
videos and films and are not a part of hollywood.

Posted by: Wild Thing at May 2, 2009 07:07 PM
---
Jack, thank you for sharing about the movie,
yes what a difference to be living it and watching
it like that. Huge difference.
Posted by: Wild Thing at May 2, 2009 07:10 PM
---
Tom, I agree, I would love so much
if they would show these films in
schools. That one man in the list
it says did two films he has taken
to teachers and taught them the
real history of why we live in the
land of the free. I loved reading that
and that is like you said too, this is
something that really needs to be done.
Teachers and students learning the truth
how blessed we are to have our freedoms
and why we are free.
Posted by: Wild Thing at May 2, 2009 07:14 PM
---
Mark, wow thank you so much for that.
Posted by: Wild Thing at May 2, 2009 07:16 PM
---
Awesome Mark, thanks.
Off topic a bit but it seems our ally has a few stolen valor recipients amongst them. Way to go UK. Your turn Kerry!!!
Posted by: Jack at May 2, 2009 09:18 PM
---
Hi to all.
It's incredibly refreshing to know a one of a kind film festival exists to honor the dedication and sacrifice or the American Soldier throughout history. Just an amazing festival and to say it's necessary would be an understatement.

My name is Mark, the writer / director of a film being shown this year in the festival entitled "SEAL Team VI", which I'm very proud to have been a part of and I'm even more honored to have been blessed to have received some tremendous support from the US Navy and Army's Cal National Guard in the making of the film. It's dedicated to all our US Troops and specifically our Special Forces Operators that lead from the front and have to make some very tough decisions in places and circumstance you couldn't imagine and where so many lives hang in the balance most couldn't fathom. It's a powerful film and I don't believe there's ever been a SEAL film that has tried to humanize a group of men that most people know only as highly disciplined and almost mysterious soldiers. I can tell you...they're more than that...much more. I'd invite everyone down to DC this May 13-17 to support the film and the troops.
All the best
Posted by: Mark at May 5, 2009 05:25 AM
---