« Middle Georgia Tea Party and Vietnam Veteran Group | Main | Obama To Harry Reid " I have a gift" »
May 02, 2009
FCC Announces May 7 'Diversity Committee' Meeting - Behold a New 'Fairness' Doctrine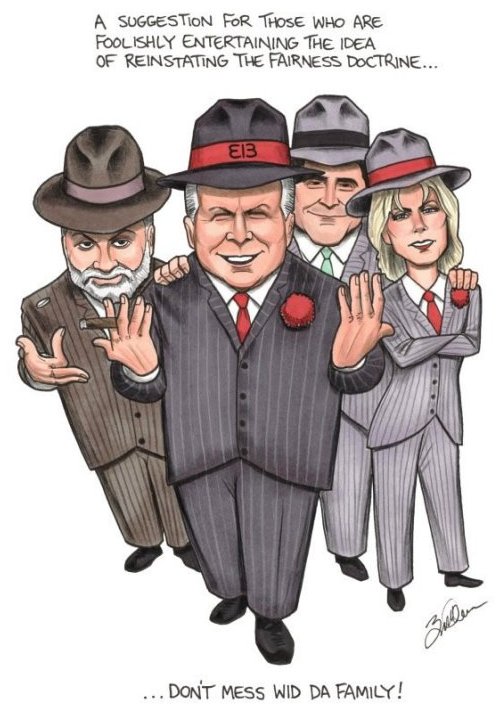 FCC Announces May 7 'Diversity Committee' Meeting - Behold a New 'Fairness' Doctrine
Behold one of the new "Fairness" Doctrines - "media diversity" - coming soon to a radio station near you.
President Barack Obama's Federal Communications Commission (FCC) has released the names of the thirty-one members of their Advisory Committee On Diversity For Communications In The Digital Age. This May 7 gathering is made up of a laundry list of left-wing grievance groups, with a smattering of radio and television companies included to break up the monotony.
Not a single conservative organization is taking part in this Commission - more than a dozen Leftist groups are. A little ironic for a "diversity" panel, is it not?
Chairing the meeting is Henry Rivera, a former FCC Commissioner who was (and presumably still is) a strong proponent of the Censorship Doctrine, also mis-known as the "Fairness" Doctrine.
Many, many liberals in Washington have over the last several years called for a reinstatement of the Doctrine. But push-back from people who have read and actually understand the First Amendment led the Left to realize that the political price to bring it back was too high, so they MovedOn.org.
Of course, their desire to silence the lone voices of their opposition had not lessened in the slightest. They're still just as dictatorial, just pragmatically so.
On February 26, Illinois Democratic Senator Dick Durbin - one of the myriad past "Fairness" Doctrine champions - sponsored an amendment, passed via a 57-41 Party-line vote, which forces the FCC to "take actions to encourage and promote diversity in communication media ownership and to ensure that broadcast station licenses are used in the public interest."
About which Durbin said at the time: ""No one is suggesting that the law for the FCC says that you can give this license to a Republican and this one to a Democrat and this one to a liberal and this one to a conservative. When we talk about diversity in media ownership, it relates primarily to gender, race and other characteristics of that nature."
As to his first statement, we have our doubts (see below).
And with the second, Color-Blind-America notion in mind, here is just a fractional listing of the organizational attendees of next week's gathering:
Emma Bowen Foundation for Minority Interests in Media (Rivera's outfit)
Minority Media and Telecommunications Council
Black Entertainment Television Holdings, Inc.
Afro-American Newspapers
Inner City Broadcasting
National Urban League
National Association of Black Owned Broadcasters (yes, again, NABOB)
Spanish Broadcasting System
American Women in Radio and Television
Chickasaw Nation Industries, Inc.
Asian American Justice Center
Rivera got the gig heading up this racial grumble group because he has long championed the concept of "media diversity."
The proponents of station owner affirmative action are the same Leftists who were so ardently in favor of reinstating the Doctrine. One can thusly be forgiven for seeing this as an alternative route for the Left to reach their long-sought original destination - the silencing of conservative and Christian talk radio via governmental regulatory fiat.
And it's not just our imagination - it's also our lying eyes. The Center for American Progress is a left-wing hack outfit headed by former Clinton Administration and Obama Transition Team adviser John Podesta. And they released on January 22, 2007 a report entitled "Local Media Diversity Matters - Measure Media Diversity According to Democratic Values, Not Market Values."
The name of the report is right up this Committee's alley and instantaneously gives any sensible person the Willies. So anti-free market a title is but a prelude - the recommendations are a series of assaults on the broadcast industry so as to effect their desired ideological outcome - less conservatives on the air.
Many on the Left see the media pantheon as fraught with racism and sexism. And of course the airwaves are dominated by ideological monopol-ism. There are too many white men owning too many radio and television stations that broadcast too many conservatives to suit liberal tastes.
They truly believe the former is the only possible explanation for the latter. The existence of Laura Ingraham, Monica Crowley, Tammy Bruce and other un-white males in the talk radio universe fails to persuade them. Neither does the ratings argument - thems that get the ratings get the airwaves. Conservatives have listeners; liberals do not.
According to the Left, these white male station owners don't put conservatives on the air because they make them money, they put them on the air because they are conservatives. The anti-free speech/anti-free marketeers remain as always steadfastly impervious to facts.
Again, the CAP report's subtitle is "Measure Media Diversity According to Democratic Values, Not Market Values." Why would the Left care about the bottom line of a bunch of white male station owners? There's a media world to be re-made, and these liberals don't care how many billions it it costs these racist-sexist bigots to make it happen. Besides, they deserve to get the shaft; it's only fair.
The broadcast license is of course a station's lifeblood; take it away, or make it impossible to meet the regulatory obligations to keep it, and they are literally out of business. The Left, no longer comfortable with trying the top-down, all-out assault that is the "Fairness" Doctrine, intends instead to silence conservative and Christian talk via this broadcast license manipulation.
If they can succeed in making it impossible for talk radio to operate as a business, talk radio will cease to operate. Leftist problem solved.
"Media diversity" is just the latest Leftist attempt to get this done.

Henry Rivera (Chair) Emma Bowen Foundation for Minority Interests in Media
Barbara Kreisman (Designated Federal Officer) Federal Communications Commission
Jamila Bess Johnson (Deputy Federal Officer) Federal Communications Commission
Carolyn Fleming Williams (Deputy Federal Officer) Federal Communications Commission
Raúl Alarcon, Jr. Spanish Broadcasting System
Jenny Alonzo Mio.TV
James M. Assey, Jr. National Cable and Telecommunications Association
Geoffrey C. Blackwell Chickasaw Nation Industries, Inc.
Matthew Blank Showtime Networks
Maria E. Brennan American Women in Radio and Television
Kathy Brown Verizon
Toni Cook Bush Virgin Mobile
Alan B. Davidson Google, Inc.
Ralph de la Vega AT&T Mobility and Consumer Markets
Steve Hillard Council Tree Communications
David Honig Minority Media and Telecommunications Council
Rodney Hood National Credit Union Administration
Ronald Johnson Ronson Network Services
Debra Lee BET Holdings, Inc.
Jane Mago National Association of Broadcasters
Robert Mendez ABC Television Network
Marc H. Morial National Urban League
Karen K. Narasaki Asian American Justice Center
Melissa Newman Qwest
Jake Oliver Afro-American Newspapers
Susan K. Patrick Patrick Communications
Lisa Pickrum The RLJ Companies
Rey Ramsey One Economy Corporation
Michael V. Roberts Roberts Broadcasting Companies LLC
Andrew Schwartzman Media Access Project
Anita Stephens Graham Opportunity Capital Partners
Diane Sutter Shooting Star Broadcasting
Charles Warfield Inner City Broadcasting
James Winston National Association of Black Owned Broadcasters

For those that might want to call and express outrage:
Phone: 1-888-CALL-FCC (1-888-225-5322)
TTY: 1-888-TELL-FCC (1-888-835-5322)
Fax: 1-866-418-0232
E-mail: fccinfo@fcc.gov
.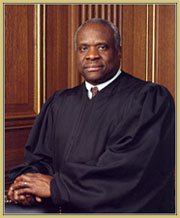 Clarence Thomas : Fairness Doctrine 'unconstitutional'
Fairness Doctrine 'unconstitutional'
Clarence Thomas: Controversial policy 'deep intrusion' into broadcasters' rights
For the first time, a U.S. Supreme Court justice is offering some legal insight about the so-called Fairness Doctrine, suggesting the off-the-books policy could be declared unconstitutional if it's revived and brought before the bench.
In written discussion on yesterday's ruling cracking down on indecent language on television, Justice Clarence Thomas called the policy "problematic" and a "deep intrusion into the First Amendment rights of broadcasters."
The doctrine requiring broadcasters to air opposing viewpoints on controversial issues was brought to an end in the 1980s under the direction of President Ronald Reagan's Federal Communications Commission.
There has been widespread fear, though, the policy could be resurrected during the term of President Barack Obama.
Don't be silent! Sign the petition to block federal government attacks on freedom of speech and freedom of the press.
The Pacific Justice Institute, a California-based legal group specializing in the defense of religious freedom and other civil liberties, is calling the remarks by Thomas "very significant."
"To my knowledge, this is the first time a sitting Supreme Court justice has weighed in on this issue," Matt McReynolds, a PJI staff attorney, told WND.
"It could potentially take a lot of steam out of the movement from those who want to bring back the Fairness Doctrine. It also provides a lot of ammo to those who have been saying it's unconstitutional. Now we have some validation from a member of the court."
Thomas is questioning the viability of Supreme Court precedents dating back to the 1960s, long before the explosion of media sources beyond radio airwaves.
"The text of the First Amendment makes no distinctions among print, broadcast, and cable media, but we have done so," Thomas noted.
"It is certainly true that broadcast frequencies are scarce but it is unclear why that fact justifies content regulation of broadcasting in a way that would be intolerable if applied to the editorial process of the print media."
He also noticed "the number of over-the-air broadcast stations grew from 7,411 in 1969 ... to 15,273 by the end of 2004."
If Congress and the president bring the doctrine back to life, there is no doubt lawsuits will fly.
"We are prepared to take legal action should it be reinstated," said Brad Dacus, president of PJI. "Justice Thomas' opinion is very encouraging to everyone who believes in free speech and government non-interference with public debate."

.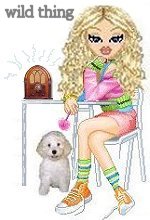 Wild Thing's comment........
Importanrt to know too, we do have people on the right fighting back on this from happening, there are several in congress are pushing the fight hard too. Mike Pence for one.
Keeping my fingers crossed.
Posted by Wild Thing at May 2, 2009 06:47 AM
---
Comments
"Color-Blind-America" Now that's rich, we have the NAACP, Rainbow Push, BET, NOBLE, just to name a few, there is no such thing in the United States as "Color Blind" thanks to Congressional preferential treatment and vote pandering that polarizes and enslaves both black and white. Domestic terrorists like Louis Farrakhan, Al Sharpton and Jesse Jackson preaching their sermons of hate and dissent add nothing toward integration.
Now Congress wants to censor all free speech.
Thanks to Obama, race rears it's ugly head more now than it did in the '50's and '60's and guess who is always playing the race card? Here is some more of that 'Diversity' that will get a honky is deep shit if they had a similar 'white' organization to champion. Not only is this unconstitutional it is discriminatory and violates all our civil rights.
Hey honorable Congress members, how about doing something for American-Americans for a change, you sorry sons of bitches, honorable my wrinkled old ass.
Posted by: Jack at May 2, 2009 09:02 AM
---
That list reminds of a document I had to read and sign in 1973 as part of the enlistment process. It was organizations determined to be subversive to the United States of America. Hmmmmmmmmm? It does give one cause for concern if not out and out fear for our freedoms.
Posted by: Glenn Cassel AMH1(AW) USN RET at May 2, 2009 10:26 AM
---
The Liberals also want to control and restrict the Internet. I guess soon the only way Conservatives will be able to communicate will be by snail mail and then stamps will be $10.00 each.
Posted by: TomR at May 2, 2009 01:04 PM
---
If this nightmare ever ends. I hope the Conservatives remember who brought this plague upon our houses. Payback is a bitch.
Posted by: Mark at May 2, 2009 02:36 PM
---
Don't they have a fraternity, black fraternity, Kappa, Kappa, Kappa or was that just the movie ?
Posted by: Mark at May 2, 2009 07:10 PM
---
Jack, I had to even laugh a little at this
at first. Like you said that is rich.haha
The party of rascists to even talk about
a Color-Blind-America.
Thanks for the diversity link good grief.
Yes if whites had special groups like that
there would be such an outrage.
Good one Jack.
Posted by: Wild Thing at May 2, 2009 11:48 PM
---
Glenn Cassel AMH1(AW) USN RET, thanks for
sharing about that.
It is very much one sided, and it is sad
and also very concerning.
Posted by: Wild Thing at May 2, 2009 11:51 PM
---
Tom, yes and the stamps would be $10.00
like you said too.
Your right too they want the internet
under their control too if they could.
Posted by: Wild Thing at May 2, 2009 11:56 PM
---
Mark, "Payback is a bitch",
it sure is.
haha I am not sure about the fraternity,
that is funny about the name I never
heard of that before.
Posted by: Wild Thing at May 2, 2009 11:59 PM
---