« The Ultimate Squirrel Proof Bird Feeder | Main | " My Hometown" ~ US ARMY ad »
May 26, 2009
Child of Fallen Marine From Iraq War

Child of Fallen Marine Accepts American Flag
Choking back tears, Christian Golczynski accepted the flag from his father's casket.
Photographer Aaron Thompson described this moment as "the most emotionally moving event I may have ever witnessed and may ever witness in my life."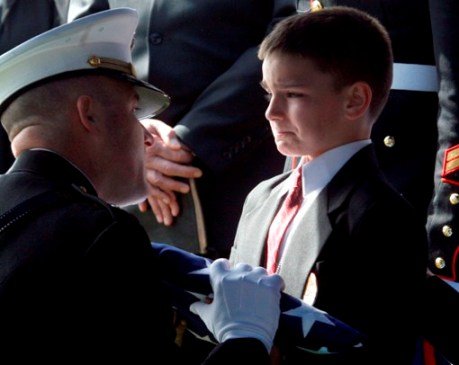 Christian Golcznski, Child of a Fallen Marine From The Iraq War Receives American Flag from Marine Lt. Col. Ric Thompson During a Military Funeral for Staff Sgt. Marcus Golczynski
It's been said that one picture is worth a thousand words. How many words is this one worth? Priceless! This photo of Christian Golcznski shows so much courage in such a young man. Unfortunately, photos like this one are absent in most daily news and media programs today.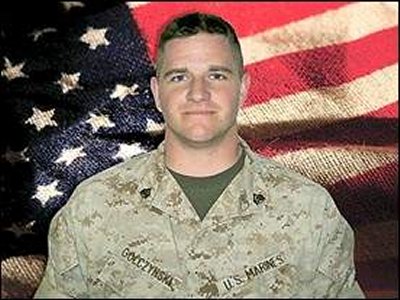 U.S. Marine Staff Sgt. Marcus A. Golczynski, 30, was killed in Iraq on March 27 in Iraq while on his second tour of duty. Golczynski, also known as "Sergeant Ski," was assigned to Marine Forces Reserve's Third Battalion, 24th Marine Regiment, Fourth Marine Division, Nashville.
He had been set to return home by Easter, friends said. In a recent e-mail, the Marine expressed some of his feelings about his service in Iraq.
"We are warriors," he wrote. "And as warriors have before us, we joined this organization and are following orders because we believe what we are doing is right. Many of us volunteered to do this a second time due to our deep desire to finish the job we started. We fight and sometimes die, so our families don't have to."
Daily News Journal photographer Aaron Thompson captured Marc Golczynski's teary-eyed son, 8-year-old Christian, accepting a U.S. flag from his father's casket.
This amazing picture has drawn a lot of comments from readers of the Nashville paper, The Tennessean.
Dear Tennessean:
The Tennessean's April 5 photograph of young Christian Golczynski accepting the American flag from Marine Lt. Col. Ric Thompson is one of the most moving and emotion provoking images I have ever seen.
My wife and I attended funeral services for Christian's father, Staff Sergeant Marcus Golczynski, on April 4, along with our six year-old son, dozens of Marines, and several hundred others who came to pay tribute to this fallen hero.
As one would expect, many of your readers were touched by this incredible picture. Staff Sergeant Golczynski had previously served one full tour in Iraq. Shortly before his death on March 27 he wrote to his family that he had volunteered to do this a second time due to our deep desire to finish the job we started. In his letter he said, "We fight and sometimes die so that our families don't have to." Tragically, Staff Sergeant Golczynski had only two weeks remaining on his second tour. We look at the photograph of Christian every day. It is displayed prominently in our home. Our hearts ache for Christian and for all those who have lost loved ones in this controversial conflict.
Our nation is at a historical crossroads. Do we call an end to the struggle in Iraq or press on? Staff Sergeant Golczynski eloquently told his son how he felt about not giving up. Perhaps there is a lesson for all of us in this man's life and the choices he made. He was undeniably a man of tremendous courage and conviction. America must now choose whether to complete the job.
When looking at the face of Christian Golczynski I am reminded that doing what is right is not always easy and doing what is easy is not always right. Christian's dad knew that too.
James Drescher
Franklin, TN
.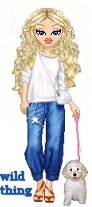 Wild Thing's comment..........
Too many have sacrificed their all to purchase our libverty and they are watching from above, wondering if we will allow their sacrifice to have been in vain. They know that freedom is not free. It never has been, and never will be.
America's Heroes have paid the price of freedom, both here on our own shores, and abroad throughout the world. From Concord, to Bunker Hill, to Trenton, to Lake Champlain, to Valley Forge, to Cowpens, to Yorktown...to Tripoli...to Ft. Mieg, to Lake Erie, to Horseshoe Bend, to Chippewa and to New Orleans... to The Alamo, San Jacinto, Buena Vista, Palo Alto, Monterrey and the Halls of Montezuma...to Bull Run (twice), Antietam, Fredericksburg, Shiloh, Vicksburg, The Wilderness, Gettysburg, Atlanta and Appomattox...to Manila Bay, Guantanamo Bay, to Santiago and San Juan Hill...to Chateau Thierry and the Argonne Forest...to Pearl Harbor, North Africa, Sicily, Italy, to Normandy, Luxembourg, to islands and atolls throughout the Pacific, Guadalcanal, Tarawa, Iwo Jima, Okinawa, to the Philippines...to Seoul, Pusan, Inchon, Chosin, Chipyoongi, Pork Chop Hill and throughout Korea...to Ia Drang, Khe Sahn, Dak To, Hue, Kim Son, Hamburger Hill, "Downtown" Hanoi, An Loc and all across South Vietnam into Cambodia and Laos...to Grenada and Panama…to Kuwait…to Fallujah, the Debecka Pass, Nasiriyah, Haditha, Baghdad, Al Anbar, Mosel, Ramadi and throughout the Sunni Triangle...to Mazari Sharif, to Kabul, to Takur Ghar, to Kandahar, to Tora Bora, to Operation Anaconda and throughout Afghanistan to name but a small few. Americans have shed their blood by the millions for freedom, and that freedom stretches from the United States throughout the world.
Let us never forget it...let us never allow our elected officials, from the President, and particularly our new president, down through representatives, senators, governors, and mayors and city councils to ever forget it.
God bless & keep all who serve in defense of this Republic & her Constitution.

....Thank you Mark for sending this to me.


Mark
3rd Mar.Div. 1st Battalion 9th Marine Regiment
1/9 Marines aka The Walking Dead
VN 66-67


Posted by Wild Thing at May 26, 2009 07:45 AM
---
Comments
Whew!! That's heavy stuff, thanks patriots.
Posted by: Jack at May 26, 2009 01:57 PM
---
When you look at this photo, remember the sacrifice this family has made, and all the families who have gone before who have sacrificed their, Fathers, Mothers, Sons and Daughters and always remember them in your prayers, but never forget who the real enemy is. On 9/11,we were attacked and it was many, many men like S/Sgt Golczynski who stepped between US and the enemy. We as a nation vowed to never forget. What short memories our new congressional leadership and President have.
Posted by: Mark at May 26, 2009 05:25 PM
---
Mark, not just Congress and the President but also the People of the United States. If the people truly remembered what happened on 9/11 and who did it, things in Washington would be much different.
Posted by: BobF at May 26, 2009 10:10 PM
---