« Shot Gun Golf! ~ Hilarious!! | Main | Obama's Cap and Trade (TAX) He LIED To HIS Voters About No Taxes »
May 31, 2009
Charlie Daniels Band Performs Concert in Sand Storm at Al Asad Air Base, Iraq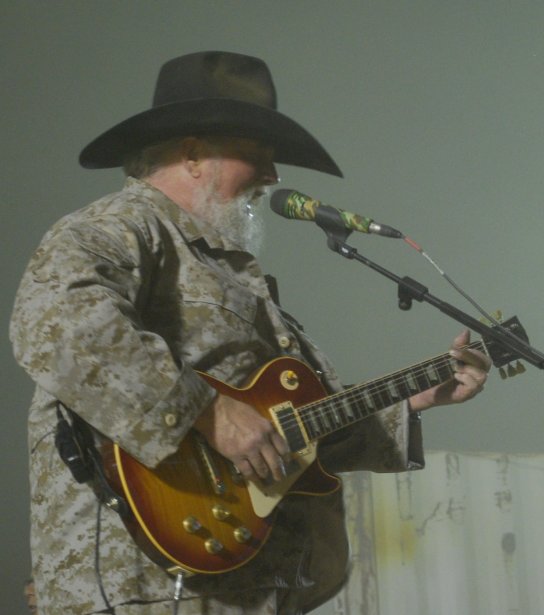 Charlie Daniels continues on...his black cowboy hat turning brown from the sand storm

The Charlie Daniels Band Performs Concert at Al Asad Air Base, Iraq
AL ASAD AIR BASE, Iraq
Coalition forces extended a warm welcome to the Charlie Daniels Band April 16. The performance was one not soon forgotten. The weather had been bright and clear throughout the day. But shortly after the country music icon, dressed in Marine digital camouflage and a big black cowboy hat, stepped on stage, the wind kicked up, causing the band and fans to experience a sand storm that turned the sky orange. The weather did not deter the Charlie Daniels Band from continuing the concert. Only after the rain began to fall, was the event cut short.
Constructionman Erin Huff commented that, " It was very cool that he kept playing after the sand storm first hit."
The event was moved into the Sentinel Theatre where Charlie Daniels spoke to the audience, apologizing for having to shorten the show.
He also stated, "We'll stay until every one in this theatre has a chance to come up and get an autograph and a picture."
True to his word, he and the band, after approximately three hours of shaking hands signing, autographs, and taking a picture with every service member that waited in line, called it a night.
In attendance for the show were personnel from Naval Mobile Construction Battalion 24. The deployed Battalion consists of Navy Reservists from the home detachments in the states of Kentucky, Tennessee, Alabama, Georgia, South Carolina and West Virginia, as well as Individual Augmentees from many other states from across the country.
Many of the members of NMCB 24 have grown up listening to Charlie Daniels Band on the radio, and watching him perform at other concerts and venues. Several of the Seabees reside and work in Mt. Juliet, Tenn., where Charlie Daniels has his home.
The Seabees of NMCB 24 took a little extra pride in watching the performance. The Builders from Charlie Company had been tasked with constructing and installing the stage for the performance, as well as the stanchions that were used to cordon off the area.
The entire project took the six man team, lead by Builder 1st Class Bobby Bills, approximately 48 man hours to plan, cut, install and disassemble. The workers performed the majority of the work in their off-duty time.
When asked about the project, Bills stated, "It was an honor that the Seabees were chosen to build the stage for such a legendary country artist." He went on to say how proud he was of his team for working so "quickly and efficiently."
The performance and meet and greet were enjoyed by all, regardless of the weather that quickly changed the evening.
Equipment Operator 3rd Class Jacob Hicks described it best when asked what he thought about the performance, "It was awesome."
.

Here is one of Charlile Daniels Latest articles he wrote :


Seeds of Dictatorship
by Charlie Daniels
I'm going to shock some of you people, others I will probably anger and some of you will be amused at what I'm going to say in this column, but I don't care if I'm the last man standing I would be less than honest and candid if I didn't say it.
People if we don't get real this country is going to slip right out from under us, or rather be pulled right out from under us by a President bent on socialism and a power mad Democratic Congressional leadership.
The new Treasury Secretary can't even keep up with his income taxes and he is asking for powers that nobody but kings and people like Hugo Chavez have. He wants to be able to take over American companies that aren't toeing the Obama line. That is a downright abomination to the Constitution.
Nancy Pelosi changes the procedures of the House of Representatives so the Democratic majority can rush legislation thorough. Is this what the Congress is supposed to be about? Ms. Pelosi and Harry Reid, her counterpart in the Senate, are a clear and present danger to the republic.
Can't you see what's happening, America? They're going to try to force you to join unions, screw up your healthcare, invade every facet of your life, and you can believe it now or you can believe it later…they will raise your taxes, a lot.
And yet even with raising taxes they're not going to be able to raise enough to service the debt they're making. The only way out is to inflate the currency and folks when that begins in earnest, Katie bar the door.
The American dollar, once the standard for the planet Earth will become like green wallpaper and the price of goods and services will rise exponentially.
Do you think this can't happen, America? Well the sorry truth is that it is happening; in fact it's accelerating on a daily basis as a socialist President and a panicked Congress flounder around with no idea except to throw more money at it. After all, it's only paper, they can always print some more.
Things are moving so fast now; things once thought unthinkable are becoming commonplace as Obama, Pelosi, Reid and company consolidate their power over America.
This may sound far-fetched, but Hugo Chavez was democratically elected, and then started sowing the seeds of socialism in Venezuela. He was recently successful in eliminating term limits for the presidency, and is now essentially President for Life, as long as the people keep voting him in. There's an old quote by a British historian named Lord Acton, "Power tends to corrupt, and absolute power corrupts absolutely."
I don't like the role of alarmist, I love this country and always believed in it, always thought that we could work out of any problem. I've seen wars, recessions and national tragedy and the thought never entered my mind that America wouldn't pull out of the problem, but America is in a tailspin and if somebody doesn't grab the controls soon it's going to crash.
And do you know what happens then?
Total government control. It's called dictatorship.
What do you think?
Pray for our troops
God Bless America
Charlie Daniels
.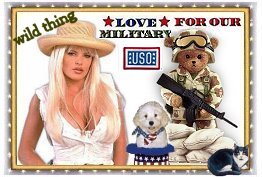 Wild Thing's comment...........
I sure am glad Charlie is on our side! What a big lovable bear of a man and I like the way he thinks too. Also I love how he did't let the sand strom stop him. He played as long as he could for our troops.
Posted by Wild Thing at May 31, 2009 04:40 AM
---
Comments
Folks, you need to do yourself a favor and read Charlie's Soap Box about once a week. The man has amazing insight into what's taking place in our nation.
Posted by: BobF at May 31, 2009 08:40 AM
---
Charlie Daniels is far more than just a fiddle playing redneck. He is a thinking, articulate patriot. Charlie loves what America has stood for and accomplished. He realizes what is now happening to our country as the Democrats run amok.
Posted by: TomR at May 31, 2009 01:57 PM
---
Awesome American. If you aren't reading his 'Soapbox' you are missing a true patriot. "Some gave some - some gave all" That quote doesn't have to apply to only those who fight for us, some are like Charlie and our wonderful host.
Thank you.
Posted by: Jack at May 31, 2009 03:23 PM
---
Speaking of his Dictator piece, Now ACORN is going to be running the census out of the White House and not the Commerce Dept. so that the democratic base will suddenly and conviniently expand. He's setting us up for an autocratic oligarchy and IMHO the messiah will set up his oligarchy like this:
The decisions and policies will run primarily out of the white house, any new laws to extend or further cement power to obama will be put forth in congress from the White House directly, and the congress will then approve it unanimously. Then if there is any contesting views the supreme court (which has been loaded with his leftist justices) will no doubt side with the federal govt. The scariest part this is, if I'm right he can abdicate all Constitutional responsibility and simultaneously act as if he's in compliance with the U.S. Constitution.
Mr. Daniels, the devil has left Georgia. He tried his luck in D.C. and got elected President.
Posted by: JohnE PFC U.S. Army at May 31, 2009 04:15 PM
---
Charly is the best. Once said, leaves nothing to question.
Posted by: Mark at May 31, 2009 04:24 PM
---