« In 100+ Days Obama Drives America Into Debt and Now He says " We're Out Of Money!" | Main | "Cheney Takes On The Man"...... by Kevin Jackson »
May 24, 2009
Cartoonist Honoring Memorial Day
.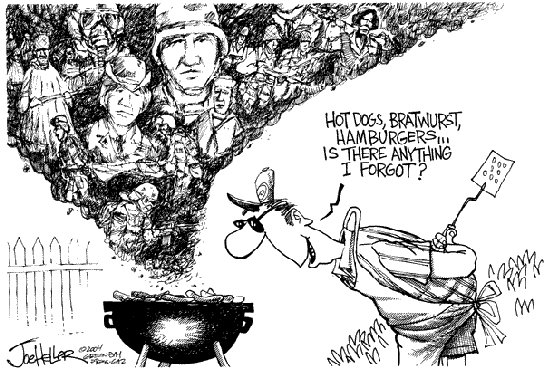 .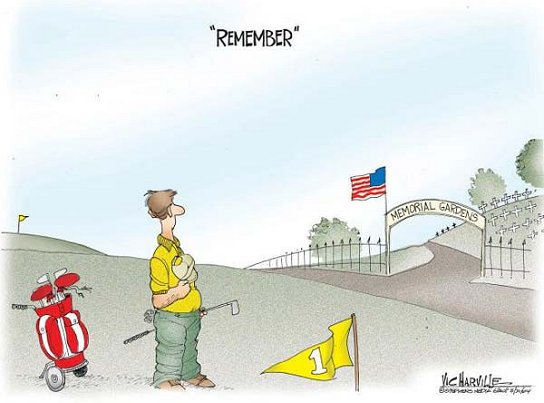 ,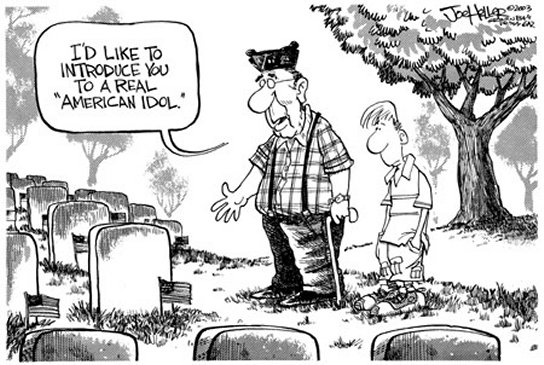 .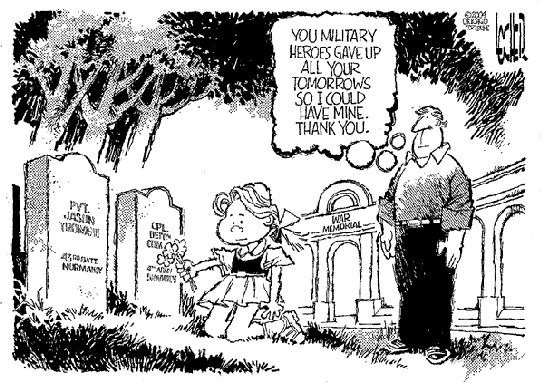 .

Wild Thing's comment.........
These are so good and I am so glad the cartoonist here are not as liberal as the media with the alaphabet channels. These are really well done.

....Thank you Mark for sending this to me.


Mark
3rd Mar.Div. 1st Battalion 9th Marine Regiment
1/9 Marines aka The Walking Dead
VN 66-67


Posted by Wild Thing at May 24, 2009 05:40 AM
---
Comments
It just occured to me that this wasn't always Memorial Day. It use to be called 'Decoration Day' does anyone remember that. It was the day everyone went to the Cemetery to strew flowers and decorate the graves of fallen heroes who gave their lives for freedom. When I was a kid thats what we called it.
It was named Decoration Day after the Civil War and dedicated May 30, 1868. The name changed to Memorial Day after the First World War to honor all veterans to that point. But when I was young I don't remember anyone ever calling it Memorial Day but Decoration Day. The name Memorial Day didn't stick I guess til after it became a National Holiday in 1971. After which the VFW said it gave everyone a 3 day weekend and the original meaning of the day was lost. Now there is a bill in congress to restore Decoration Day/Memorial Day to May 30th.
Posted by: Mark at May 24, 2009 07:27 PM
---
That is interesting, I didn't know that
about why they changed it. I wondered
because on my calender it says Memorial
Day observed for this monday, tomorrrow.
But it has it again on my calender for
the 30th as well.
We did that same thing, took flowers to
the cemetery for the fallen heroes.
Posted by: Wild Thing at May 24, 2009 11:54 PM
---