« Government to Condemn Land for Flight 93 Memorial | Main | Aloha Turns Into Allah As Hawaii Approves of Islam Day »
May 08, 2009
602nd Maintenance Co.Save a Piece of History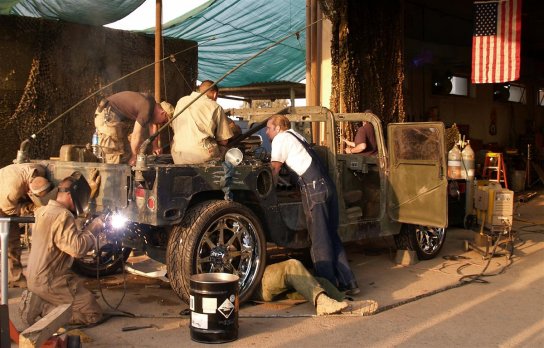 Jesse James (center, w/coveralls) watches as service members work on a hybrid humvee at the "Skunk Werks" welding shop at Logistical Support Area Anaconda, Iraq, December 2005. The mechanics were challenged to create a unique humvee for the Discovery Channel show, Monster Garage.

Ordnance Soldiers Save "Skunk Werks"
JOINT BASE BALAD, Iraq
When Soldiers of the 602nd Maintenance Co. leave Iraq this summer they'll be taking a piece of history with them: the "Skunk Werks" welding shop from here.
Starting in 2003, the "Skunk Werks" was one of the first locations where Level II up-armor kits - more commonly known as "hillbilly armor" - were installed on military vehicles. It's because of this historical significance that Mr. Richard Killblane, the transportation corps historian, plans to move the "Skunk Werks" to the transportation museum at Fort Eustis, Va.
"'Skunk Werks' was at its peak before all of the factory-made armor had made it into the system," said Master Sgt. Scott W. Berndt, support operations maintenance noncommissioned officer in charge, 259th Combat Sustainment Support Battalion.
Berndt's former unit, the 457th Transportation Bn. (which was part of the 3rd Corps Support Command at the time), ran the welding shop in 2004 and 2005. "We spent many long days and nights fabricating armor for anyone that would come in," he said.
Before 2003, Chief Warrant Officer 4 Lee A. Rowland, the current officer in charge of the "Skunk Werks", said he did not believe Soldiers in his career field got a lot of the recognition they deserved; there was even talk of slowly phasing the job out of the Army altogether.
Operation Iraqi Freedom changed all that, he said.
Welders suddenly found themselves fabricating improvised armor for humvees, trucks and armored personnel carriers; cutting patterns out of Armox ballistic steel (or sometimes even salvaged metal); and figuring out the best way to protect Soldiers.
"Now our mission has changed, but back in the day we actually provided a lot of protection for Soldiers," said Rowland, who remembers up-armoring vehicles himself during his last deployment to Mosul, Iraq. "Saving lives was the ultimate goal."
The 402nd Army Field Support Brigade has since taken over the responsibility of up-armoring military vehicles. The "Skunk Werks" returned to its primary mission as a simple welding shop, making everything from radio mounts to shelves to satellite dish brackets.
In 2006, the "Skunk Werks" was featured in the season finale of the popular Discovery Channel show Monster Garage, hosted by Jesse G. James. A crew of handpicked Soldiers and Airmen were given a timed challenge to create a humvee hotrod, complete with custom-made 28-and 26-inch wheels.
The show's crew added their signatures to the shop's walls, another reason why they're being preserved. Ironically, as Rowland pointed out, James's signature, which was written on the concrete portion of the wall, may not make it to the transportation museum with everything else. Only the temporary walls made out of wood will be torn down and moved, not any part of the permanent structure.
Although no longer involved in the up-armor process, Rowland said his unit is still proud of being a part of the shop's legacy, and they strive to maintain that reputation by doing the best work they can.
Preserving the "Skunk Werks" is important, he said, because it's a piece of history. A different kind of history most people might not be aware of, he went on to say.
"Protecting our troops is what 'Skunk Werks' was designed for," Berndt said. "Provide armor, even if it was makeshift, for our troops on the road. In my eyes, that's what needs to be preserved."


Wild Thing's comment......
Cool story, and what an opportunity for our troops to do something like this.
Posted by Wild Thing at May 8, 2009 05:50 AM
---
Comments
yeah, certainly is a break for their normal routine.
One year in Viequez we built a church. Mixed all the concrete by hand, set the forms reinforced everything or so we thought. Our illustrious Platoon Commander said he had a fool proof recipe for concrete. It looked great when it was done. However, when we came back the next day all the sand had run out of the forms and all that was standing was the forms. Everybody got a good laugh except the Leutenant, he got a reprimand but hey it was a hell of an experience. We told the LT. hey we are grunts not masons. He lightened up after that.
Sometimes its good to get away from the same old day to day drudgery and do something new, work or not it still did us a lot of good.
Posted by: Mark at May 8, 2009 09:24 PM
---