« Queen of England Meets Chicago Community Organizer and da' Wife | Main | Obama Milks Military to Offset Domestic Spending »
April 02, 2009
Wrestling Divas Visit Troops in Afghanistan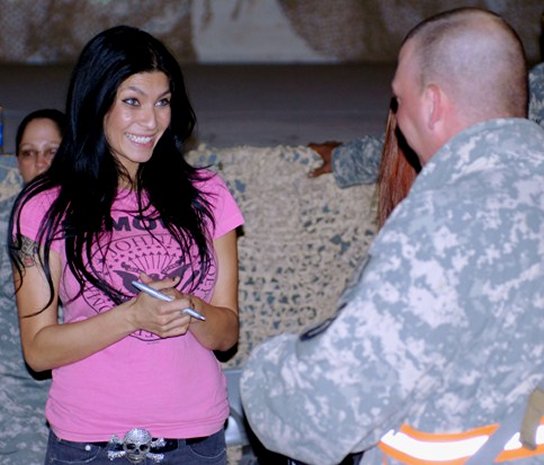 Story by Spc. Opal Hood
Wide grins could be seen as troops from different branches and different countries eagerly got into a line that wrapped around the inside of the tent.
For more than two hours, Terry Runnels, Nora "Molly Holly" Greenwald, Christy Hemme and Shelly Martinez - former World Wrestling Entertainment Divas - signed autographs and posed for photos with service members and civilians at Bagram Air Field's Morale, Welfare, and Recreation gym, March 24.
"Events like having the divas here give the troops a break," said Air Force Capt. Carey Caudell, Task Force Warrior. "When you work seven days a week, you need something to take your mind off the day to day and just relax."
For three of the four divas, this is their first trip to deployed troops, only Runnels had made a trip to Kuwait to visit troops before.
They were invited as part of the MWR's effort to keep the morale of deployed troops high.
"The morale of troops is important because we are away from family and friends," said Army Pvt. Nathan Brown, 101st Airborne Division Special Troops Battalion Headquarters and Headquarters Company.
"Things like this helps remind us that we are still supported."
Hemme wanted to do the tour because she didn't want the "filtered version of the war." She wanted to see how things were for herself.
"People back home will never really understand how things are here without actually having ever been here," said Martinez.
In addition to Bagram, the divas also visited a couple of forward operating bases. Due to weather issues, some planned visits to the smaller forward operating bases were cancelled.
"It felt as if my heart was ripped out when we realized we were going to miss a few stops", said Hemme.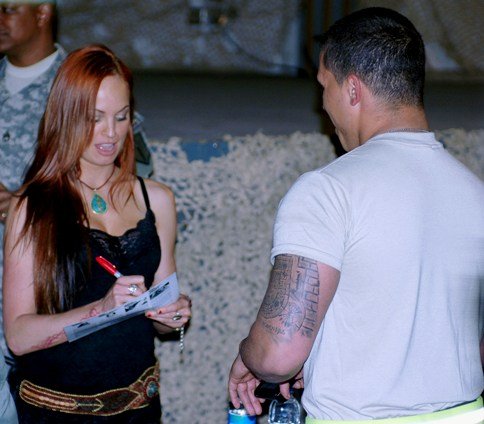 Christy Hemme, former wrestler for the World Wrestling Entertainment, signs an autograph for a Soldier. The WWE Divas of Wrestling signed autographs and took pictures for the troops of Bagram Air Field, March 24, at the Morale Welfare and Recreation Clamshell.
The women made every moment count by visiting with the troops as often as possible while touring the FOBs. Aside from meals, sleeping and an hour of shopping, the majority of their time was spent with troops.
Even during meals, they were happy to take a break for photos and autographs. Their goal was to show their appreciation to the troops and remind them that people from the States support them.
"It makes us happy to see [troops] happy," said Runnels, who added she felt honored and humbled by her experience here.
The divas never said "you're welcome" when troops thank them for being here, said Kevin Dessart, the diva's tour manager. Their response was always "No! Thank you."
From the looks on the troops faces during the meet and greet with the divas, the morale of a decent number of troops was uplifted by their presence here.
"The divas are the best tour we have had so far because of their genuine concern, curiosity and overall love for the troops," said Air Force Master Sgt. Mark Gore, an MWR planner.
Troops from different branches and nations wait in line to recieve autographs from the WWE Divas of Wrestling, March 24, at the Morale Welfare and Recreation Clamshell on Bagram Air Field.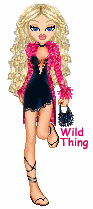 Wild Thing's comment.......
Big thank you to these girls. It is such an honor to be able to go to be able to thank our troops in person.
Posted by Wild Thing at April 2, 2009 05:50 AM
---
Comments
It is really decent of these gals to make the trip to visit our troops. Nice to see the appreciation flowing both ways.
Posted by: TomR at April 2, 2009 12:25 PM
---
Born 40 years too soon:) They're wonderful.
Posted by: Jack at April 2, 2009 03:26 PM
---
Between the WWF and the NFL they have logged in some flight hours visiting the troops. this is just great.
Posted by: Mark at April 2, 2009 04:09 PM
---
Tom, yes it does work both ways. I love
seeing the troops faces with huge smiles
and the eyes looking so happy.
Posted by: Wild Thing at April 2, 2009 07:54 PM
---
Posted by: Wild Thing at April 2, 2009 07:57 PM
---
Mark, yes and those are a great combination,
both very physical, just like our troops.
I love seeing them so happy.
Posted by: Wild Thing at April 2, 2009 07:59 PM
---