« Obama Blueprint For Silencing Talk Radio Exposed | Main | Appeals Court: Marine Can't Sue Murtha »
April 15, 2009
"We Must take America Back" - Steve Vaus

Back in 1992, Grammy-nominated singer and composer Steve Vaus's song, "We Must Take America Back" , was released by RCA. But then, in spite of its instant popularity among listeners - it was climbing the Billboard charts - was pulled after some radio stations complained of its patriotic lyrics.

Well now, 17 years later, Vaus has re-released the recording with updated lyrics. But this time, he's learned from the experience and is distributing it himself on his site......www.stevevaus.com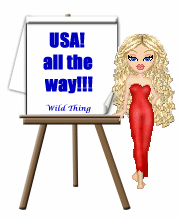 Wild Thing's comment......
Posted by Wild Thing at April 15, 2009 07:45 AM
---
Comments
But it's okay for them to sing about how bad we are, what bad people we are and everyone just loves it. They say it's only his/her "act."
I'm tired of the tiny minority telling me what to do. They can all go shut up!
Posted by: Lynn at April 15, 2009 08:28 AM
---
This is great. I've never heard this song before nor even heard of him . We ordered the album.
Maybe just maybe the American People are waking up. God I hope so.
Posted by: Mark at April 15, 2009 04:00 PM
---
Lynn, I have come to think the brain of
a leftie is built different then ours.
haha
Posted by: Wild Thing at April 16, 2009 02:37 AM
---
Mark, same here. I never knew about this
singer and he is really good. I love the
song and we ordered a CD too. I played
it for Nicholas and he loved it too.
Posted by: Wild Thing at April 16, 2009 02:40 AM
---