« You Can Give Obama a Grade | Main | North Korea Launches Rocket, Defying World Pressure »
April 05, 2009
Vietnam Veteran Marine LCpl Calhoun To Receive Silver Star ~ 42 Years Later

April 1967 during the first battle at Khe Sanh,wounded, Ray Calhoun Jr refused to be evacuated and instead braved enemy fire to aid other wounded Marines.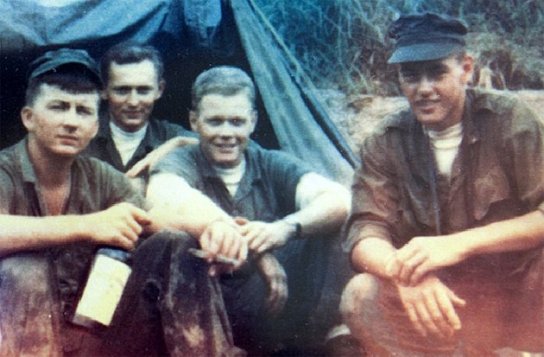 Ray Calhoun (third from left) was photographed with fellow Marines Mike Kotdic (from left), Tommy Wheeler and Don Hossack in Vietnam. Wheeler and Hossack also were awarded Silver Stars recently. Three-fourths of their platoon was killed or wounded in an April 1967 battle.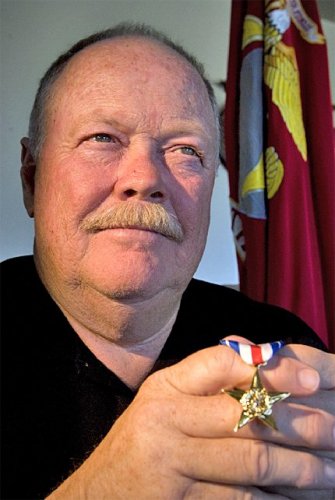 Vietnam veteran Ray Calhoun will receive a Silver Star for combat bravery during a ceremony today. In his hand is one he had purchased. (Nelvin C. Cepeda / Union-Tribune)
Hero finally gets his due
Vietnam veteran to receive Silver Star for bravery in battle 42 years ago
By Steve Liewer
Nighttime cloaked Hill 881 South in a blackness that filled the Marines of Mike Company with a well-founded dread.
Lance Cpl. Ray Calhoun's platoon had drawn the job of leading an assault in this northwest corner of South Vietnam on the morning of April 30, 1967. They knew the enemy was waiting for them.
Some of the North Vietnamese soldiers shouted taunts in accented English.
"All night long, they're telling us: 'Put on your helmets, Marines. You're gonna die in the morning,' " recalled Calhoun, who now lives in Scripps Ranch.
The enemy didn't lie. Three-fourths of the men in Calhoun's platoon were killed or wounded.
Throughout the battle, the 19-year-old Calhoun alternately aimed grenades at enemy bunkers and bandaged his dying buddies. Twice he passed out from his own wounds, only to wake up and resume the fight.
Today, nearly 42 years later, Calhoun will receive a Silver Star – the nation's third-highest award for combat bravery – during a ceremony at Marine Corps Recruit Depot in San Diego.
Two of Calhoun's platoon mates also were awarded Silver Stars recently. Don Hossack of Kalispell, Mont., received his medal last month, and Tommy Wheeler of Lutz, Fla., will get his April 13.
The presentations follow six years of Pentagon review, through a process approved by Congress to recognize overlooked valor from past wars. The law has been invoked to credit ethnic or religious minorities whose heroism was ignored or initially downgraded.
In this case, though, the delay happened because the 1967 battle wiped out so many in Calhoun's chain of command.
"There were very few that remained alive to write up the awards," said retired Maj. Gen. John Admire, who commanded Calhoun's platoon until shortly before the battle and who ultimately crafted the three Silver Star nominations. "A lot of Marines did a lot of great things, but they never got the recognition they deserved."
Calhoun's road to Hill 881 started one day in February 1966, when he and seven of his college-football buddies were playing a poker game. They grew angry when they heard an anti-war march outside, and they vowed to join the military. All but one eventually did.
Calhoun, a native of Encino, enlisted in the Marine Corps the next day. Four months later, he arrived for boot camp in San Diego. The first night, a recruit committed suicide in his barracks by slitting his wrists.
"I had no idea what I was getting myself into," Calhoun said.
Assigned that fall to the 3rd Battalion, 3rd Marine Regiment at Camp Pendleton, he was sent to Vietnam almost immediately. Mike Company saw action from the start.
But nothing matched the battle that came the next spring. The North Vietnamese hoped to lay siege to the U.S. military outpost near Khe Sanh, which was on a vital supply route.
The Marines countered with a series of assaults on the uplands surrounding Khe Sanh that came to be called the "Hill Battles." They succeeded, but at a frightful cost.
On April 30, 1967, the men of Mike Company set out through the tall grass about 8 a.m. They reached a saddle between two hilltops, and two platoons fanned out across a clearing.
The North Vietnamese opened fire from bunkers that honeycombed the hillside. Calhoun and his platoon mates took shelter behind some fallen trees, which they quickly realized was a trap when mortar shells started falling directly on top of them.
"They set us up. We were in a killing field," said Joe Cordileone, a San Diego assistant city attorney who was with Calhoun that day. "It was a massacre."
One mortar round killed the platoon's leader, 2nd Lt. Joseph Mitchell; wounded Hossack; and knocked out Calhoun.
But he woke up and got to work, dragging survivors into a bomb crater and patching up wounds with battle dressings salvaged from the bodies of the dead.
Calhoun's eagle eye had earned him the job of platoon grenadier. He watched for muzzle flashes, aimed his M79 grenade launcher at them and took out four sniper's nests.
One bullet pierced his helmet, knocking him out a second time and wounding his scalp. But he woke up again and returned to the fight.
"You get so scared, you just start living off of adrenaline," Calhoun said. "You think, 'I'm gonna die, and I'm going to kill as many of these guys as I can first.' "
U.S. bomb strikes pushed the North Vietnamese off the hill, and reinforcements reached the clearing after a few hours. The few wounded survivors left Hill 881 and the war behind.
Calhoun recuperated at China Beach and Camp Pendleton, then left the Marines a few months later. "I kind of wanted to forget about it," he said.
He used his GI Bill benefits to earn a bachelor's in accounting and became a certified public accountant. He married in 1977, and he and his wife, Donna, raised three children in San Diego.
Calhoun also started BeamOne, a company that harnesses electron beams for medical uses.
His outward success disguised chronic nightmares and frequent insomnia. The sound of rain set him on edge; it reminded him of the monsoons in Vietnam. He hated the smell of fresh earth. He could be short-tempered and abrasive. Hill 881 never quite left him.
"The first thing you do is you stuff it. . . . (Then) you start looking at your life backward and realize that maybe you aren't truly normal," said Calhoun, who still attends therapy sessions twice a week.
He lost touch with all of his Marine buddies. Then in 1996, he read a newspaper article about Admire's appointment as commander of the 1st Marine Division at Camp Pendleton. He sent a congratulatory note, and they reunited.
Over several years, they used the Internet to track down other Mike Company veterans and started to hold reunions. Calhoun and Cordileone, close friends in the Marines, were stunned to learn they had both moved to San Diego.
"We got together, had some beers," Cordileone said. "It was like starting all over again."
Admire came to learn that, despite the heroic conduct on Hill 881, none of the survivors from his old platoon had received awards for their bravery.
"I was fairly convinced there were some significant acts of valor that were not recognized," Admire said.
He compiled statements and submitted Silver Star nomination packets for Hossack, Wheeler and Calhoun. They were reviewed at Marine Corps headquarters in Quantico, Va., and by a board advising the secretary of the Navy.
All three nominees won approval this year.
Calhoun had never asked for the honor, but he's proud to return to the recruit depot to receive his medal. "The nicest thing is that I've had the recognition of my peers," Calhoun said.
Admire said there's another reward: The Silver Star will remind younger generations of what Vietnam War veterans endured.
"The sons and daughters of these Marines will now know that they are true heroes," he said.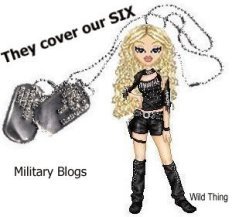 Wild Thing's comment.......

Welcolme Home LCpl Calhoun and thank you!
My Tribute to our Vietnam Veterans
Posted by Wild Thing at April 5, 2009 06:50 AM
---
Comments
Yes they were heroes. Those Hill fights were horrendous. This particular one was so bad they ran out of their reserves and were sending in Engineers as replacements.
The hills were covered with bunkers and supporting bunkers, you could bypass one but get caught in another ones interconnecting lines of fire. They were all interconnected with communications. The command bunkers were built with logs, 3-4 layers deep backed up with 5 feet of mud. Only a direct hit from a 155 or a areial attack could take them out.
It wasn't hard to get trapped.
Posted by: Mark at April 5, 2009 01:59 PM
---
Mark, thank you for your input I appreciate it.
Posted by: Wild Thing at April 5, 2009 06:04 PM
---
Thank you Chrissie, it was long, long overdue. Thank you Mark and all those wonderful Marines all along QL9.

Posted by: Jack at April 6, 2009 12:40 AM
---