« MIA Obama Finally Makes A Statement Regarding Captain Phillips | Main | "Britains Got Talent" Show 2009 Susan Boyle »
April 14, 2009
Vietnam Vet Unveils New Project to Honor the Fallen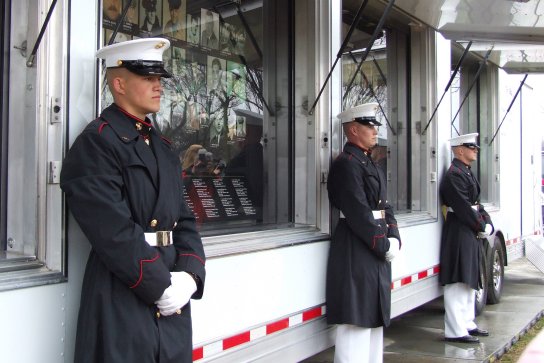 Three Marines from 8th and I Marine Barracks stand beside a traveling exhibit of photographs and mementos left at the Vietnam Memorial. The exhibit, which was unveiled March 26, 2009, during a ceremony on the National Mall, is built into the sides of a tractor trailer that will tour the nation from April through November. DoD photo by Linda D. Kozaryn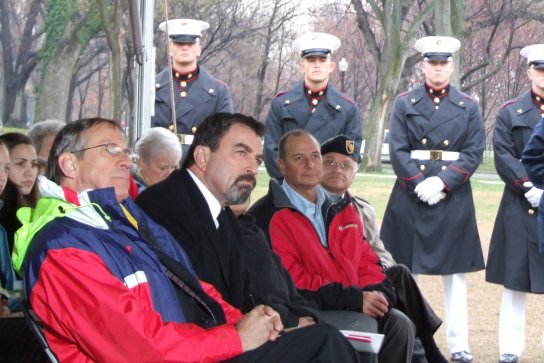 Jan Scruggs, founder and president of the Vietnam Veterans Memorial Fund, sits next to actor Tom Selleck at an unveiling ceremony for the group's next project, an education center on the National Mall. Selleck has signed on as the project spokesman. DoD photo by Linda D. Kozaryn

Vietnam veteran Artie Muller, chairman of Rolling Thunder, talks with supporters at an unveiling ceremony for a new Vietnam Veterans Memorial Fund project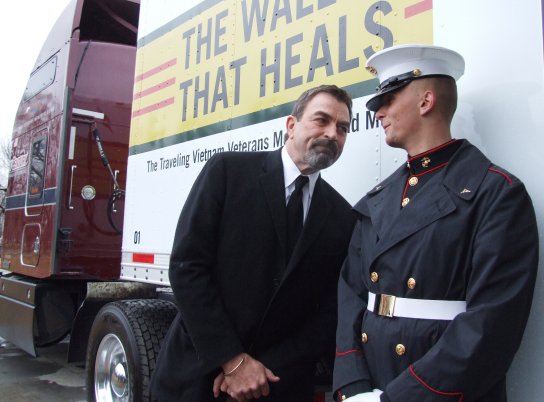 Actor Tom Selleck, spokesman for the Vietnam Veterans Memorial Fund's Education Center at the Vietnam Wall project, talks to Marine Lance Cpl. Joshua Michael, 8th and I Marine Barracks, during a ceremony on the National Mall

Actor Tom Selleck, Ernie Quintana, acting deputy director for the National Park Service, and Lisa Quiroz, senior vice president of corporate responsibility for Time Warner, react to one of the speakers at a Vietnam Veterans Memorial Fund ceremony on the National Mall

By Linda D. Kozaryn
American Forces Press Service
DOD

WASHINGTON
Thirty years ago, an infantry corporal named Jan Scruggs boldly set out to build a national memorial. Since then, as a result of his determination, millions of people have found comfort and closure at the Vietnam Memorial known as The Wall.

Today, Scruggs unveiled a glimpse of his next project -- The Education Center at the Wall. He displayed a replica of the new exhibit to be housed in an underground visitor and education center on the National Mall here near the Lincoln and Vietnam memorials.
The replica will serve as a traveling preview of the future underground exhibit. A 45-foot tractor trailer that carries The Wall That Heals," a half-sized replica of the Vietnam Memorial has been refurbished by Featherlite Trailers. The trailer's museum exhibit has been redesigned to mimic the displays planned for the actual underground education center, Scruggs said.
Actor Tom Selleck, known for his work in the TV show "Magnum, P.I." during the 1980s, is the project's new spokesman. He served in the California National Guard during the Vietnam era. His friend Ron Montapert went to Vietnam but did not come home.
"Across the street from here is a wall with more than 58,000 names of those who made the ultimate sacrifice for their country during the Vietnam War," Selleck told the 100 or so people attending the ceremony.
"That black granite wall taught us a lesson as well," he added, "that we must never forget those who fell." Selleck said the new center "will take us from thinking about the 58,000 as a group to thinking of them as individuals."
"I would like to say to all those who served and sacrificed in Vietnam and in all of America's wars, thank you for your service and welcome home," he concluded.
Scruggs noted that both The Wall and the replica honor the courage, sacrifice and devotion to duty and country of the people who answered the call during America's longest war. He said the memorial brought long overdue recognition and healing for the participants and family members and became a symbol of reconciliation and healing.
But, he noted, The Wall That Heals has become the memorial that educates people across the country. The traveling wall and new exhibit, which includes teddy bears, photographs, letters, baseballs, a motorcycle, combat boots, flags, and medals, soon will be on tour in towns and cities throughout America.
Exhibit designer Ralph Appelbaum said some of the letters in the exhibit were written at the wall "out of sheer impulse," while "others have been carefully crafted and left in a very precise way."
Appelbaum read one letter as an example.
"'Dear Dad, I'm sorry it took so long but when you went away I was 8 years old and I couldn't understand why you never came back to us. I'm now 35 and I can understand now as I have fought in two wars myself. It's not much fun, it it? You might like to know that you have three grandchildren, two girls and a boy, and they all know about you. It meant a lot to me to see your name on The Wall with all the others. Your loving son, Paul.'"
The objects left at The Wall "illustrate loss and grieving, Appelbaum said, "but they also celebrate a bond of love and friendship and even happy memories."
"They represent a treasure trove of conversations about the deaths of sons and the births of granddaughters," he said. "That's what this center is dedicated to and that's what you'll see as you stroll around the portable wall as it begins its journey around the country."
As founder and president of the nonprofit Vietnam Veterans Memorial Fund, Scruggs raised nearly $9 million to build The Wall through private contributions from corporations, foundations, unions, veterans and citizens groups, and more than 275,000 individual Americans.
Scruggs now intends to raise up to $100 million to build the underground museum to exhibit the photographs of the men and women whose names are etched on the black granite wall. He also plans to display some of the 100,000 mementos visitors have left at The Wall.
"Remember that what we're doing here is remembering values," Scruggs said, "the values of our active-duty servicemembers today, the values of loyalty, respect, duty, integrity, courage and service.
"These were shown by the fellows and women who served in Vietnam, by the people who are serving today, and by the people at a place called Lexington Green in 1775 who stood up against the British to get the American people our freedom," he said.
So far, the memorial fund has raised $18 million for the project, including $10 million from Time Warner. Today, Rolling Thunder donated $25,000 and Iraq and Afghanistan Veterans of America donated $5,000. Representatives of the three organizations attended the ceremony.
Lisa Quiroz, senior vice president of corporate responsibility for Time Warner, said the first time she visited the Vietnam Memorial she was moved by the fact that the memorial recognized "the feats of ordinary citizens -- our brothers, our fathers, our sisters, your children."
"At the end of the day, our democracy is what it is because we have young people that sacrifice for this country and our democratic ideals," she said.
Quiroz said that when Scruggs introduced Time Warner to the concept of the education center, the corporate officials realized that the letters, photos and teddy bears "represented years of experiences that had been missed by the people that were memorialized on the wall."
Of all the requests for support, she said, Time Warner executives thought the education center provided a unique opportunity "to give every visitor who came away from The Wall a profound sense of gratitude, and a deeper understanding of the meaning of patriotism."
Todd Bowers, director of government affairs for the Iraq and Afghanistan Veterans of America, thanked the Vietnam veterans for their support of today's troops.
"We're the new, young generation of veterans," Bowers said, "and if it wasn't for all the support that we've received from veterans of previous conflicts, we would be having a lot harder time right now. I thank everyone from the previous conflicts for looking out for us and making sure that those guys over there are going to be taken care of before, during, and most important, after war."
Artie Muller, Vietnam veteran and chairman of Rolling Thunder, said, "Welcome home to all the veterans who are here. And to those who gave their lives, we'll never forget them.
"This is a different war, a lot of women are in this war, and it's altogether different than during the Vietnam days," Muller said, addressing the troops now serving in Iraq and Afghanistan. "We know you guys and gals are doing a great job and we're real proud of you. Us Vietnam veterans never want to let what happened to us, happen to you."
Ann Sherman Wolcott, the mother of Rex Sherman, a fallen Vietnam Army veteran, feels the new exhibit will help keep the spirits of the fallen alive.
"My son was 18 years old when he died in 1969. He was an airborne ranger and I'm very proud of him," she said. "To see this let's me know that people have not forgotten his sacrifice."
Posted by Wild Thing at April 14, 2009 05:55 AM
---
Comments
YES!!!!! Bout time! I have a distant cousin who is on the Vietnam wall and my hubby has 2. It is so imperative that we remember those who fought and those who died, giving their own precious blood for another person they didn't even know. God Bless the true American heroes. They did for us what we either couldn't or wouldn't do. Thank you all so much! You didn't choose the life, but you did the life with all you had and that's enough.
Posted by: Lynn at April 14, 2009 08:13 AM
---
Thanks Chrissie, did not know about this and do not recall seeing anything about it in the VVA monthly paper but then I could have missed it..
Posted by: John 5 VN69/70) at April 14, 2009 08:15 AM
---
I hope Jan scruggs can get the money raised successfully and the project can be completed quickly. This way not only those that gave their lives be remembered, but their families and supporters can also be acknowledged.
Posted by: TomR at April 14, 2009 01:25 PM
---
Thanks Chrissie, I didn't know about this. Then again we didn't expect it from the media either.
Posted by: Jack at April 14, 2009 01:28 PM
---
This is great. As Tom says, lets hope they can raise the needed money.
Posted by: Mark at April 14, 2009 04:11 PM
---
Lynn, beautifully said and thank you for sharing
too about your cousin and the cousins of your
husband.
Posted by: Wild Thing at April 14, 2009 06:35 PM
---
John 5 VN69/70), this was the first time I heard
about it too, at the DOD.
Posted by: Wild Thing at April 14, 2009 06:37 PM
---
Tom, I agree so much, on both counts this is
so very important.
Posted by: Wild Thing at April 14, 2009 06:39 PM
---
Jack, yes your right, the media would ignore this,
maybe Fox but only as a mention if they did.
Posted by: Wild Thing at April 14, 2009 06:41 PM
---
Mark, I hope they give updates on how it is
going so bloggers can keep mentioning it.
Posted by: Wild Thing at April 14, 2009 06:44 PM
---