« Obama's Marxist Subversive Appointment Rosa Brooks Defense Dept. | Main | Nancy Pelosi Re:Tea Parties ~ "This Is Astroturf, Not Grassroots Protest" »
April 16, 2009
Tea Party Turnout About 370,000 Attendance and Still Counting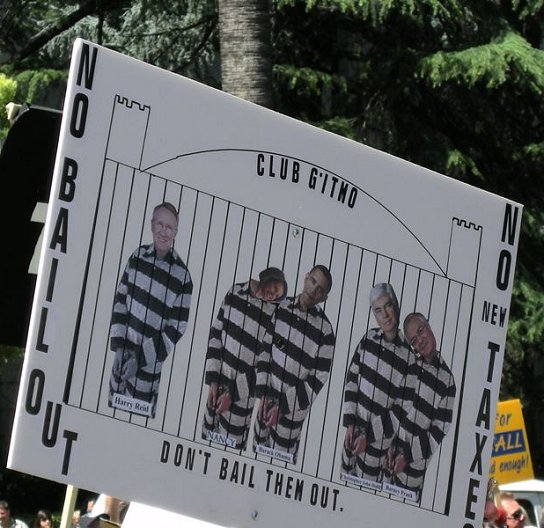 .
Click LINK below for attendance spreadsheet
SPREADSHEET showing list of Tea Parties and Attendence
Thank you goes to ProtectOurFreedom .
It shows there were about about 370,000 attendance, but the numbers are also still coming in.

.

On "America's Newsroom" Wednesday morning, Fox News host Megyn Kelly declared that "it's tea party time, from sea to shining sea."
In between, Fox News reporter Griff Jenkins — who earlier this week donned colonial garb as he traced the history of the tea party movement — reported on a tea party protest in Washington's Lafayette Park.
Meanwhile, Fox hosts Neil Cavuto, Glenn Beck, Sean Hannity and Greta Van Susteren were all preparing for their own on-the-scene reports from tea parties around the country.
Nobody's covering the tea parties quite like Fox — and that's prompting critics and cable news competitors to say that the network is blurring the line between journalism and advocacy.
"Fox appears to be promoting these events at the same time it is presenting them in a way that looks like reporting," said Stephen Burgard, director of Northeastern University's School of Journalism.
While tea party organizers say their movement is nonpartisan, the protests lean hard to the right: Newt Gingrich and Michelle Malkin are on board, as is Freedom Works, an organization run by former Republican Majority Leader Dick Armey. And more than a dozen prominent Republicans were set to participate in tea party protests Wednesday, including South Carolina Gov. Mark Sanford, House Minority Leader John A. Boehner (R-Ohio) and a slew of other Republicans from Congress.
While Fox has obsessively covered the tea party plans for days, CNN and MSNBC have given the protests scant mention. Indeed, MSNBC's on-air personalities have taken to mocking Fox for its tea party attention — reveling in double entendres and juvenile jokes.
On Tuesday's "Countdown," Keith Olbermann played clips of Fox personalities talking up tea parties. "As ever," he said, Fox was "showing both sides 'fair and balanced' — supporting the tea baggers and sponsoring the tea baggers."
Similarly, MSNBC's Rachel Maddow said that "our colleagues at Fox News are not just reporting on tea bagging, they are officially promoting it."
ROFL. What pathetic, jealous, sniveling dweebs. They promoted Hussein Obama 24/7 for two years. They have no room to talk. And the fact is that the biggest news yesterday WAS coverage of the tea parties so they only did damage to their own network by not covering all the Tea Parties. hahahahaha
Tea Party at The Alamo, San Antonio, Texas with Ted Nugent
Ted Nugent at The Alamo Tea Party on April 15, 2009. Ted speaks from his beliefs and is right on target with his assessment of the situation in our country today. He plays a rendition of The Star Spangled Banner. Glenn Beck is Master of Ceremonies and Nugent speaks with words and licks from his Guitar
Posted by Wild Thing at April 16, 2009 07:50 AM
---
Comments
I watched part of the San Antonio rally on Fox. Nugent was his usual self, straight forward. It was nice to see Janine Turner there also. Especially after reading the post on her here recently.
The ralliers were well behaved and it appeared that the police were not busy attending to any trouble makers. It was exactly as I would expect a crowd of conservativesto act in Texas. San Antonio is a very large community of retired military and I bet there were many of them in the crowd.
Posted by: TomR at April 16, 2009 10:51 AM
---
The tea party in our town was great! There was peace and fellowship and fun! One of the tv stations zeroed in on my daughters poster and she was so excited to see herself on tv! No one got out of hand and they all even went down to the corner to wave at traffic going by and show off their posters and signs. Just goes to show you who takes the high road when protesting. And this is just the beginning. Memorial Day is coming up, let's all get together for that, too. Gotta keep it up now that we've started the ball rolling.
Posted by: Lynn at April 16, 2009 11:41 AM
---
Yeah Olberlman is a world class asshole and his fellow traveler Maddow. The Tea bagger comment comes from some Homo-Sexual reference, obviously Keith Olberlman is quite familiar with. As Ann Coulter points out these two sure know alot about Tea-bagging and what the latest Homo craze is. Trying of course to relate this to the Tea-Parties and the Conservatives who protested.
But these people are running scared. The country is beginning to wake up to this charade by obama and his co-conspirators in congress.
Posted by: Mark at April 16, 2009 12:05 PM
---
Tom, how wonderful, I missed that, I am so
glad Janine Turner was there.
Posted by: Wild Thing at April 16, 2009 03:11 PM
---
Lynn, fantastic, that is so neat about
your daughters poster too. The whole
day all around our country was such
tremendous day. I love hearing about
each of the events.
Thank you so much Lynn for sharing
about the one where you live.
Posted by: Wild Thing at April 16, 2009 03:15 PM
---
Mark, wow, thanks for the information. Ann
Coulter is sharp on this that is great.

Posted by: Wild Thing at April 16, 2009 03:17 PM
---
Watched the rally's on Hannity's show last night while at the daughter's place, local outlets didn't cover it but today's news had a downplay of events at the state capitol where some 5000 showed up. Napolitano issued a phony apology to the veterans, which is pure BS, this was a calculated smear designed to denegrate all veterans and all conservatives from her homeland security. Unacceptable from these communists!!!
Posted by: Jack at April 16, 2009 03:39 PM
---
Jack, yes her apology was phony, I agree
with you. She did her damage, she drew
the line and her aplogy means nothing.
Posted by: Wild Thing at April 16, 2009 11:37 PM
---
there were 11 tea parties in Oklahoma
Posted by: Fred at April 17, 2009 12:09 AM
---