« Taps Played on the Horn With The Heart of a Child | Main | Ari Fleischer Fires Back At Mainstream Media Over Biden Story »
April 11, 2009
Retired Navy Admiral Arleigh Burke and the USS Bainbridge

Arleigh Burke put Destroyers on the map. Exceptional courage and leadership. One of the many reasons we won the 2nd World War. He got the Nickname '31 knot' Burke because he would run his Destroyers just under the point of blowing up the boilers, hence usually averaged a speed of 31 knots.
One of Burke's first and foremost priorities as CNO was the development of a solid propellant fleet ballistic missile.
He established the Special Projects Office, appointed RADM William Raborn as head, and gave him wide latitude to accomplish the objective. Polaris was the result.
Another priority was construction of nuclear powered surface ships - carriers, cruisers, and destroyers. USS LONG BEACH and USS ENTERPRISE were authorized and built, and USS BAINBRIDGE and USS TRUXTUN followed. He pressed for conversion of cruisers to employ guided missiles and their introduction in other ships to defend against air attack.
Antisubmarine warfare programs were accelerated and an Atlantic Fleet Antisubmarine Defense Force was established to test and evaluate sensors and weapons, and to develop tactics and coordination of air, surface, and submarine forces. He took pains to ensure that the Navy achieved and maintained a high state of readiness.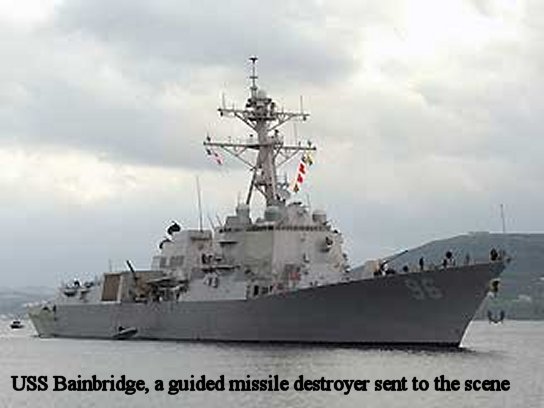 The USS Bainbridge is a Burke class destroyer launched drones that monitored the incident and kept radio contact with the pirates.
ADMIRAL ARLEIGH BURKE, USN (RET) ........"RELENTLESS IN COMBAT, RESOURCEFUL IN COMMAND, AND REVERED BY HIS CREWS...THE SAILOR'S SAILOR."
BETHESDA, MARYLAND (NNS)
Retired Navy Admiral Arleigh Burke, the U.S. Navy's most famous destroyer squadron combat commander and Chief of Naval Operations from 1955 to 1961, passed away today at National Naval Medical Center in Bethesda. He was 94.
The 42-year Navy veteran retired from active duty in 1961 after an unprecedented three terms as Chief of Naval Operations. A 1923 graduate of the U.S. Naval Academy, he was best remembered for his World War II command of Destroyer Squadron 23, who came to be known as the "Little Beavers" after their insignia based on the comic strip character.
In the Battle of Empress Augusta Bay, Bougainville, in November 1943, Burke brilliantly distinguished himself in leading several torpedo attacks which sank a number of Japanese warships. At the end of the month he repeated his performance at the battle of Cape St. George, New Ireland. The final score of "Little Beavers" sinkings was one enemy cruiser, nine destroyers, one submarine and several small vessels, plus some 30 planes shot down.
Burke's ability to lead his squadron in spectacular dashes at high speeds earned him the nickname "31 Knot Burke."
"The nation has lost a true hero," said Secretary of the Navy John H. Dalton. "Arleigh Burke was a patriot in the most classic tradition. He will be remembered as the very embodiment of honor, courage, and commitment. Our thoughts and prayers are with his family and friends."
The Chief of Naval Operations, Admiral Mike Boorda said, "Admiral Arleigh Burke defined what it means to be a Naval officer; relentless in combat, resourceful in command, and revered by his crews. He was the Sailor's Sailor. The entire Navy grieves as it remembers 'Thirty-one knot' Burke."
The Navy recently named an entire class of destroyers, the most modern and capable destroyers ever built, the "Arleigh Burke Class" after the WWII hero.
During the commissioning of USS ARLEIGH BURKE (DDG 51) in 1991, Admiral Burke issued a characteristic challenge to the ship's crew. "This ship is built to fight," he said. "You'd better know how."
Admiral Burke once described his approach to life as "...an old-time philosophy -- a philosophy of realism. You must always ask yourself the question, 'What is important in life?'...I think I did my best and even tried to do a little more. But I don't think it's very important that I be remembered...the ideas I stood for should be remembered."
In January 1977, he was awarded the nation's highest civilian honor, the Medal of Freedom.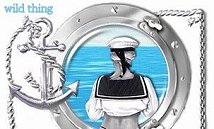 Wild Thing's comment........
This hostage crisis has connections to some very powerful, amazing history in the
destroyer the USS Bainbridge. As I was reading the link that Mark sent to me, I had such a strong feeling of what it would be like to have a CIC, a President that cared to know about the history of our military, about our destroyers and those that have been leaders like Retired Navy Admiral Arleigh Burke.
Then I felt how sad it is that we have come to a place in our country where jokes on late night talk shows have been done simply by interviewing people walking around outside and asking them who is the Vice President and where is Mount Rushmore located and they have no clue. But how can we be upset with these idiots when the much more shocking thing is the ONE in our White House that referred to Peal Harbor as a BOMB was dropped. A BOMB, not bombs but one lone bomb. A person that will only use our military and not respect it , not even if his life depended on it and it does as our does every day that we live in the land of the free.
Thank God for men in our history like Retired Navy Admiral Arleigh Burke and all our Veterans that have served and our troops today. Each one knowing that freedom is not a throw away word not the lives that gave it to us.

....Thank you Mark for sending this to me.

Mark
3rd Mar.Div. 1st Battalion 9th Marine Regiment
1/9 Marines aka The Walking Dead
VN 66-67


Posted by Wild Thing at April 11, 2009 03:42 AM
---
Comments
They don't make them like this anymore.
Fair Winds and Following Seas.
Posted by: Glenn Cassel AMH1(AW) USN RET at April 11, 2009 05:29 AM
---
Wild Thing, you are a treasure and I want to thank you for sharing this with us. I have always had great admiration for our military for when my uncle died in 1999, I drove day and night from California to be at his funeral. He had full military honors at Arlington National. To witness this solemn event first hand is a must.
Wild Thing keep doing what you're doing ~ we love you.
Posted by: Tammy Summers at April 11, 2009 01:35 PM
---
It's been said that if you were on a Tincan or destroyer you not only got paid you also got Sub-pay too. Meaning in rough weather a Destroyer spends half of its time under water as on top of it.
I came from a Marine family. The heroes I was acquainted with as a kid were Dan Daily, Manilla John Basilone, Hell from all I knew the Navy wasn't even in the Second World War. My Dad wouldn't allow it.
The first troop ship I was on was APA-210 the USS Telfair it was a good ship. But it was there I learned about some of the Heroes in the Navy. I guess it was the Navies way of telling Marines that the Navy really did help win the war.
It takes about 2 weeks to cross the Atlantic by ship or at least by troop ship, and there is little room for daily PT, so the Marines would be firing Machine guns or some target practice off the fan tail, or write letters on the mess decks. Then the Navy invited all Marines to watch a movie, it was all about Arleigh Burke, and the Little Beavers, 4 Destroyers in his squadron during WW 2. It was really well done and a great documentary. I have never seen it since either on the History Channel or any place else. But it was on that cruise where I gained a new respect for our brothers from the Navy. Which is why they always called it the Navy-Marine Corps Team.
Posted by: Mark at April 11, 2009 05:09 PM
---
Glenn Cassel AMH1(AW) USN RET, love that.
"Fair Winds and Following Seas"
Posted by: Wild Thing at April 12, 2009 12:24 AM
---
Tammy Summers,thank you so much, that is
very kind.
How wonderful about your Father and what
you did. He was one of our Heroes, we are
indebted to so much.

Posted by: Wild Thing at April 12, 2009 12:29 AM
---
Mark, oh wow that is so interesting. Thank
you so much Mark for sharing about that.

Posted by: Wild Thing at April 12, 2009 12:34 AM
---