« Obama Announced the Addition of Apologist for Radical Islamists Dalia Mogahed to..... | Main | DHS on Guard for 'right-wing extremists' and Returning U.S. Military Veterans as Threats »
April 13, 2009
Obama Brother Accused of UK Sex Assault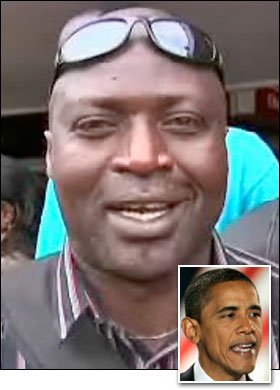 Samson denied British visa after incident with teen girl in Berkshire
AMERICAN president Barack Obama's half brother was REFUSED a visa to enter the UK after being accused of an attempted sex attack on a young girl in Berkshire.
The News of the World can reveal that Kenya-based Samson Obama tried to get into Britain on his way to Washington for his family's big day, the historic inauguration in January.
But eagle-eyed immigration officials at East Midlands Airport, using the latest biometric tests, discovered he was linked to an incident here last November. The hi-tech database revealed that Samson -who manages a mobile phone shop just outside Nairobi-was the same man arrested by British police after he approached a group of young girls, including a 13 year-old, and allegedly tried to sexually assault one of them.
He then followed them into a cafe where he became aggressive and was asked to leave by the owner. That's when police were called and Samson was arrested.
He supplied officers with his mother's address in Bracknell but gave them a false ID, claiming to be Henry Aloo, a genuine asylum seeker.
Mum Kezia, 67, has lived in Bracknell for six years. She married the US president's father Barack Obama Snr in Kenya when she was a teenager.
Following Samson's arrest he was fingerprinted but not charged, then left the country. However, all his details were stored on the Home Office's new database of prints and biometric details. And that's what finally pinpointed Samson's link to the world's most powerful leader-as he tried to slip back into Britain to visit relatives en route to the swearing-in ceremony.
The White House was informed and a Home Office source told the News of the World: "This was obviously an extremely sensitive issue when it was flashed up by the database.
"But the system is designed to flag up people who have come to the attention of the police in the UK and are then trying to return."
It is thought that Samson-one of the President's 11 half brothers and sisters by his father who had four partners-managed to travel on to Washington by boarding a connecting flight to the US from East Midlands.
Obama with brother in younger days
He was able to do so despite not having a UK visa because he remained in transit and never left the airport. A stewardess from nearby Nottingham told her local newspaper how she met him on his flight to America. Dawn Stewart, of Sherwood, described how Samson told her his nickname was Abo and said he was on his way to the US capital for the presidential swearing-in.
She recalled: "I asked him how he feels being the brother of the next president and he said, 'I can't tell you the depth of excitement we feel.'
"I asked what Barack was like as a teenager and he said he was always charismatic and calm."
The flight attendant said Samson claimed he had never travelled before and proudly showed her a headed letter from his half-brother requesting his three-week visa to the USA.
Last night a Home Office spokesman confirmed Samson Obama was refused a visa after immigration officers noticed one of the documents he supplied with his visa application was false. That led to further inquiries.
A UK Border Agency spokesman said: "We consider all visa applications based on their merits. We will oppose the entry of individuals to the UK where we believe their presence is not conducive to the public good.
"The UK's border controls are among the toughest in the world. All visa applicants are fingerprinted and checked against watchlists. Using this hi-tech system we have detected more than 5,600 attempts to use false identities since December 2007.
"Our officers in 135 countries are working with law enforcement agencies and airlines to clamp down on forged passports and visas."
.
Flight attendant chats with Obama's brother
AN AIR stewardess from Nottingham has told how she met Barack Obama's half-brother Samson on a flight to America.
Dawn Stewart, of Sherwood, was working in the first class cabin when she heard he was among passengers flying to Washington Dulles Airport on Friday.
Miss Stewart, who also works part-time for BBC Radio Leicester, asked for a brief chat with Samson Obama, known as Abo, who was on his way to the US capital for the presidential inauguration.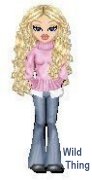 Wild Thing's comment.......
Good grief!!
What a family.....aunt is illegal, and half brother is a rapist or might be and turned away from the UK.Mmom was a communist and Dad was a well let's just say his family is a mess. haha sheesh! OH and Barack Hussein Obama himself with false documents.
Seriously, if any prominent Republican had a brother who was a sex offender, there would be a continuous headline crawl at CNN and MSNBC. Honestly, if this person was the third cousin twice removed's dog groomers sister in law's best friend's half brother of a republican it would be reported ad nauseum.
The Obama family tree seems to be riddled with violators of the law and this is the family tree.

....Thank you Mark for sending this to me.


Mark
3rd Mar.Div. 1st Battalion 9th Marine Regiment
1/9 Marines aka The Walking Dead
VN 66-67


Posted by Wild Thing at April 13, 2009 06:44 AM
---
Comments
At least Clinton only had Roger to deal with and Carter had Jimmy, but Obama has all those whackjobs out there doing dastardly things and thinking it's okay because baby brother is President of the World! But God forbid we make fun of any one of them. Might get sued or tossed in prison somewhere and never be released.
Posted by: Lynn at April 13, 2009 08:20 AM
---
This is almost funny. There are so many stereotype aspects to this story. Of course, that makes it politically incorrect to bring them up. Obama's half brother(one of many) is a sexual pervert. Looks like many in the Obama family tree are crooks and kooks.
The Brits stopped this clown from getting a visa to enter England. However, I guess Abo got into the US with no problem? DHS is more worried about returning US servicemen with rightwing leanings. Shit!, we are so screwed.
Posted by: TomR at April 13, 2009 12:47 PM
---
Good Point TomR. This guy's a pervert, the father was a pervert who sired a bunch of good for nothing off springs, and of course the runt of the litter is picked by the democrats for office. ... Are we lucky or What ?
Posted by: Mark at April 13, 2009 03:19 PM
---
I'll state the obvious here. If they weren't so busy trying to dig up dirt on Palin's sister's neighbor's boss's mother-in-law to attack her with, there'd be time to cover the dysfunction of the Obama clan.
BTW I read somewhere that there are more people up in Alaska (maybe from the NY Times?) snooping around about her right now. I guess Aunty Illegal isn't a big enough story or Brother Rapist, or Brother Livesinashack, or Biden's Daughter Snortalot.
Posted by: Eden at April 13, 2009 03:23 PM
---
Lynn, LOL yes those guys had theirs too.
Obama's way out numbered theirs.
Like you said he made himself the
" President of the World!"
Posted by: Wild Thing at April 13, 2009 05:45 PM
---
Tom, good one.Hahaha yes he has some family
tree.
The media would have had a field day during
the campaign if they had been honest and not
giving out propaganda every second of the day.
Posted by: Wild Thing at April 13, 2009 05:47 PM
---
Mark, "Are we lucky or What?" LOL
Litter is right. hahahaha
Posted by: Wild Thing at April 13, 2009 05:51 PM
---
Eden, hi good to see you.
I agree, it makes me sick how they will
NOT stop trashing Palin and working so
hard to find some tiny thing they can
use against her. Enough is enough, they
are obsessed to kill her off politically.

Posted by: Wild Thing at April 13, 2009 05:54 PM
---