« Maxine Waters Outs The Democrat Socialists Agenda ~ LOL | Main | Obama's Marxist Subversive Appointment Rosa Brooks Defense Dept. »
April 16, 2009
Janet Napolitano (Janet Reno II) Stands by 'extremism' Report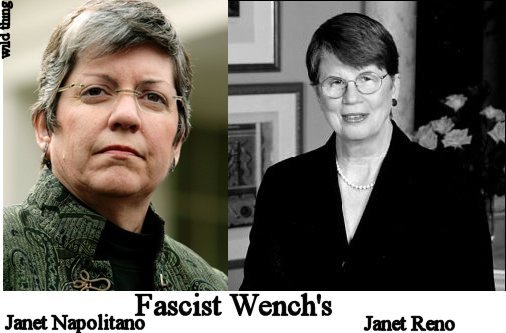 Homeland Security Secretary Janet Napolitano said she was briefed before the release of a controversial intelligence assessment and that she stands by the report sent to law enforcement that lists veterans as a terrorist risk to the U.S. and defines "rightwing extremism" as including groups opposed to abortion and immigration.
The outcry resulted in a demand from the head of the American Legion to meet with Ms. Napolitano, a request the DHS chief said she would honor next week when she returns to Washington from her current tour of the U.S.-Mexican border.
"The document on right-wing extremism sent last week by this department´s Office of Intelligence and Analysis is one in an ongoing series of assessments to provide situational awareness to state, local and tribal law enforcement agencies on the phenomenon and trends of violent radicalization in the United States," Ms. Napolitano said in a statement.
"Let me be very clear: we monitor the risks of violent extremism taking root here in the United States. We don´t have the luxury of focusing our efforts on one group; we must protect the country from terrorism whether foreign or homegrown, and regardless of the ideology that motivates its violence," Ms. Napolitano said.
We are on the lookout for criminal and terrorist activity but we do not – nor will we ever – monitor ideology or political beliefs. We take seriously our responsibility to protect the civil rights and liberties of the American people, including subjecting our activities to rigorous oversight from numerous internal and external sources.
I am aware of the letter from American Legion National Commander Rehbein, and my staff has already contacted him to set up a meeting next week once I return from travel. I will tell him face-to-face that we honor veterans at DHS and employ thousands across the department, up to and including the Deputy Secretary.
As the department responsible for protecting the homeland, DHS will continue to work with its state and local partners to prevent and protect against the potential threat to the United States associated with any rise in violent extremist activity.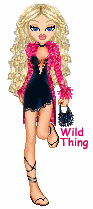 Wild Thing's comment......
So why isn't Bill Ayers in prison?? Oh, right, he's a LEFT-wing extremist, and a CLOSE personal friend of Hussein Obama.
To the Obama admin, "terrorist risks" are those who:
A) put their lives on the line serving our country.
B) are members of groups opposed to the killing of babies.
C) are members of groups advocating the enforcement of immigration law.
Posted by Wild Thing at April 16, 2009 06:47 AM
---
Comments
I guess I will make the list due to the USN Retired status. Hmmmmmmmmmmmmmmmmmmmmmm
Useless bitch couldn't pour piss from a boot with the directions on the heel.
Posted by: Glenn Cassel AMH1(AW) USN RET at April 16, 2009 09:04 AM
---
Hey! A pair of Jackboot Janets!
Posted by: Rick at April 16, 2009 10:20 AM
---
Obama et al will use the Department of Homeland Security like Hitler used the SS. It WILL be used for political purposes. I thought when it was set up that it might become an oversized, expensive government agency that could easily be used and abused to intrude into the business and lives of private citizens. Looks like that is the direction DHS is headed.
Posted by: TomR at April 16, 2009 10:21 AM
---
Reno always reminded me of Ilse Koch, the bitch of Buchenwald. Now we have her conjoined twin in charge of DHS
Posted by: Mark at April 16, 2009 02:39 PM
---
Glenn Cassel AMH1(AW) USN RET, yes, it is
beyond disgusting what this is about.

Posted by: Wild Thing at April 16, 2009 03:29 PM
---
Rick,hahhaha they sure are.
Posted by: Wild Thing at April 16, 2009 03:30 PM
---
Tom, good point, that is exactly what he
would do.
The media ahs been so silent about the
other heavy handed things Obama did during
the campaign so this too they would keep
silent about as well......until they are
knocking on their doors.

Posted by: Wild Thing at April 16, 2009 03:35 PM
---
Posted by: Wild Thing at April 16, 2009 03:37 PM
---
The Commie bitch is back pedaling on her statements but this is what we can expect from that cabal of Communists known as the Congressional Progressive Caucus and it's counterpart the Congressional Black Caucus, she probably carries the same card as Conyers.
Posted by: Jack at April 16, 2009 03:49 PM
---
Oh, this really just %!@$#* me off, Glad to know my Grandfather took shrapnel to the head in World War II for these douchebags; glad to know that several of my other relatives fought in Vietnam, Panama, Desert Shield/Desert Storm and Iraqi Freedom, only to have them besmirched by those in our own government. I'm really glad to know that my buddies in Afghanistan are going to be considered terrorists when they get home. Glad to know I'll end up the same way if and when I deploy too (I still don't know). I say F$%@ 'Em All! And don't even get me started about Janet "Waco Kid" Reno. I may not have agreed with what the Branch Davidians believed in but that witch had NO authority to use the gestapo (aka the so-called ATF) and the U.S. Military. "Alcohol, Tobacco, and Firearms should be a convenient store not a government agency."
http://politicaldemotivation.com/2009/04/13/yep-arrogant-asshats-thats-us/
Posted by: JohnE PFC U.S. Army at April 16, 2009 05:11 PM
---
Jack, I bet she does too, she very well
might belong to the same group as he does.
grrrrrrrrr
Posted by: Wild Thing at April 16, 2009 11:47 PM
---
JohnE PFC U.S. Army, that is such a perfect
graphic, it says it all!!!!! Thank you
JohnE. I agree so much with what you said.

Posted by: Wild Thing at April 16, 2009 11:49 PM
---