« Ortega and Fellow Traveler Obama at the Fifth Summit of the Americas | Main | Marine Raiders from Makin Island Come Home to Arlington National Cemetery »
April 18, 2009
Hussein Obama and Chavez Secret Handshake?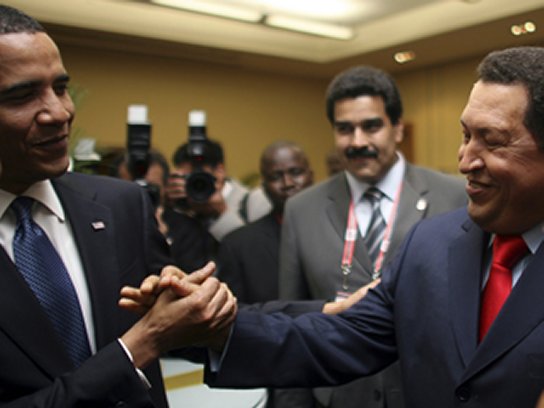 Hey, bro, wassup? We cool, yeah, we cool!

( FOX news ) Obama shook hands with Venezuela's Hugo Chavez on Friday at the opening of the Summit of the Americas being held this weekend in Trinidad and Tobago.
It wasn't immediately clear Friday evening what words were exchanged between the two leaders, but photos released by the Venezuelan government show Obama clasping Chavez's hand and smiling broadly.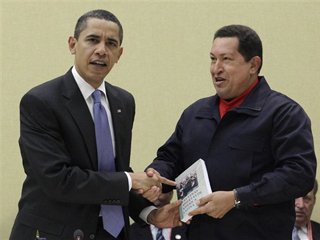 Chavez to Obama: Join My Book Club
Chavez gave Obama a copy of 'The Open Veins of Latin America: Five Centuries of the Pillage of a Continent,' a book by Eduardo Galeano, which chronicles U.S. and European economic and political interference in the region
PORT-OF-SPAIN, Trinidad and Tobago
Apparently a handshake and a smile wasn't enough for Hugo Chavez. The Venezuelan strongman followed up a brief encounter Friday with President Obama by apparently trying Saturday at a regional summit to recruit Obama into his book club.
In front of photographers, Chavez gave Obama a copy of "The Open Veins of Latin America: Five Centuries of the Pillage of a Continent," a book by Eduardo Galeano, which chronicles U.S. and European economic and political interference in the region.
Later, when a reporter asked Obama what he thought of the book, the president replied: "I thought it was one of Chavez' books. I was going to give him one of mine."
The exchange, on the first full day of meetings at Summit of the Americas on the two-island nation of Trinidad and Tobago, followed a brief grip-and-grin encounter the previous evening, when Obama greeted Chavez in Spanish. Obama exchanged handshakes and pats on the back with Chavez, who once likened President George W. Bush to the devil.
"I think it was a good moment," Chavez said about their initial encounter. "I think President Obama is an intelligent man, compared to the previous U.S. president."
At his first meeting with South American leaders, Obama waited several minutes while security officers and members of the media pushed noisily into the room. Somebody accidentally hit a light switch, prompting Obama to ask: "Who turned off the lights, guys?"
He said he hoped events would go more smoothly during the meeting where he said he would talk to the leaders about energy, security and other topics. "I have a lot to learn and I'm very much looking forward to listening," the president said.
In an opening speech to the 34-nation gathering on Friday, the president promised a new agenda for the Americas, as well as a new style.
"We have at times been disengaged, and at times we sought to dictate our terms," Obama said to loud applause. "But I pledge to you that we seek an equal partnership. There is no senior partner and junior partner in our relations."
He also extended a hand to a leader Ronald Reagan spent years trying to drive from power: Nicaragua's Daniel Ortega. The Sandinista president stepped up and introduced himself, U.S. officials reported.
But perhaps the biggest applause line was his call for a fresh start in relations between Washington and Havana.
"I know there's a longer journey that must be traveled to overcome decades of mistrust, but there are critical steps we can take toward a new day," he said.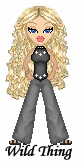 Wild Thing's comment.......
Can you imagine what our country is going to be like in 4 years?
How infuriatingly degrading for the citizens of this country - someone should tell King Hussein that he's actually our representative LEADER. And he just shook hands with a man who says we are the evil of the world and have to be brought down.
Well - on second thought I guess that may be why he did shake is hand?
We've come a long way since Reagan's evil empire speech. What does this picture say to dissidents in Venezuela?

Posted by Wild Thing at April 18, 2009 03:40 PM
---
Comments
Posted by: Jack at April 18, 2009 06:30 PM
---
Does berry think he can get some pointers on being a good communist? He pals around with all the 2 bit dictators, the total losers of the Carribean. This abnormal fascination by the left with Cuba is beyond belief. Castro said, the other day he would even talk about Human Rights. Even to the most casual observer one would think Why is that, all of a sudden. Gee has there been a problem in Cuba with Human Rights and Political Prisners ?
Posted by: Mark at April 18, 2009 06:50 PM
---
Jack, that would be a perfect title
for this!
Posted by: Wild Thing at April 18, 2009 07:27 PM
---
Mark, good one!!
It is so weird how so many are wanting
to be friends with Castro. I hate that
so many weirdos in showbiz go over there
to hang out with him and bash our country.
They are sick and communists that's for
sure.
Posted by: Wild Thing at April 18, 2009 07:32 PM
---