« Janet Napolitano (Janet Reno II) Stands by 'extremism' Report | Main | Tea Party Turnout About 370,000 Attendance and Still Counting »
April 16, 2009
Obama's Marxist Subversive Appointment Rosa Brooks Defense Dept.
O'Reilly calls this leftist loon a "spy" in the Pentagon for the express purpose to report back to Obama.
Leftist radical Rosa Brooks is now operating within the Pentagon as a top advisor
Brooks is a far left activist who has worked as a Special Counsel for the George Soro's Open Society Institute. As a columnist for the Los Angeles Times, Brooks consistently went to extremes.
Brooks' previous work included service as a senior adviser to Assistant Secretary Harold Koh at the U.S. Department of State, five years as an associate professor at the University of Virginia School of Law, and a stint as Special Counsel to the President at the Open Society Institute, George Soros' philanthropic foundation.
Here are my posts I did about Harold Koh:
Critics Decry Obama Nominee for State Dept. Legal Adviser Harold Koh
B.Hussein Obama's Most Perilous Legal Pick Harold Koh

She has also been a consultant for Human Rights Watch, a board member of Amnesty International USA, a term member of the Council on Foreign Relations, and a member of the Executive Council of the American Society of International Law.
She is active in political causes. In her columns, she was an enthusiastic supporter of Barack Obama during the 2008 presidential campaign, and in 2004 she served as a foreign policy advisor to the Kerry-Edwards campaign.
In October 2007 she wrote: "George W. Bush and Dick Cheney shouldn't be treated like criminals who deserve punishment. They should be treated like psychotics who need treatment."
March 2009: "The Bush administration's big legal lies paved the way for some of the most shameful episodes in our history, including the official authorization of torture."
Ms. Brooks also supported the Iraqi who threw his shoes at President Bush: "He reminded the powerful and powerless alike that a single symbolic gesture can be more effective than a thousand grenades."
The appointment of Rosa Brooks to a mid level post in the defense department has largely gone under the radar, however it is one of the most perplexing and radical appointments of the Obama administration. Brooks, most recently an L.A. Times columnist, now heads to the Pentagon.
In her latest column, Brooks called for a bailout of the newspaper industry. Brooks, like many journalists, was a frequent critic of the Bush administration's policy on the GWOT. Of course, Brooks criticism goes beyond mere criticism and into the looney conspiracy theories and deranged hate.
For the many Americans who read of Karadzic's arrest but wondered, "Yes, great -- and when will George W. Bush and Dick Cheney face trial for war crimes?" this is something to keep in mind. Karadzic was the leader of a small, unrecognized rogue republic and presided over a genocide -- but he evaded justice for more than a decade and still keeps a loyal fan base.
In her role in the Pentagon, Brooks will have significant security clearance. She will have have access to more of our secrets than many Congress and Senators.
She obviously hates Jews ......
Brooks quote: "Hamas has fired thousands of unguided Kassam rockets at Israel, but the rockets have killed only a handful of Israelis".
In Israel, politicians jockeying for power have launched the most lethal military assault on Palestinian territory in decades.
She is the daughter of the Socialist nutcake Barbara Ehrenreich.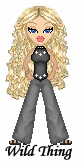 Wild Thing's comment.......
She hates the United States and what it stands for.
"Rosa Brooks believes that President Bush and his Administration should be tried at the Geneva Convention as war criminals."
Rosa Brooks belongs to several organizations the like National Security Network and Connect U.S. Funds that believe in the elimination of capitalism in America. Rosa Brooks will work for Undersecretary Of Defense for Policy Michele Flournoy is one of the most hateful left-wing columnist in the country who hates the Military and Conservatives.
Rosa has proved to be a zealot against the military and she, will probably share secrets with the her left-wing media friends if she does not like military policy in the Pentagon.
The nomination of Rosa Brooks, Harold Koh and Timothy Geithner and several other nominees that President Obama has appointed high-level postions shows that this is a strong move toward a Socialist government for our country.

....Thank you Mark for sending this to me.

Mark
3rd Mar.Div. 1st Battalion 9th Marine Regiment
1/9 Marines aka The Walking Dead
VN 66-67


Posted by Wild Thing at April 16, 2009 06:48 AM
---
Comments
Somewhere there is an old guy in ratty tiger stripes with the 1000 yard stare who will probably take care of this.
Posted by: Glenn Cassel AMH1(AW) USN RET at April 16, 2009 09:01 AM
---
You have to wonder and worry how many extreme leftists Obama is going to appoint to powerful and sensitive positions. Obama's promise of change is coming about. Change from a Constitutional Republic to a dictatorial socialist state.
Soros must be very happy right now. His boy is doing just as he planned.
Hopefully others at the Defense Dept will realize how dangerous Brooks is and they will hold back sensitive info from her.
Posted by: TomR at April 16, 2009 10:32 AM
---
Glenn Cassel AMH1(AW) USN RET, Obama is
going down his list of all the worst this country has socialists, etc. to put into
place in our government.
Posted by: Wild Thing at April 16, 2009 03:23 PM
---
Tom, I agree, and also the Judges, just
to think about the Judges he will
nominate too very scary stuff.
Posted by: Wild Thing at April 16, 2009 03:25 PM
---
Posted by: Jack at April 16, 2009 03:41 PM
---
"Rosa Brooks believes that President Bush and his Administration should be tried at the Geneva Convention as war criminals."
Wild Thing who is that quote from? Rosa Brooks would be twice an idiot if she believes that.
First, like the Uniform Code of Military Justice, the Geneva Conventions are documents that a war criminal or pirate maybe prosecuted under and not a place where a war criminal may be prosecuted. It bugs me that people do not know that the Geneva Conventions are reports from conferences that took place starting in the nineteenth century and continue through into the post WWII era. If they are not ratified, they are not law. The delegates were not invested with legal authority ahead of the conferences.
Second, I read the Geneva Conventions back when I was in high school up through the last one the United States had ratified. George Bush could do anything he wanted to the illegal combatants captured outside of the countries where they have citizenship or authorized military status except subject them to certain humiliations. (Even illegal combatants who the guards can shoot at will are protected from being photographed in humiliating naked pyramids. )
There have been various conferences at Geneva of diplomats since, who with no legal authority, have tried to pronounce international law. Only the International Redcross, delegated with legal authority to monitor prison of war camp conditions, is a recognized agency from the established Geneva Conventions that participates in these conferences. These are not "Geneva Conventions."
Posted by: Avitar at April 16, 2009 05:30 PM
---
The govenment is filled with Socialists. Who are bent on destroying this country all for the purpose of promoting their leftist agenda.
Posted by: Mark at April 16, 2009 07:19 PM
---
Posted by: Wild Thing at April 16, 2009 11:38 PM
---
Avitar, that was from one of her articles
she wrote. She was one of the L.A. Times columnist's.
Posted by: Wild Thing at April 16, 2009 11:43 PM
---
Mark, I wish there was a way to really
clean house. It also shocks me how many
citizens don't care or agree with these
socialists. They sure don't love America.
Posted by: Wild Thing at April 16, 2009 11:44 PM
---