« Captain Richard Phillips Still Held Hostage ~ Obama Still No Public Comment | Main | Steele: Obama Using ACORN For Census »
April 11, 2009
CEO Maersk Line:"This is being treated as a crime scene" and Other UPDATES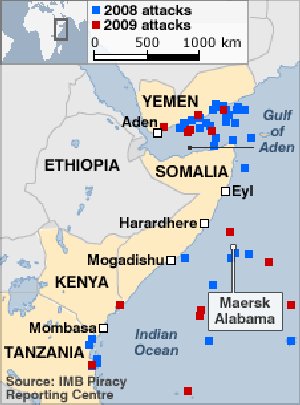 "The ship is a crime scene" according to a press conference held by John Reinhart, CEO Maersk Line speaking
A crime scene???? Did anyone else see this? I don't mean to minimize crime scenes honesly I don't. But I would not classify this hostage crisis as a crime scene. These are TERRORISTS! ~ Wild Thing

Some in the Defense Department have been frustrated by what they see as a failure to act
Obama Team Mulls Aims Of Somali Extremists
Seeing Potential Terror Threat, Officials Debate Their Options
Senior Obama administration officials are debating how to address a potential terrorist threat to U.S. interests from a Somali extremist group, with some in the military advocating strikes against its training camps. But many officials maintain that uncertainty about the intentions of the al-Shabab organization dictates a more patient, nonmilitary approach.
Al-Shabab, whose fighters have battled Ethiopian occupiers and the tenuous Somali government, poses a dilemma for the administration, according to several senior national security officials who outlined the debate only on the condition of anonymity.
The organization's rapid expansion, ties between its leaders and al-Qaeda, and the presence of Americans and Europeans in its camps have raised the question of whether a preemptive strike is warranted. Yet the group's objectives have thus far been domestic, and officials say that U.S. intelligence has no evidence it is planning attacks outside Somalia.
Some in the Defense Department have been frustrated by what they see as a failure to act. Many other national security officials say an ill-considered strike would have negative diplomatic and political consequences far beyond the Horn of Africa. Other options under consideration are increased financial pressure and diplomatic activity, including stepped-up efforts to resolve the larger political turmoil in Somalia.
The most recent discussion of the issue took place early this week, just before the unrelated seizure of a U.S. commercial ship in the Indian Ocean by Somali pirates who are holding the American captain of the vessel hostage for ransom.
The administration has not shied away from missile attacks, launched from unmanned aircraft, in Pakistan, targeting what U.S. intelligence says are top members of al-Qaeda. Evidence against al-Shabab in Somalia is far murkier and the argument in favor of a strike is based on the potential threat the group poses to American interests.
"There is increasing concern about what terrorists operating in Somalia might do," a U.S. counterterrorism official said. According to other senior officials, the camps have graduated hundreds of fighters.
The FBI and intelligence officials have said that at least 20 young Somali American men have left this country for Somalia in recent years to train and fight with al-Shabab against the Somali government and occupying Ethiopian military forces. In February, a naturalized American -- 27-year-old Shirwa Ahmed of Minneapolis -- killed himself and many others in a suicide bombing in Somalia.
The Bush administration asserted that some of al-Shabab's original leaders were responsible for the 1998 attacks on U.S. embassies in Kenya and Tanzania and maintained ties to al-Qaeda. Last year, it added the group to its list of terrorist organizations. "There are indications that al-Qaeda has provided support for training activity" in the camps, said a U.S. counterterrorism official.
American officials do not discount the threat of an attack on the United States or Europe. "To the extent that the al-Shabab leadership talks to the al-Qaeda leadership in Pakistan," the counterterrorism official said, "if that occurs with increasing frequency, then our concerns will grow even stronger."
For the moment, however, U.S. officials are more concerned about attacks in Somalia and in the region. "We're talking about . . . U.S. and Western interests, as well as potential attacks against other countries in Africa."
The newness of the Obama administration, one senior military official, has slowed the decision process even more.
They are "walking slowly," the official said, "and for the players with continuity, the frustration continues to grow."
But many on the national security team insist that it is their caution and willingness to consider all aspects of the situation that differentiate them from the overly aggressive posture of the Bush administration that they say exacerbated the terrorist threat.

Pirates repel sailors attempting to reach captain
Pirates off the eastern coast of Africa fired on U.S. sailors Saturday as they tried to reach the lifeboat where an American captain is being held, a U.S. official familiar with the situation told CNN.
The gunfire forced the sailors, who did not return fire, to turn back, the official said.
The incident took place some 12 hours ago as the guided missile destroyer USS Bainbridge sent a small team toward the lifeboat, said the official.
Phillips appeared to be tied up by the pirates after the escape attempt, a Defense Department official told CNN.


U.S. Navy in Standoff With Pirates
The Maersk Alabama pulled into its berth in Mombasa port Saturday evening, while U.S. warships tried to stop Somali pirates from sending reinforcements to a lifeboat where the Alabama's capitain is being held hostage off Africa's eastern coast.
About seven Alabama crewmembers, clad in blue overalls and hardhats, watched from the railings as the ship was pulled into its berth. A few waved and one pumped his fist as the ship approached the dock, which was covered with journalists wielding cameras and notebooks, as a helicopter rented by the Associated Press hovered overhead.
The ship had visible security: several men in flak jackets, camouflage and automatic weapons could be seen moving about the ship. U.S. Navy Seals were reportedly on board the ship.
When the ship got into shouting distance to the reporters, an older crewmember wearing a goatee who said his name was Ken Quinn, leaned over to answer a few questions from the media.
Mr. Quinn called Capt. Richard Phillips, who surrendered himself to safeguard his men, a hero. "The whole crew misses him," Mr. Quinn said. "We owe the captain our lives."
Mr. Quinn said the pirates attacked about 7 a.m. Wednesday.
"They woke me up out of bed," he said.
Another man said the pirates had climbed aboard by throwing a rope over the side of the boat, and that he and the other crew hid in what he said was a "secure area."
Then the captain "took care of us," he said, without elaborating.
Mr. Quinn pointed to another crewmember, saying "This man was a hero -- he took down the pirate!" The man, a younger crewmember who smoked at least two cigarettes as the ship docked, said his name was Atm Reza, chief engineer. Mr. Reza said he led a pirate named Abdul Mohamed down to the engine room and attacked the pirate with an ice pick.
U.S. rules of engagement prevent the Americans using their vastly superior fighting power to engage the pirates if there is any danger to civilians.

FBI Investigating Somali Pirates for Potential Charges
FBI agents are investigating the Somali pirates who hijacked a U.S. ship and are holding its captain hostage, U.S. officials said Saturday, raising the possibility of federal charges against the men if they are captured.
Attorney General Eric Holder said this past week that the Justice Department had not seen a case of piracy against a U.S. ship in hundreds of years. But authorities have prepared for such an event as the threat of piracy along the African coast has risen.
"If there were ever a U.S. victim of one of these attacks or a U.S. shipping line that were a victim, our Justice Department has said that it would favorably consider prosecuting such apprehended pirates," Stephen Mull, the acting undersecretary of state for international security and arms control, told Congress last month.
Whether charges ever get filed depends on how the standoff plays out. If the pirates are captured at sea, it will be much easier for U.S. authorities to prosecute.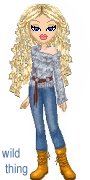 Wild Thing's comment......
The panzy man now occupies the White House, he is hiding in the Lincoln bedroom. He can't even come out to make a statement. Our enemies know Obama is weak and they will take full advantage for the next four years.
WTH is going on? Do we now allow terrorists to fire on the U.S. military with no return fire?
Posted by Wild Thing at April 11, 2009 04:40 PM
---
Comments
This is the change Hussein was talking about. Appeasement, kiss their ass and maybe they won't beat us up.
I read also North Korea has two journalist held hostage and Iran has another. This is the only one to make the papers. Probably because it is unavoidable, the foreign press is covering it too. This is Carter-Clinton 2 only worse. With this kind of track record it can only get worse.
Posted by: Mark at April 11, 2009 07:28 PM
---
There is no mistaking Hussein's muzzie allegiance, he's repeatedly shown it since he took the office, he is nothing more than a surrender monkey.
Posted by: Jack at April 11, 2009 09:46 PM
---
How embarrassing. Somali pirates fire on US Sailors who have to turn back, without firing a shot, because of orders from their CinC. Shoot, they're not just holding one American Citizen hostage, their holding the US hostage.
Is this Deja Vu Jimmie Carter?
Also, the only crime I see is the shipping company sending its ships in dangerous waters unarmed. Arm each merchant sailor with a M-14 and that should take care of any pirates.
Posted by: BobF at April 11, 2009 10:04 PM
---
Mark, thanks for the information about
North Korea and Iran.
I think they said the pirates have food
for 10 days. Tomorrow ( Sunday) will be
day 5. That means food for the Capt. too,
I hope they are feeding him.
Posted by: Wild Thing at April 11, 2009 11:07 PM
---
Jack, he sure is,and for someone that
craves the camera like he does, he can't
even have the guts to lead on this and
speak about it.
Posted by: Wild Thing at April 11, 2009 11:10 PM
---
BobF., I agree so much, they should be
armed I was so surprised to learn they
were not armed. Not even the Capt.
Maybe now they will make it a law. That
they can be armed. This is not a safe world
and all our ships like this are in danger.
Posted by: Wild Thing at April 11, 2009 11:12 PM
---