« Vanished Soldiers: American Heroes Come Home | Main | Obama Announced the Addition of Apologist for Radical Islamists Dalia Mogahed to..... »
April 12, 2009
BRAVO ZULU ! Captain Phillips, and Navy SEALs on Capt. Rescued!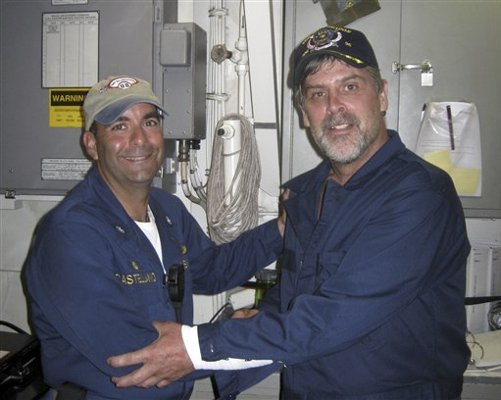 This Sunday, April 12, 2009 photo released by the U.S. Navy, shows Maersk-Alabama Capt. Richard Phillips, right, standing alongside Cmdr. Frank Castellano, commanding officer of the USS Bainbridge after being rescued by U.S. Naval Forces off the coast of Somalia. (AP Photo/U.S. Navy photo)
Ship Captain Rescued From Somali Pirates
American sea Captain Richard Phillips was safely rescued Sunday from four Somali pirates, who had been holding him for days in a lifeboat off the coast of Africa, a U.S. intelligence official said.
Three of the pirates were killed and one was in custody after what appeared to be a swift firefight off the Somali coast, the official said.
Initial reports indicate Phillips jumped overboard for a second time and the military was able to take advantage of the situation.
Phillips, 53, of Underhill, Vt., was transported to the USS Bainbridge nearby. He is resting comfortably after a checkup, the Navy said.
"Andrea and Richard have spoken and you can imagine their joy and what a happy moment it was for them," family spokeswoman Alison McColl said outside the Phillips' house.
McColl said Andrea wanted to thank the world for their prayer and wishes for her husband's safe return.
Asked whether the pirate arrested will now be brought to the U.S. for prosecution, the Department of Justice told FOX News, they will be "reviewing the evidence and other issues to determine whether to seek prosecution in the United States."
Maersk Line Limited President and CEO John Reinhart said in a news release that the U.S. government informed the company around 1:30 p.m. Sunday that Phillips had been rescued. He was to hold a media briefing later Sunday.
Reinhart said the company called Phillips' wife, Andrea, to tell her the news. He said the crew of the Maersk Alabama was "jubilant" when they received word that Phillips was safe.
They placed an American flag over the rail of the top of the Maersk Alabama and whistled and pumped their fists in the air. Crew fired a bright red flare into the sky from the ship.
The rest of the crew and the ship had made it safely to a port in Kenya.
Rear Admiral Richard Gurnon, president of the Massachusetts Maritime Academy, where Phillips graduated from, said there was no doubt in his mind Phillips would be released.
"He was the good sheppard — he exchanged his life for the life of his crew," Gurnon said. "We are truly thankful that it has turned out this way. This is exactly the way we wanted it to end."
A government official and others in Somali with knowledge of the situation had reported hours earlier that negotiations for Phillips' release had broken down.
Talks began Thursday with the captain of the USS Bainbridge talking to the pirates under instruction from FBI hostage negotiators on board the U.S. destroyer.
U.S. warships and helicopters stalked the lifeboat holding Phillips and his four Somali captors Sunday, while his crew briefed FBI agents about how they fought off the pirates who boarded their ship, the Maersk Alabama.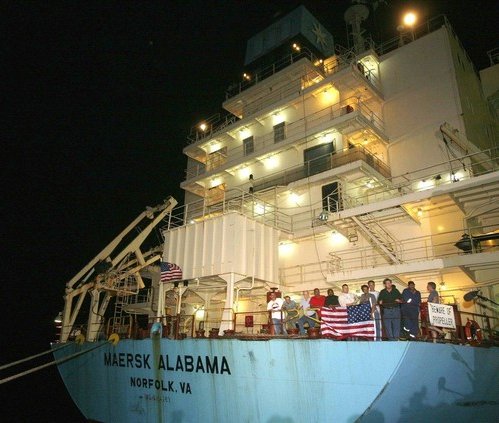 Members of Maersk Alabama celebrate standing on the deck as they hold the U.S. flag after hearing news that their captain is free, at the Kenyan coastal sea port of Mombasa, 500 km (311 miles) from Nairobi April 12, 2009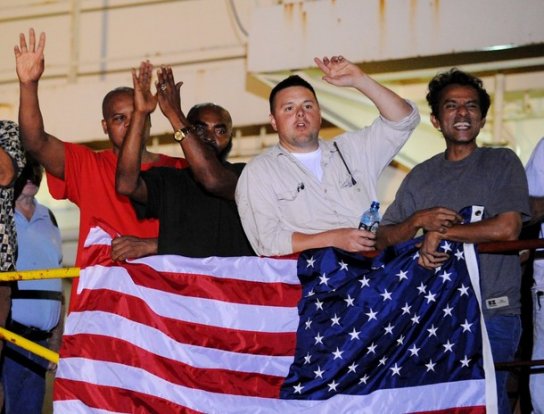 Crew members of the US merchant ship Maersk Alabama gather around a US flag while celebrating that the captain of their ship, Richard Phillips, which had been held captive by the pirates had been freed on April 12, 2009.

Captain jumps to freedom
Capt. Richard Phillips jumped to freedom on Easter Sunday from the lifeboat where four pirates had been holding him captive off the coast of Somalia in a five-day stand off with the U.S. Navy.
Capt. Phillips, who has been described by his crew as a hero for leaving with four pirates in a lifeboat to save his ship, the Maersk Alabama, escaped by jumping overboard.
Before pirates could respond, U.S. forces killed three pirates still on the lifeboat and arrested a fourth pirate.

.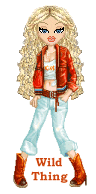 Wild Thing's comment........
BRAVO ZULU
Captain Phillips, and SEALS RULE-—TERRORISTS DIE. Thank you GOD for the Captain's rescue.
On TV, OMG I love that guy with the New York accent...he said....."those assholes"..."They were OUR hostages"..."We were under attack for a WEEK"..."tell the president to get these guys." LOL we have a Joe the Sailor. heh heh
Wow second attempt that he jumped to his freedom, and this time it worked. Fantastic . Captain Phillips jumping overboard once again, providing the opportunity for the rescuers to shoot the pirates. Before the pirates could respond, the Navy opened fire on the three pirates who were still on the lifeboat. I don't know if the fourth that was captured was on the USS Bainbridge in negotiation, or if that person was another Somali. GREAT NEWS!!!

Fox just started to read a statement from Obama - it expressed tepid joy at the Captain's release, praise for the military, blah, blah, blah, and Fox just stopped reading it and went to their military analyst Cowan, as if Obama were immaterial. Cowan did say that the operation had to be authorized by the administration.
HEY Hussein, see what happens when they let them do their job. No thanks to muzzieBama.
Our guys asked Obama TWICE to be able to do somerthing and NOT UNTIL FRIDAY did he say OK. The Capt. was taken hostage on Wed. so it took that long for Obama to decide it was ok.. I guess he was worried about his Muslims.
Just in LOL
CNN idiot now asking if this will escalate violence and make the "non-violent" pirates angry???

and this................
White House Statement On Rescue....Julie Bandarass with FOX news noticed Obama's Utter Silence On The Situation

I LOVE how she is reading what Obama says and toward the end of it she says...... " and he goes on.".......LMAO Good girl. Obama has not said one word till now, Bush would have made a statement right away about the Capt. and the crew and the families.

....Thank you Mark for sending this to me.

Mark
3rd Mar.Div. 1st Battalion 9th Marine Regiment
1/9 Marines aka The Walking Dead
VN 66-67


Posted by Wild Thing at April 12, 2009 04:44 PM
---
Comments
He finally allowed the SEAL's to do what they've been trained to do. Captain saved, three pirates dead.
Fantastic work SEAL's.
Posted by: BobF at April 12, 2009 04:55 PM
---
Worked out as it is supposed to. Good job by the SEALs, Capt Philips and the Navy crews.
Too bad one pirate was taken alive. He will probably end up an American citizen with voting privileges.
Posted by: TomR at April 12, 2009 05:37 PM
---
Couldn't have asked for a better Easter blessing, thank you U.S. Navy, the Navy Seals and Captain Philips.
Glad you could show up before the press to take the credit asshole Obama.
Posted by: Jack at April 12, 2009 06:16 PM
---
Finally, the Navy could do its thing. It never should have lasted this long. This is a terrorist act, and we don't negotiate with these dirtbags.
Posted by: Mark at April 12, 2009 06:30 PM
---
Agree Jack.
One of the Maersk Alabama's crew put a hole in the hand of 1 pirate with an ice pick. Good for him, Navy seals put holes in the head of 3. Good for them.
Bob A.
Posted by: Bob A at April 12, 2009 07:57 PM
---
Two of my Marine Viet Nam Helo crew chiefs of HMM362, Ugly Angels were career Marines and both members of the Teheran Hostage Rescue Mission.
We had a good plan and good clear night vision. Why did it fail? The worst president in history next to the Obamination, Jimmah Cahtah was so indecisive and unresolute that he would not give the go ahead for days. When he did gather the guts to give the order, we went in a sandstorm. An indecisive, gutless President cost American lives on that mission.
This totally gutless marxist in the Oval Office will cost more American lives.
Wild Thing, if you want to meet (online) these two distinguished Marines, I can forward their contact info. Both were also members of HMX1, the Presidential Helicopter squadron out of Quantico.
We are also members of Popasmoke, as you have our logo on your webpage's right margin.
Semper Fi
Posted by: Billy Ray at April 12, 2009 08:00 PM
---
Now that O'Vomit has taken credit for killing 3 of his fellow black muslims, does this mean that race baiter Farrakhan will be killing of whitey? Just curious. Oh hell send that bastard to me, Rabbi Mossberg and Rabbi Ruger will take care of his sorry ass.
Posted by: cuchieddie/RVN 66-68 at April 12, 2009 08:13 PM
---
Hi cuchieddie,
The sad thing on your O'Vomit is why when a piracy has happened, our navy on scene do they have to ask the CIC for permission to save an American's life when an immediate response may be needed. That should be a standing order for our military. When an American citizen's life is at stake you save it by orders of the ranking officer on the scene. The media seemed to stress that when asked Barack Obama Bin Barry Soetoro twice gave permission to act.
Anyway Captain Phillips is safe and we have 3 less pirates.
Bob A.

Posted by: Bob A at April 12, 2009 08:53 PM
---
BobF., big smile, it was a great day.
Posted by: Wild Thing at April 13, 2009 12:18 AM
---
Tom, yes I will be curious to see what
they do with the extra pirate.
Posted by: Wild Thing at April 13, 2009 12:20 AM
---
Jack, yoru right, it was a real Easter
blessing.
Posted by: Wild Thing at April 13, 2009 12:22 AM
---
Mark, I hope they treat it as a terrorist
act with the pirate that is left.
Posted by: Wild Thing at April 13, 2009 12:25 AM
---
Bob A., that was great, thank you for the
information.
Posted by: Wild Thing at April 13, 2009 12:30 AM
---
Billy Ray, I would be honored to meet them.
I agree with you so much, Carter was the
one that messed up. Our troops were ready
and they did everything right. Carter was
indecisive, gutless.
The worst thing is having a president like
Carter or Obama that really are not leaders
and don't have a clue about our military.
Posted by: Wild Thing at April 13, 2009 12:35 AM
---
cuchieddie/RVN 66-68, LOL love it.
Posted by: Wild Thing at April 13, 2009 12:37 AM
---
Ma'am,
Sent you their emails in the form of an online introduction. Two outstanding career Marines.
You absoultely must get KD to tell you about the Teheran mission in detail. I swear there is a movie in his story.
Posted by: Billy Ray at April 14, 2009 09:24 AM
---