« B.Hussein Obama Did NOT Give The Order | Main | Star Trek Cast Visits Service Members at CAMP ARIJAN, Kuwait »
April 13, 2009
B.H. Obama Troops Visit Was Totally Staged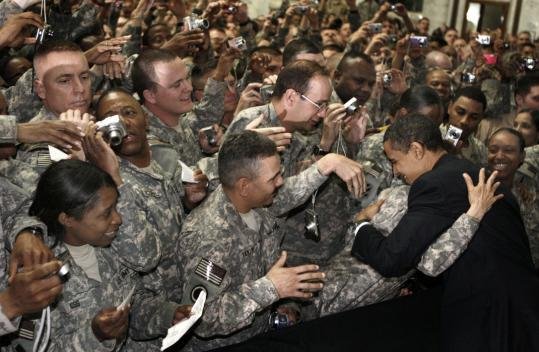 As supporting evidence for the digital-cameras part of the story, the sergeant suggests that the identical cameras can be verified in the AP photos
Obama's Photo Op with Troops 100% Staged
The welcome that President Obama received with his unscheduled surprise visit to the troops in Iraq, was entirely a staged event.

U.S. soldiers salute Obama, message during his surprise visit to Iraq
WASHINGTON
President Barack Obama went for the defining television shot by capping his first extended foreign tour with a surprise visit to Iraq.
He got it – pictures of hundreds of U.S. troops cheering wildly as he told them it was time for the Iraqis to take charge of their own future.
The war-zone photo opportunity produced a stunning show of appreciation for Obama from military men and women who have made great sacrifices, many serving repeated tours in a highly unpopular war.
And the televised outpouring of affection probably will prove critical to the credibility of a new and liberal commander in chief as he tries to sell U.S. warriors and the American public on the grim prospects now facing them in Afghanistan.

.
Now for the TRUTH!
About that Obama Iraq Visit
The visit was communicated a full 24 hours in advance and a small contingent of soldiers - not screaming hoards - were rustled into a meeting place at Camp Victory.
Got this email from a sergeant that was there.
"We were pre-screened, asked by officials "Who voted for Obama?", and then those who raised their hands were shuffled to the front of the receiving line. They even handed out digital cameras and asked them to hold them up."
Take a look at the picture at AP and notice all the cameras are the same models? Coincidence? I think not.
Cheered wildly by U.S. troops," begins Jennifer Democratic Operative Loven's AP report on Obama's surprise visit to Iraq on Tuesday.
Quite a contrast to the silent treatment Marines gave Obama at his Camp LeJeune speech in late February. Just how did Obama manage to fix that little problem?
.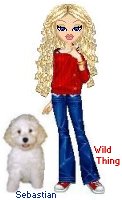 Wild Thing's comment........
Despicable manipulation and stagecraft ... using our brave military!
Over the years I have also heard from guys serving under Clinton as CIC and how they tried to do the same thing when Clinton showed up. They tried to get a welcoming crowd but NO ONE volunteered. People were ordered to greet him.
Hussein is a sick man. He needs adulation and will go to any extreme to get it. I feel sorry for America.
Posted by Wild Thing at April 13, 2009 06:50 AM
---
Comments
Yeah, the media played up the 'Surprise' visit to Iraq, and I am thinking this can't be real. These guys don't change their alligence over night, this just doesn't happen. And just figured it was a 'go along to get along' deal.
Good to see they haven't changed, and the whole thing was staged, all for the camera. That makes more sense.
The Military is in the middle in this one. They have to put their feelings aside and comply, a new CIC who obviously doesn't like the Military but all the same,. commanded to be respected, like it or not. And I am sure the Hussein People were there passing out the camera's and choreographing the whole event.
What a contrast between Bush and Hussein, Bush treated them with love and respect but to Hussein they are mere political pawns to be manipulated.
This really sucks.
Posted by: Mark at April 13, 2009 08:23 AM
---
It looks like this story is based on the word of one troop. There is need for caution. It would not surprise me if the Obama team did just as this sergeant stated, but I think more people are needed to verify it.
There is so much phonyness surrounding Obama that it is easy to believe any story about him. The truth is bad enough.
Posted by: TomR at April 13, 2009 12:13 PM
---
It's called a "rent-a-crowd". I used to detail troops to participate in these type of gatherings for VIP's. Also, if there was a question and answer period, senior officers would pick out the people to ask the questions and give them the questions they were to ask. Jay Leno makes light of this in his "The Audience Wants To Know" segments.
Posted by: BobF at April 13, 2009 01:09 PM
---
Mark, your so right, I agree it really is bad.
Posted by: Wild Thing at April 13, 2009 04:58 PM
---
Tom, yes the truth is bad enough. I just hate
to see the left use this and not thank our
troops instead they will make it like Obama
is the hero. augh
Posted by: Wild Thing at April 13, 2009 05:00 PM
---
BobF., thank you for the information.
I remember how you had said some of
this kind of thing went on when Clinton
was President.
Posted by: Wild Thing at April 13, 2009 05:02 PM
---
Do not be too paranoid about this kind of stunt.
After all if you look at the pictures many of the solders might like to meet Obama just from the historic standpoint even if they would never vote for him. The solders may want to see him even if they know that they could find a better leader throwing a rock in their mess. He is unquestionably the first minority President ever, three-eighths Arab, one-eighth African, and four-eighths white liberal dippy hippy.
There might even be a little flow of good will generated going the other way. Jaded visitors to the bases come away impressed with what a great bunch of people the US solders are and I do not think that Obama has spent much time around solders, at least not American solders.
Posted by: Avitar at April 13, 2009 05:43 PM
---