« "We Must take America Back" - Steve Vaus | Main | Confirmed: "The Obama DHS hit job on conservatives is real" »
April 15, 2009
Appeals Court: Marine Can't Sue Murtha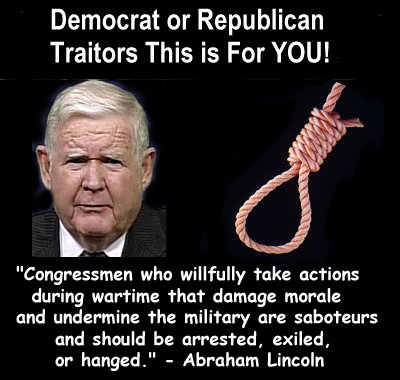 A federal appeals court ruled Tuesday that Rep. John Murtha cannot be sued for accusing U.S. Marines of murdering Iraqi civilians "in cold blood," remarks that sparked outrage among conservative commentators.
The appeals court in Washington dismissed a defamation lawsuit brought by a Marine who led the squad in the attack. The judges agreed with Murtha that he was immune from the lawsuit because he was acting in his official role as a lawmaker when he made the comments to reporters.
Staff Sgt. Frank Wuterich of Meriden, Conn., claimed Murtha damaged his reputation by saying the squad he was leading engaged in "cold-blooded murder and war crimes" in Haditha, Iraq, on Nov. 19, 2005.
A three-judge panel on U.S. Court of Appeals for the District of Columbia Circuit found that Murtha could not be sued under the 1988 Westfall Act, which gives federal employees immunity from lawsuits arising out of acts they undertake in the course of their official duties.
U.S. District Judge Rosemary M. Collyer had refused to dismiss the suit last September and ordered Murtha to give a sworn deposition about his comments. The appeals court overturned that order and said the case must be dismissed.
Wuterich's attorney Mark S. Zaid said that despite the appeals court ruling, Murtha should apologize for his statements.
"It is disappointing that the court has placed members of Congress on a special pedestal and granted them carte blanche immunity to defame anyone they choose as part of their official responsibilities without even allowing a victim to expose the actual facts that are known only to the perpetrator," Zaid said.
Murtha's spokesman declined to comment.
Another Marine involved in the Haditha fighting, Justin Sharratt, has filed a slander lawsuit against Murtha in Johnstown, Pa. Although the judge in that case may consider Tuesday's decision and give it weight, it is not binding on that court since it's in a different appeals court circuit.
A former lance corporal, Sharratt sued Murtha in September claiming the lawmaker's remarks not only defamed him, but denied him due process and the right to a fair trial on the charges in military court. Sharratt was initially charged with three counts of premeditated murder, but was exonerated after a full investigation and the military equivalent of a preliminary hearing. Sharratt said it was proven he killed insurgents, not civilians.
Sharratt's attorney, Noah Geary, argued that a jury in Pennsylvania should decide whether Murtha was acting within the scope of his official duties when he called the Marines murderers on cable TV news shows.
"When he's on the House floor he can say anything he wants," Geary said. "But when he goes on Wolf Blitzer and Hannity and Colmes, and all these other outlets, he's outside the scope of his employment when he's making these comments," Geary said.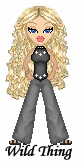 Wild Thikng's comment.........
Sheesh! —a lawmaker is exempt from slander, defamation of character and sheer outright lies, especially against our military. No wonder every leftist wants to get elected!
Yet another case of overt judicial misconduct in the service of a political agenda. Or did Murtha just give them money? This SOB was NOT acting as a legislator when he slandered our Marines. He was bloviating on TV, in an agit-prop campaign designed to give aid and comfort to America's enemies. The judges' position means that Members of Congress are mini-Sun Kings , above the laws that bound the rest of us. What bastards these people are!

ALL THE MURTHA QUOTES ON HADITHA LISTED HERE...This is a long list, you can scroll down the page to read all the horrible things Murtha has said about our Marines.
Posted by Wild Thing at April 15, 2009 07:47 AM
---
Comments
That's just not right. Murtha slandered these boys six ways from Sunday and he gets a free pass? Why? Because he's a politician? Sorry Charlie. I'd take it to the Supreme court now. I'd keep pushing. Good luck to the Marine.
Posted by: Lynn at April 15, 2009 08:25 AM
---
It is my opinion that every democrat in power be removed from office and executed by hanging for treason. Murtha, Pelosi and Reid will be the 2nd 3rd and 4th. Guess who will be 1st?
Posted by: cuchieddie (VN66/68) at April 15, 2009 02:03 PM
---
I can understand the court's ruling easier than I can understand the minds of the people of his district who reelected him. Murtha even had a popular opponent who was leading the polls.
I just hope that one of these lawsuits get some footage and causes Murtha a lot of discomfort. Then again, he will probably be reelected in 2010.
Posted by: TomR at April 15, 2009 02:27 PM
---
Tom, it is a huge political machine in Murtha's district. He owns the district and key people there. The Major was doing really well, but people were afraid to speak up for fear of backlash from murtha's thugs. This came out more than once.
In my old district and before he went to Jail, Jim Trafficant didn't even have to show up until a week or two before election to be re-elected. There was a debate on TV one time and 5 challangers, he showed up for the debate, and intimidated each one of them, he did so just by showing up...the election he won in a landslide.
Posted by: Mark at April 15, 2009 05:41 PM
---
It's about time in this country that Congress is held to the same standards and laws the rest of us must adhere to. They are not above us, rather they are suppose to serve us.
Posted by: BobF at April 15, 2009 06:22 PM
---
Lynn, I agree, it is a really bad mark on
our Justice system too.
Posted by: Wild Thing at April 16, 2009 02:22 AM
---
cuchieddie (VN66/68), too bad our politicans
don't put the Lincoln quote on the door to
every office, heh heh just as a reminder.
Posted by: Wild Thing at April 16, 2009 02:25 AM
---
Tom, good point, that is something I will
never ever understand.
Posted by: Wild Thing at April 16, 2009 02:28 AM
---
Mark, oh wow, thank you for sharing about
that. Political machines are very powerful.
Posted by: Wild Thing at April 16, 2009 02:32 AM
---
BobF., I want that to happen too. No one
should be above the law from the President
on down or in Obama's case from the low life
in office on down.
Posted by: Wild Thing at April 16, 2009 02:34 AM
---