« Shame on Obama as He Demands "IHS" Removed for Georgetown University Speech | Main | Internet Connection Problem ~ augh! »
April 17, 2009
2009 Tea Party Roll Call Update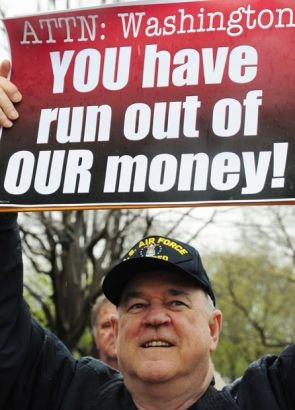 ALL 50 states plus D.C., 485 cities, and can document no less than 602,000 and as many as 680,000 patriots took place in the greatest grass roots act of defiance since 1773!
EVERY state in the Union protested Washington D.C.'s tax and spend scheme.
The list as of 4/17/09 1500 PST, to get Updates Please CLICK this LINK to see the list and totals
http://www.hench.net/2009/teaparty.htm
2009 Tea Party Roll Call
Low -----------Mid ----------High

602,293 ______ 641,619 ______ 679,942


And more Tea Parties coming, some have added extra days to have a Tea Party
RALLY LOCATION HAS BEEN UPDATED TO ACCOMMODATE
A LARGER TURNOUT!
When:
April 18th, 2009 12 noon - 2pm

Where:

Philadelphia, PA - Independence Mall
Rally to be held on MARKET STREET between 5th and 6th Streets.
Directions to the Tea Party via Google Maps at website
Why:
To fight wasteful spending so that future generations will not be burdened with immense debt and to fight the unprecedented and unconstitutional encroachment of government on our God-given freedoms.

Speakers:
Dom Giordano - Talk Show Host, WPHT-AM
Don Adams - writer, teacher, public affairs consultant
Christine Flowers - Attorney and columnist for the Philadelphia Daily News
Michael Johns - Conservative leader and writer, former White House speechwriter and Heritage Foundation policy analyst
Steve Lonegan - New Jersey taxpayer champion
Scott Rutter - Decorated veteran and Townhall.com columnist
Pat Toomey - Former President, Club For Growth
Scott Wheeler, columnist, Townhall.com and Newsmax.com.
Philly's own Joey Vento - Owner of Geno's Steaks.

Posted by Wild Thing at April 17, 2009 07:20 PM
---
Comments
Got to keep these protests up, keep pounding them again and again. The 4th of July is coming up hopefully that will be a huge event.
Posted by: Mark at April 17, 2009 07:35 PM
---
Mark, I agree, I am just thrilled at
how many came to these. It is so great.
Almost 1 Million and it might be when
the final numbers come in.
Posted by: Wild Thing at April 17, 2009 07:53 PM
---