« Ann Coulter Clobbers Keith Olbermann | Main | Taliban Responds To Barack Hussein Obama »
March 09, 2009
S. Korea Drills Begin ~ North Korea Threatens War if Satellite Launch is Intercepted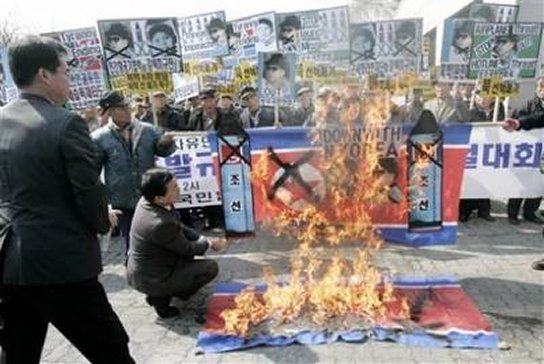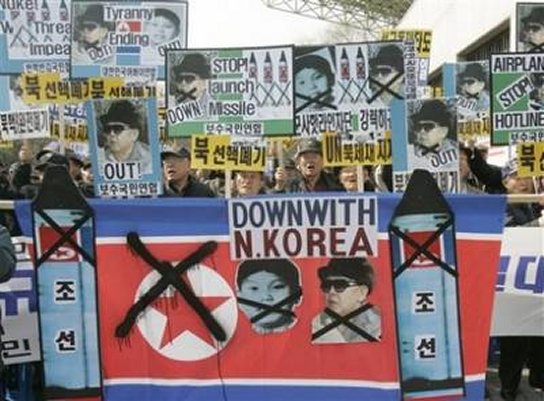 South Korean protesters with a North Korean flag and portraits of North Korean leader Kim Jong Il stage a rally against North Korea's recent military policy in Seoul, South Korea, Monday, March 9, 2009. North Korea ordered its armed forces on standby and warned Monday it will retaliate against anyone seeking to block its planned satellite launch, a move many fear will disguise a missile test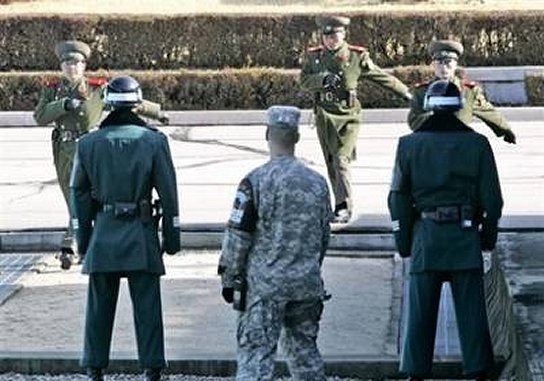 North Korean soldiers march as South Korean and US soldiers watch at the border village of Panmunjom in the demilitarized zone (DMZ) between the two Koreas. North Korea put its military on combat alert Monday as US and South Korean forces started a major joint exercise which the communist nation has branded as a prelude to invasion.

Tension high on Korean peninsula, military drills begin
SEOUL
U.S. and South Korean troops began annual military drills on Monday and North Korea said it had put its armed forces on full combat readiness in response to the exercises, heightening tensions on the Korean peninsula.
North Korea, which is preparing to test-fire its longest-range ballistic missile, also said it would regard the shooting down of any of its rockets as an act of war.
The North Korean army said in a statement that the drills were a "military provocation" that would only occur "on the eve of a war".
U.S., South Korea begin exercise amid North Korea's threats
SEOUL
The annual Key Resolve/Foal Eagle exercises were to kick off Monday, scheduled to last through March 20.
The peninsulawide joint exercises feature thousands of visiting U.S. servicemembers from duty stations around the world.
As in previous years, Key Resolve/Foal Eagle was preceded by protests from the North Korean government, which claims the exercise is preparation for an invasion.
This year's protests led the United Nations Command and the North Korean army to resume general officer-level talks after a seven-year hiatus.
USFK spomesman Dave Palmer said the talks were requested by the North in the interest of easing the growing tensions on the peninsula. The first of the new talks took place March 2 and were primarily used by the North as a platform to rail against the exercises, South Korea's Yonhap news agency reported. A second set of general officer talks took place Friday.
A U.N. Command press release said the command, represented at the 45-minute meeting by a delegation led by Air Force Maj. Gen. Johnny Weida, assured the North that the exercises are "purely defensive in nature and have no connection to ongoing or current events."
UNC representatives also used the meeting to address recent North Korean threats to civilian aircraft, the release said.
The United Nations Command news release said the UNC considered Pyongyang's statement "entirely inappropriate, had raised great concern in the international community and should be retracted immediately."
This year's exercises have been surrounded by media speculation, much of it erroneous, according to USFK officials. South Korean media reported that B-2 and F-22 aircraft from U.S. bases on Guam and Okinawa would be participating, but those reports are incorrect, according to a 7th Air Force spokesman at Osan Air Base, South Korea.
Palmer, a USFK spokesman, said reports that 26,000 U.S. servicemembers have come to South Korea for the exercise are a "mischaracterization." He said 26,000 is the approximate number of people participating in the exercises, including those who are normally stationed in South Korea.
Originally known as Reception Staging Onward Movement and Integration/Foal Eagle, the first portion had its name changed in March 2008 to Key Resolve to reflect the changing roles of American troops on the peninsula.
Key Resolve is a command-post exercise — a computer-based simulation that focuses on bringing new troops and equipment onto the peninsula in the event of a contingency. Foal Eagle is a series of field exercises. Both exercises have U.S. servicemembers and civilians working closely with their South Korean counterparts.
North Korea Threatens War if Satellite Launch is Intercepted
North Korea put its armed forces on standby for war Monday and threatened retaliation against anyone seeking to stop the regime from launching a satellite into space in the latest barrage of threats from the communist regime.
The warning came as U.S. and South Korean troops kicked off their annual war games across the South, exercises the North has always condemned.
Analysts say the regime is trying to grab President Barack Obama's attention as his administration formulates its North Korea policy.
The North also indicated it was pushing ahead with plans to fire a communications satellite into space, a provocative launch neighboring governments believe could be a cover for a missile test.
U.S. and Japanese officials have suggested they could shoot down a North Korean missile if necessary, further incensing Pyongyang.
"Shooting our satellite for peaceful purposes will precisely mean a war," the general staff of the North's military said in a statement carried Monday by the official Korean Central News Agency.
Any interception will draw "a just retaliatory strike operation not only against all the interceptor means involved but against the strongholds" of the U.S., Japan and South Korea, it said.
The North ordered military personnel "fully combat ready" for war, KCNA said in a separate dispatch.
South Korea's Defense Ministry spokesman Won Tae-jae downplayed the threats as "rhetoric" but said the country's military was ready to deal with any contingencies.
Hundreds halted at border after NKorea cuts phone lines (S Koreans also stranded inside NK)
SEOUL
More than 700 South Koreans were blocked from travelling to a joint industrial complex in North Korea on Monday after Pyongyang cut its last communication channel with Seoul, officials said.
Seoul's unification ministry said 726 people were unable to travel to the Kaesong complex just north of the border.
The North said early Monday that it would cut off military phone lines with the South, the last remaining communications channel, in protest at a joint US-South Korean military exercise which started Monday.
It ordered its 1.2-million-member military to be fully combat-ready, saying the joint exercise was aimed at launching a "second Korean War."
"As an immediate measure we will enforce a more strict military control and cut off the north-south military communications," a military spokesman said.
"It is nonsensical to maintain a normal communications channel at a time when the South Korean puppets are getting frantic with the above-said war exercises, levelling guns at fellow countrymen in league with foreign forces."
South Koreans cannot cross the border without approval by North Korea through the military communications lines.
The unification ministry said the 726 includes those working in the complex and civilian groups trying to visit Kaesong for other purposes. It said truck traffic was also halted.
Japan urges N. Korean restraint over 'satellite' launch threats
TOKYO,
Kyodo
Tokyo is urging Pyongyang to exercise restraint in issuing threats of retaliation against countries attempting to intercept what the North calls a satellite and what other countries suspect may be a missile, Chief Cabinet Secretary Takeo Kawamura said Monday. The launch would be a "violation of U.N. Security Council resolutions. We are urging North Korea to exercise restraint as what it is going to do will undermine regional stability," Kawamura told a news conference.
North Korea warned Monday that any move to intercept what it calls a satellite launch would result in a counterstrike against the countries, such as Japan, the United States and South Korea, trying to stop it.
Kawamura stressed that Japan's Defense Ministry and Self-Defense Forces have a responsibility to protect the country's security and it is constantly collecting information and making preparations, although he did not say they are especially tightening their security at this time.
Japan, South Korea and the United States have said that even if Pyongyang launches a satellite, it would violate existing U.N. Security Council resolutions.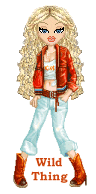 Wild Thing's comment.........
Maybe North Korea is the trojan horse for China, Iran, Hamas, et al. The want to see how the new "Dear Leader" responds.
Obama is calling Hillary to ask her "What would BILL do ?"

Posted by Wild Thing at March 9, 2009 04:48 AM
---
Comments
No need to fret. Billary will tell him (Obambi) to find an aspirin factory someplace to bomb and tell everyone that he (Obambi) took care of it.
Bob A.
Posted by: Bob A at March 9, 2009 07:57 AM
---
Like these people have interest in spending what little money they have left on a "satelite". Give me a break.
They couldn't even finish that giant clusterfuck of a skyscraper they have over there, they operate almost in the dark using mirrors reflecting light from windows in the hospitals half the time and never know when they power is going to be off or on.
They have NO money. Someone else is behind this.
Posted by: Eden at March 9, 2009 09:44 AM
---
Good one Eden, sort of like what it will be here after obamas energy plan takes affect.
the NORKs are trying to 'test' barry as per Biden during the campaign. Now who do you think will blink first.
Posted by: Mark at March 9, 2009 11:24 AM
---
I wonder who is running the North now. Jong the Dong is sick or dead. If they need a leader maybe we can give them one, like Biden or Pelosi. Not much would change for the N Koreans.
Posted by: TomR at March 9, 2009 01:19 PM
---
South Korea has done no saber rattling but is a modern country with a modern military and is in terms of relative effective strength is as one sided to North Korea, as the US was to Saddam Husain in the first Gulf war. If NK does overstep and really strikes SK, the relative strengths are such that SK will be surprised to take them in a walk. China has a minority within the ruling oligarchy that supports the current NK regime but China would not go to war to prop North Korea up.
Industrially Korean reunification would be big boon to China since South Korea would become Korea, a trusted high tech country to collaborate with in ventures, and who would be buying industrial goods to rebuild what is now North Korea. The United States would also draw down from the current fifty thousand combat troops in Korea to token, trigger force. The reason against war is the thousands that would die in any war, but North Korea should recognize that their military is not a stopping force if war gets started. This is also one of those places where an Obama peace overture would result in a war.

Posted by: Avitar at March 9, 2009 03:13 PM
---
Well that's what they said in 1950, The Norks wouldn't attack and in June 1950 they did. Within days they were in or near the City of Pusan. The South Koreans were pushed back with almost no effort at all. That was Jong the Dongs daddy. To say this dong is any smarter that his daddy is a real stretch.
The saving grace in that war was the landing at Inchon. The successful assault on Inchon could have been accomplished only by United States Marines. After the landing and the subsequent link up with American forces from the Pusan Perimeter they pushed The Norks back home. They said China would not interfer, then on November 28,1950 the Chinese got involved at first nobody believed it but they were there all 300,000 of them.
It can't happen it sure can it already happened once, It sure can happen again. I wouldn't put a whole lot of stock in the South Korean Forces either.
Posted by: Mark at March 9, 2009 07:21 PM
---
Thank you everyone for your input about this.
Posted by: Wild Thing at March 9, 2009 11:53 PM
---