« Biden Jokes About Obama Birth Certificate at Gridiron Dinner | Main | Obama Insults French President Sarkozy »
March 22, 2009
Obama Zombies to Your Front Door for Organizing For America
Coast-to-Coast Coverage For OFA's Pledge Project Canvass [March 21]
Organizing For America website

Taken from Obam's website PDF file
PLEDGE PROJECT CANVASS SCRIPT
Hi. My name is _____________, and I'm a volunteer with Organizing for America here in
________________(City or Town). How are you today?
(Wait for response and engage with potential supporter in a conversational manner.)
Great! Have you heard about Organizing for America and what we are doing in our community?
(Wait for response and engage with potential supporter in a conversational manner.)
Organizing for America is the continuation of the grassroots movement President Obama
inspired during last year's presidential campaign. In the greatest economic crisis our country in
generations, President Obama needs your help to get America back on track.
Today I'm here to spread the word and build support in our community for the President's plan to
create jobs and renew and strengthen our economy. President Obama knows that in order for our
economy to rebuild we must tackle three critical components at the heart of our country's future:
energy, health care, and education. Especially now, in the midst of these tough times, we cannot
afford to wait any longer for the change we need, and the change that we voted for in November.
President Obama needs your help now. I'm asking you to join President Obama and pledge your
support for his proposed budget priorities supporting the American people by making us
energy independent, making health care more affordable by reducing costs, and by improving
education in America.
We will deliver these pledges from individuals in your community to the President and your
members of Congress in order to show the overwhelming support for President Obama's plan
and the urgent need to move this country forward.
Now is the time for leadership that will put our country back on the path to prosperity. Our
country's success depends on folks like you showing your support by joining the President in
strengthening our economy and our country.
WILL YOU SIGN THE PLEDGE?
IF YES TO PLEDGE: Great! Sign here. [Give voter the pledge/petition form and review pledge
to make sure all information is included and/or legible.]
Please call your Congressman and tell him/her you support President Obama's plans for reform
by calling the number on this flyer. [Give the flyer for your specific Congressional District].
Now, if the President is going to be successful going forward, we need people like you to stay
active in our community. Are you interested in become active in Organizing for America?
IF YES: Fantastic! [Make sure to check off volunteer box on pledge form.] Someone will
be in touch with you soon about our upcoming events. Do you have any other questions?
ORGANIZING FOR AMERICA PLEDGE PROJECT
IF NO: Okay. Do you have any other questions?
IF YES: Go to QUESTIONS/ISSUES.
IF NO: Thanks so much for your time. To get your friends, family, and neighbors to
join this call for change, or to learn more about the President's blueprint for
change, you can visit our website at http://my.barackobama.com/pledgeproject.
Have a great day!
IF NO OR MAYBE TO PLEDGE: Are you interested in learning more about the President's plans
to reform energy, health care, and education in this country?
IF YES: Go to QUESTIONS/ISSUES.
IF NO: Thank you for your time. We hope you'll still support the President's efforts to
bring these much needed reforms to our country. You can learn more at
http://my.barackobama.com/pledgeproject. Have a great day!

QUESTIONS/ISSUES:
If you are asked questions about President Obama's economic plan or for more information,
please refer to the talking points below:

ENERGY:
• The energy challenges our country faces are severe and have gone unaddressed for far
too long.
• Our addiction to foreign oil doesn't just undermine our national security and wreak havoc
on our environment — it cripples our economy and strains the budgets of working
families all across America.
• Creating a new energy economy isn't just a challenge to meet, it's also an opportunity to
create new businesses, new industries, and millions of new jobs – jobs that pay well and
cannot be outsourced.
• The President will make historic investments that will double the nation's supply of
renewable energy in the next three years; spur new discoveries in energy, medicine,
science and technology through the largest infusion of basic research funding in American
history; and put Americans back to work modernizing buildings and weatherizing homes.

HEALTH CARE:• The skyrocketing cost of health care — costs that are straining family budgets, crippling
businesses and consuming government budgets – is one of the greatest threats to
America's fiscal health.
• In the last eight years, health care premiums have grown four times faster than wages,
and an additional nine million Americans have become uninsured. The cost of health
care now causes a bankruptcy in America every thirty seconds.
• Even for people with health care, all it takes is one stroke of bad luck to become one of
the nearly 46 million uninsured — or the millions who have health care, but can't afford it.
• Health care reform is no longer just a moral imperative, it is a fiscal imperative. If we
want to create jobs and rebuild our economy, then we must address the crushing cost of
health care this year.
EDUCATION:
• Our education policies will help determine whether our children have the chance to
fulfill their potential and whether our workers have the chance to build a better life for
their families.
• Education has always been the foundation for achieving the American dream, providing
opportunity to millions of American families, newcomers, and immigrants.
• Our nation's economic competitiveness depends on providing every child with an
education that will enable them to compete in a global economy that is predicated on
knowledge and innovation.
• We cannot let other countries outperform us in education if America is to remain a
global economic leader in the 21st Century
HOW DOES THE PRESIDENT'S BUDGET PLAN CREATE JOBS AND IMPROVE THE ECONOMY?
The first order of business for President Obama is to get our economy moving again, create jobs
and lay the foundation for growth in the short and long term. The President is committed to
bringing the type of change we need to the economy and to our national priorities that gets us
out of the boom and bust economic cycles we have seen over the last two decades and instead
provides for steady long term growth that we can count on. The future of our economy and job
creation is tied to our ability to improve education, make health care more affordable and invest
in renewable energy to reduce our dependence on foreign sources of oil - all priorities of the
President's budget plan.
WHAT IS BEING DONE ABOUT THESE AIG BONUSES?
It is AIG's own recklessness and greed that put the company in trouble in the first place and the
President shares the outrage of the country and the taxpayers over these bonuses. The President
has directed the Treasury Department to use the taxpayer's investment in AIG as leverage and
pursue every legal avenue available to block these bonuses. The President is doing everything
possible to get to the bottom of this and protect American taxpayers from this outrage.
HOW DOES THE PRESIDENT'S PLAN ADDRESS THE GROWING BUDGET DEFICIT?
The President believes that after we emerge from the current economic crisis which is gripping
the country, that we must get our fiscal house in order. His budget plan cuts wasteful spending,
eliminates unnecessary programs and allows tax breaks for the wealthiest of Americans and
corporations to expire in 2011. By making the needed investments to get our economy moving
again, and by making the hard choices in these other areas, President Obama's plan will cut the
current projected budget deficit in half by the end of his first term in office.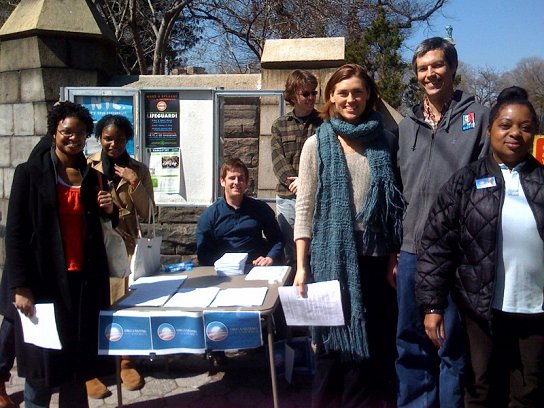 Brooklyn canvassers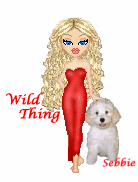 Wild Thing's comment.........
So they ask you to SIGN a document pledging your support.
What if you later decide you don't support our leader? Will the local organizer come back to your house to re-educate you?
This is how it starts and I think it is scary stuff. What I'm wondering is what happens if you refuse to sign? Do they take down your name & address and report back to the high command?
I saw a report on Fox News this morning showing the Obamazombies going door-to-door in D.C.
This is what it feels like even thinking about this happening. heh heh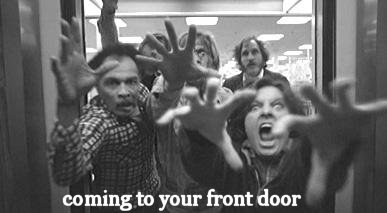 Posted by Wild Thing at March 22, 2009 04:55 PM
---
Comments
The canvassers are so bright they have to be told, 'Wait for response'? They haven't a clue, Obama has mortgaged their future, their Childrens future and beyond.
The White House must be really worried, to call out volunteers, the Useful idiots, this early is not a good sign.
Posted by: Mark at March 22, 2009 05:11 PM
---
Still waiting for my knock on the door. Perhaps the small towns and villages are not as important to Osama as DC or Brooklyn.
Bob A.
Posted by: Bob A at March 22, 2009 06:25 PM
---
ZOMBIES!!! OMG! SHOOT 'EM IN THE HEAD! SHOOT 'EM IN THE HEAAAAAAD!!!
Posted by: JohnE PFC U.S. Army at March 22, 2009 07:08 PM
---
Can't wait for these blittering idiots to step foot on my porch!!!!! I want to see if they follow the script or deviate from it. I will do my best to convince them to vote against the budget!!!! Turn-around is fair play. Only I won't be using a script OR a TELEPROMTER!!!!
And what is with the stuttering idiot at the end that claims the Republicans don't have a plan so they should just accept "Zero"'s plan??? They must have a school these jerks go to so they can sound like "O" - kinda like McDonald University!!!!
Bring it on!!!!!
Posted by: John at March 22, 2009 09:20 PM
---
What is Obama's plan for Education, Energy, and Health Care? I bet not one of these lemmings know the answer.
Posted by: BobF at March 23, 2009 08:36 PM
---