« Cap-and-trade Promises Disaster | Main | Obama Volunteers:"We're not looking for a fight.That will come later,when we have an army" »
March 24, 2009
Obama criticizes the U.S. Again and More Contradictions From The Dems Idol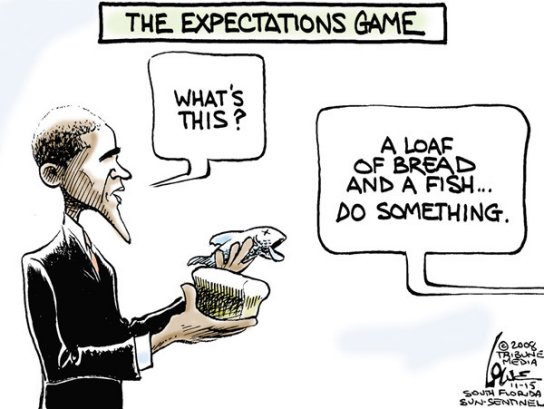 Obama criticizes some Guantanamo release decisions
President Barack Obama says the U.S. hasn't done a good job sorting out who should be released from the Guantanamo Bay detention center.
Obama says in a broadcast interview that some of the people released from the facility in Cuba have rejoined terrorist groups. He also says U.S. officials have not always been effective in determining which prisoners will be a danger once they are let go.
But he says the Bush administration's policy of holding detainees for years on end with no trials is "unsustainable,' and has only fueled anti-American sentiments.


Wild Thing's comment...........
More Obama-babble, trying to play to all sides. And what happened to how he was going to solve all the problems of the world. HUMPH!
"Obama says the U.S. hasn't done a good job sorting out who should be released from the Guantanamo Bay detention center. "
Yes sure ok, it'd be far better to release them onto the streets of the US so we can see who decides to murder people, and then we can rearrest them and try and incarcerate them...well, only to the point we rehabilitate them and release them onto our streets again.
Obama is always blaming the US. Well listen up ole B. Hussein Obama, YOU are the government, you moron. And it was YOU who wanted these murderers released. There's a reason why they were locked up at Gitmo. Innocence wasn't one of them.
Since Presidnet Brainstorm can't figure it out, he'll just close it down and let them all go.
Obama, these Terrorists you let go are probably going to be real Pissed off at you for kicking them out of what was probably the best paid vacation they ever had. Three squares a day, all their wants and needs taken care of, their every whim and desire catered too.
And what did you go and do? Sent them back to go live in a cave and eat roasted desert rats.
Oh yea, they are going to get even with you for that, you can count on it.
Unfortunately it's going to be a price paid for by the American serviceman they kill, again. All you did, Obama, is reinforce their belief in the Koran that "Allah" would reward them for their Jihad efforts, and bring them back to kill again.
Way to go, MORON.

....Thank you Mark for sending this to me.

Mark
3rd Mar.Div. 1st Battalion 9th Marine Regiment
1/9 Marines aka The Walking Dead
VN 66-67


Posted by Wild Thing at March 24, 2009 07:45 AM
---
Comments
This jerk Obama's a globalist, everybody is beautiful, and blah, blah. He can't believe they re-joined the terrorists, where the hell is this mans common sense. The man is brain dead. Like all Liberals they have a pat answer for everything, and when it doesn't work, they are dumbfounded and can't understand why it didn't work.
And of course its Bush's fault... As it should be they have NO RIGHTS... Well Berry, they didn't get out when Bush was in charge and their hadn't been an attack in 8 years, until you and your screwed up policies changed everything that did work.
Now it's a question of time and opportunity for the next terrorist attack.
Posted by: Mark at March 24, 2009 02:57 PM
---
Mark, DITTO all you said!!!
Posted by: Wild Thing at March 25, 2009 12:01 AM
---