« Riot Against Jewish Tennis Player at Israel's Davis Cup Match in Malmo,Sweden | Main | " Men Like My Son" a Tribute to Our U.S. Military »
March 08, 2009
In Country As NFL Players Visit Troops
Will Witherspoon, Danny Clark, Jared Allen and Larry Fitzgerald started their week-long tour in Kuwait.
Touchdown "Welcome to Kuwait" flashed the neon lights as we exited Kuwait International Airport. And with that, the 43rd annual NFL-USO tour had finally begun.
Will Witherspoon is a self-described "Air Force Brat." His dad served 20 years in the Air Force, stationed at various bases across the country and around the globe. Will spent eight years of his childhood living in Germany when his father was stationed there and speaks fluent German.
Danny Clark of the Giants has two twin brothers. They will soon turn 24. Danny's brother Joshua, who is a Marine, will deploy in April for his third tour in Iraq. Danny's other brother, Jason, is in the Air Force. He recently reenlisted after having served a tour in Afghanistan and he is currently doing a one-year tour in Korea. Danny spent the day before departing for the USO tour with his brother Joshua, listening to all of his war stories and making sure to pay particular attention to Joshua's list of dos and don'ts while overseas.
Jared Allen's military roots run deep as well. His grandfather, Ray Allen, was a Marine for 23 years, rising from the rank of private to captain and serving in World War II. Jared's uncle just returned from a tour of duty in Iraq where he served as a medic. And perhaps closest to home for Jared, his younger brother Ronald Allen, Jr. recently enlisted in the Marine Corps. He is currently in boot camp at Camp Pendleton in California. Jared told me that "the only reason I'm not a Marine is because I could play football. Same with my dad -- he played football rather than becoming a Marine. But my brother decided to quit football in order to serve."
Larry Fitzgerald. The fourth and final player on this year's tour is Larry Fitzgerald of the Arizona Cardinals. Larry's grandfather was a Lieutenant in the Army who won a purple heart for his service in Korea. In addition, his aunt and uncle, Paul and Sam Jones, are both Lieutenant Colonels in the Army. Larry even received a military-style education when he attended Valley Forge (Pa.) Military Academy for one year after high school. Larry's commitment to the troops, as with the other players, runs deep. One of his goals for the trip is to make sure that our men and women overseas know that "we haven't forgotten about them back home."
Day Two
Our first stop on day two was Camp Arifjan in Kuwait, which is the largest military base in the Middle East. It serves as a major staging point for all troops and supplies going into Iraq for OIF (Operation Iraqi Freedom) as well as many supplies going into Afghanistan for OEF (Operation Enduring Freedom). Arifjan is a small town in itself -- up to 8,000 troops are on the base at any time and over 57,000 troops pass through it per year. It is also a lucrative "town" for the U.S. Kuwait pays our government $500 million per year to maintain a military presence at Arifjan and at other locations in the country to deter potential enemies from invading the oil-rich nation.
At Arifjan, we first visited and received a briefing from Lieutenant Colonel Luis Jones, the chief of staff on the base and one of the most honest and generous officers around.
Running a bit late on our schedule, our group opted to skip lunch and go directly to a pre-arranged meet-and-greet at the Arifjan Zone 1 MWR (morale, welfare, and recreation) Center.
Adrenaline rush
After receiving a briefing about KNB, the players were able to get a ride on one of the Navy's smaller, quick strike boats. This vessel, a 34-foot CR-Sea Ark with a special jet motor, was captained by E5 Rob Kohl, a Broncos fan from Los Angeles. E5 Kohl first gently piloted the boat out of the harbor for us and then revved up the engine to perform a few training tactics which included accelerating the boat to top speed (40 knots) and making sharp turns in either direction. E5 Kohl also gave the players a chance to pilot the boat, an opportunity that Will Witherspoon and Jared Allen jumped at. Jared was a natural in the cockpit right away, and Will only needed a few tries to figure out how to maneuver the vessel.
Our group signed autographs and took pictures with the entire crew and dock staff before departing. The boat ride was a definite highlight of the day.
From the dock it was over to the DFAC (dining facility) for a quick dinner and then off to our evening meet and greet. Dinner tonight was the group's first meal at a DFAC.
The day ended with a meet and greet at Camp Patriot . The evening started with autographs and photos but ended with our players throwing long passes to troops.
These sort of unscripted interactions are really what the USO tours are all about. The NFL recognizes that our games provide a great deal of entertainment and diversion for troops during the season. Srg. Christopher Cleighorn said of Camp Arifjan earlier today, "Football is how we get through the fall and winter. It's how we relax and have fun. When the games come on, it's how we mark that another week has passed."
Our USO tours during the offseason attempt to serve as a personal extension of that, but I think our troops on the frontline know that we support them throughout the year and that we'll be there to support them until the mission is done.

.
New York Giants LB Danny Clark wrote his own blog post about the trip so far, and explains why teamwork in the desert means so much more than on the gridiron
This trip is truly humbling. To see how many people it takes to make this machine work is truly astonishing. Lt. Colonel Jones spoke of "18,000 points of failure," meaning there are over 18,000 troops in Kuwait at one time working together as one. You need every man and woman to get their job done at any cost.
We often draw many parallels in the game of football to the military and war mentality. While there are similarities, the difference can be fatal. If a running back misses a guy in pass protection, the worst thing that can happen is your QB gets blindsided for a 7-yard loss. If a pilot forgets to lock the hull of his vessel or a member of an infantry squad fails to do his job, every member of the team can lose their life. It's amazing to see kids just 19 or 20 years old pay painstaking attention to detail.
At Camp Arifjan, we came in contact with more than 2,000 soldiers, Marines, sailors and airmen. Whether it was signing autographs, taking pictures, shaking hands or even giving hugs, it was truly exhilarating for me at the rest of the guys. We also had an opportunity to have some fun by going out on a 34-foot Naval speedboat. Jared Allen jumped behind the wheel and performed some big donuts port side as well as starboard. Will Witherspoon (nicknamed Chestnut) took a turn next and did an impressive job behind the wheel.
Now today we just landed in Iraq, and I'm excited as ever. My brothers have touched this soil in the last few years, and I'm anxious to see how they lived. We all come from the same household, but we've had different experiences so far. I look to uplift every serviceman or woman I can and express my sincere gratitude for what they are doing for us back at home. Talk to you soon~ Danny Clark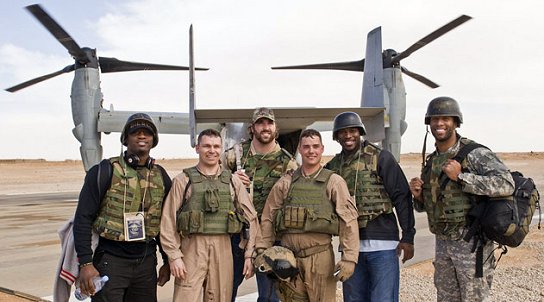 Standing behind two Marines, NFL stars Danny Clark, Jared Allen, Will Witherspoon and Larry Fitzgerald donned Kevlar vests for the second leg of their trip to the Persian Gulf.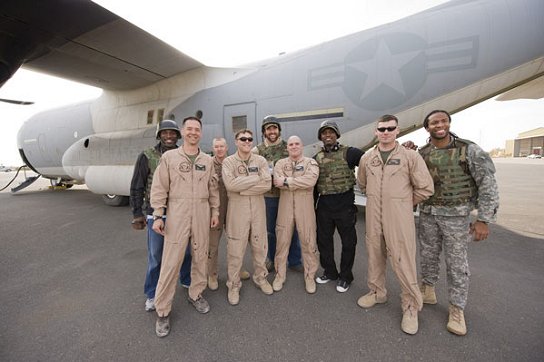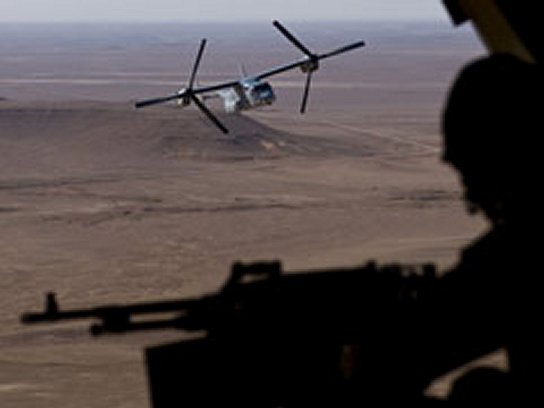 Flying from one camp to another was done aboard the US Marine Corp V-22 aircraft that incorporates the best features of a heavy lift helicopter and by rotating the props - the best features and speed of a fixed wing aircraft.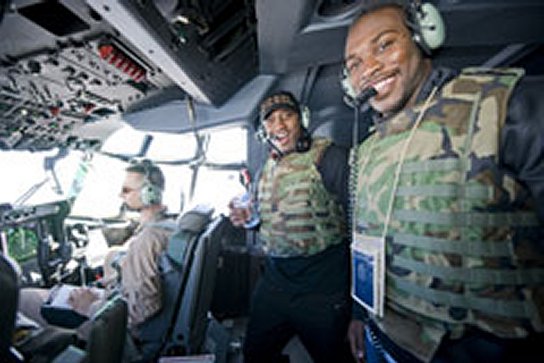 Up in the cockpit of the C-130J, are Danny Clark - Linebacker New York Giants and Will Witherspoon - Linebacker St. Louis Rams, to see what it takes to fly and navigate these workhorses of air cargo.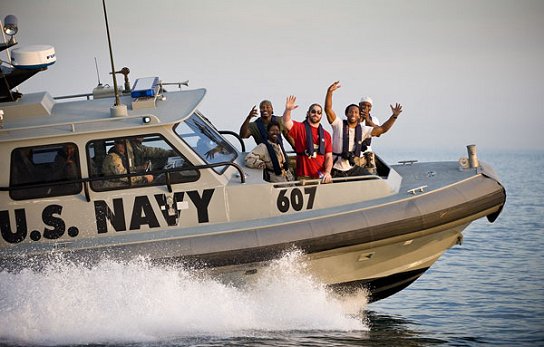 The U.S. Navy demonstrates the high manueverability of their jet-drive patrol boat as NFL players (L-R) Danny Clark, Jared Allen, Larry Fitzgerald and Will Witherspoon look on and wave Mar. 5, 2009.
shown here in body armor, and the Air Force flight crew, as they prepare to fly into the combat zone on a new C-130J (USAF)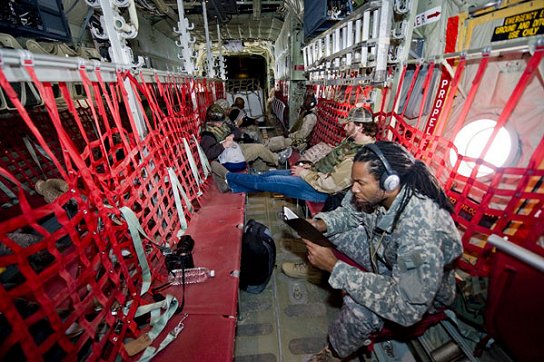 Catching a ride in a C-130 is not like travel in a commercial aircraft - with web and canvas seats to make the long trips
L to R) NFL players Will Witherspoon, Larry Fitzgerald, Jared Allen and Danny Clark visit SFC Letizia Payne of Landover, MD, as she receives care at an EMF Hospital in the Persian Gulf Mar. 5, 2009. A staple in USO entertainment, the NFL teamed up with the USO more than 40 years ago and has continued its long-standing tradition of bringing celebrity sports figures to service members year-round. (Photo by Dave Gatley/USO)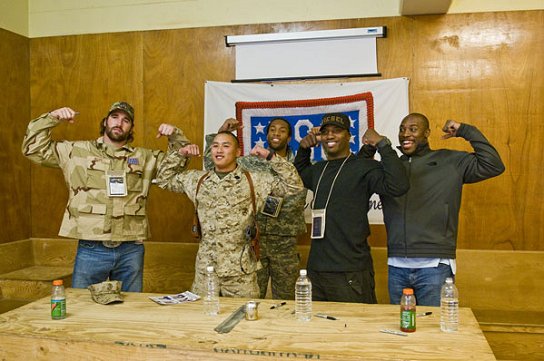 L-R) Jared Allen - Defensive End Minnesota Vikings; Larry Fitzgerald - Wide Receiver Arizona Cardinals; Danny Clark - Linebacker New York Giants; Will Witherspoon - Linebacker St. Louis Rams all making the "Gunfighter's Solute" as they pose for photos with US Navy Corpsman Jose(which is copied from the their symbolized pair of striking Cobra snakes on their unit patches (the air crew fly the USMC Cobra helicopters (AH-1W)). (Photo by Dave Gatley/USO)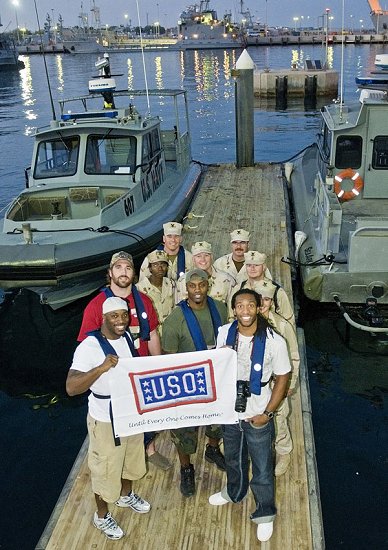 Posing for photos alongside a U.S. Navy patrol boat crew are (L-R) St. Louis Rams linebacker Will Witherspoon, Minnesota Vikings defensive end Jared Allen, New York Giants linebacker Danny Clark and Arizona Cardinals wide receiver Larry Fitzgerald Mar. 5, 2009

USO Tour blog: Planes, helicopters and automobiles
The NFL is continuing this March its legacy of more than 40 years of sending players overseas to visit with U.S. military troops. The NFL's Director of Community Affairs, David Krichavsky, is accompanying four NFL players -- Minnesota Vikings defensive end Jared Allen, New York Giants linebacker Danny Clark, Arizona Cardinals wide receiver Larry Fitzgerald, and St. Louis Rams linebacker Will Witherspoon -- on a week-long tour to U.S. military bases in Iraq and Kuwait.
Following is Krichavsky's Day 3 blog:
Day 3 of the NFL-USO Tour began with a 5:30 a.m. wakeup call, as our goal was to travel from Kuwait to Iraq and still have a full day with the troops in-country. We accomplished our mission and then some, but more on that to follow.
After a short ride to a military airbase outside Kuwait City, our group was fitted with body armor. Fortunately, the military makes XXL Kevlar vests that fit the players. We then headed to the flight line to board a C130 airplane to Iraq. At the flight line, the players signed autographs and took pictures with the crew before boarding the plane. Jared Allen found himself in a conversation with Cpl. Matt Van Ens (Call sign: Cashmere) of Lowell, Mich., a Detroit Lions fan, and Cpl. Steven Glenn (Call sign: Most Def) of Brooklyn Center, Minn., a fan of Allen's Minnesota Vikings. The three were soon discussing the now-infamous play from a Lions-Vikings game this past season when an Allen pass rush helped cause Lions quarterback Dan Orlovsky to run out the back of the end zone. Van Ens, the Lions fan, continues to have faith in his hometown team.
The players had been briefed regarding the C130, but they didn't fully grasp what it is like to ride in one until they entered the plane and were airborne. First, flying a C130 is loud. The four propellers cause a constant drone; it is for this reason that the crew hands you earplugs upon boarding. Riding in a C130 isn't particularly comfortable. The "seats" are vinyl benches that are suspended from the side walls of the plane. Nevertheless, the C130 has remained the workhorse of the U.S. Military for 50 years, transporting troops and supplies wherever they are needed.
After getting settled, Larry jokingly asked Staff Sgt. Rob Hurley, one of the very hospitable crew members, about the in-flight food and beverage service, adding that he would prefer the beef entrée to the fish option. Staff Sgt. Hurley was up to the challenge, though. He came back with a handful of MREs (Meals Ready to Eat) ranging from beef and broccoli to chicken pot pie to vegetable lasagna. Larry passed on the MRE, but Jared (as always) was game.
Following the direction on the MRE package, Jared added water to the entrée and waited a few minutes for the dehydrated food to constitute itself. Soon thereafter, Jared had a "breakfast" of Cajun rice, beans and sausage. "It's awesome!" Jared explained. "If I had these [MREs], when I was in college, I would have been all set. I'm going to grab a chicken and noodle one for my dad for later."
While Jared was enjoying the culinary delights of the U.S. military back in the hull of the C130, Danny Clark and Will Witherspoon had been invited to the cockpit to experience takeoff from the front of the plane. Will ended up staying in the cockpit for the entire 1½-hour flight. When I popped my head up there to check on him, I saw him sitting in the co-pilot's seat. When I asked him after we deplaned if he flew the plane at all, his response was "Can't tell you. I don't want to get anyone in trouble."
One thing I failed to mention about a C130 is that it is a painfully slow aircraft. Because our trip had us traveling the entire width of the country of Iraq, from the eastern border with Kuwait to our destination on the far western boarder with Syria and Jordan, we thankfully only took the C130 halfway to our destination. We made our "connecting flight" at Al Asad Airfield in central Iraq, just west of Baghdad. There, we picked up a CD Osprey Marine helicopter that zipped us to our destination, Camp Korean Village.
In the suburbs of nowhere
Camp Korean Village (CKV) is pretty close to the middle of nowhere. It sits at the far western edge of Iraq, at the country's three-point border with Syria and Jordan. In every direction you look from CKV, sand colors the horizon.
The one landmark at CKV is a major highway that cuts through the landscape. This highway is a very strategic thoroughfare because it serves as a major transportation route for commercial goods and sometimes arms and other black-market goods. In fact, the reason CKV got its name is because Saddam Hussein brought in indentured Korean workers early during his rule to work on the highway construction project. Those Korean workers lived in the same modest cement structures that now house our Marines.
Upon landing at CKV, our group was very graciously welcomed by the base command and escorted to lunch. The DFAC staff had reserved a large table for us in the center of the room, hung football pictures and figures from the ceiling, and designed an impressive model Lombardi Trophy as our table's centerpiece. The festive decorations were matched by the excellent chow (Mexican day: fajitas and tacos) that was declared our best DFAC food yet.
After lunch, we held a meet-and-greet for the 500 or so Marines on base. About 150 to 200 turned out to get an autograph and a photo with the players. This had to be almost every Marine who wasn't on patrol and was free to stop by and say hello. In fact, even the battalion chaplain, the inspirational Lt. Cmdr. Kobena Arthur, stopped by to thank Jared, Danny, Larry and Will for making the trip, and he offered a prayer for their safe travels. Even the chaplain, though, didn't leave before getting autographs and a photo with the players.
One final note on Camp Korean Village: The 2007 NFL-USO Tour actually visited this remote outpost with Tennessee Titans tight end Alge Crumpler, New England Patriots tight end Ben Watson, former Tampa Bay Buccaneers linebacker Shelton Quarles and former Kansas City Chiefs offensive lineman Will Shields. I also was part of that tour, as was USO tour manager Jeff Anthony, who is with us again this year. Jeff -- a former Marine who is not only great at his job of managing the logistics and operation of this tour but also has a deep reservoir of knowledge that he is willing to share -- is a veteran of more than 50 USO tours, including at least four NFL tours.
Returning to CKV two years later and listening to the Marines' description of their jobs made it clear to Jeff and I how much progress the U.S. has made in this region of Iraq. Our Marines are no longer participating in combat missions in most of Anbar province. The work that the Marines are doing is primarily helping the Iraqis find "Iraqi solutions to Iraqi problems," as Maj. Byron Duke told me at CKV.
As an example, our Marines have helped the Iraqis develop local police forces, established school systems to help educate both boys and girls, worked on civil-engineering projects and helped establish government Web sites. When U.S. combat forces pull out of Iraq in August of 2010, as President Obama has indicated, these elements of civil society will be needed to support Iraq.
Morale, welfare and recreation
From Korean Village, it was back to the osprey helicopters for a wild ride back east to Camp Al Taqaddum (TQ). I'm not sure if the chopper was practicing training with us or trying to show us a good time, but the dips and twists on this flight brought both stomach discomfort and calls for more from the players.
We eventually landed at TQ (no air-sickness bags needed) and were escorted to the command center, where we met with Gen. Juan Ayala, the top-ranking officer on base. The players not only received traditional military coins from the general but also American flags that had previously been flown on the base. Our group reciprocated by giving the general a limited-edition Super Bowl XLIII game coin, a replica of the one that General Petraeus used before the game in Tampa, Fla. We also presented Gen. Ayala with an NFL football autographed by our four USO stars.
Our day ended at TQ with a meet-and-greet and the MWR (Morale, Welfare and Recreation) center on base. After dinner, we saw a line of at least 100 people deep waiting for our players. By the end, this evening's session attracted well over 250 Marines, each one getting time to chat with the players, take pictures and just hang out.
As the last five or so Marines came through for autographs, I looked at Larry, Jared, Will and Danny -- still shaking hands, smiling and chatting away with the same enthusiasm as they had this morning. They had been up since 5:30 a.m. They were still jet-lagged. They had signed hundreds of autographs today and thousands in the past few days. They haven't said no to a single autograph request, and I feel like they have said hello to every single service member whom they have walked past. I couldn't be more proud of them. These guys have demonstrated over the past few days the commitment, dedication and passion for which the NFL stands.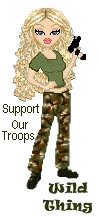 Wild Thing's comment........
Awesome! A big thank you to these football players and to the USO. And a tremendously HUGE thank you to our troops every second of every day!

....Thank you Mark for sending this to me.

Mark
3rd Mar.Div. 1st Battalion 9th Marine Regiment
1/9 Marines aka The Walking Dead
VN 66-67


Posted by Wild Thing at March 8, 2009 07:40 AM
---
Comments
We need to have more USO shows on tv! If Bob Hope could put them on, I think it would be more than fair. I feel it'd be great publicity for the military and show that it's not all war all the time. The kids deserve only the best and finest we can give them. They work hard so we don't have to.

Posted by: Lynn at March 8, 2009 10:35 AM
---
I was really impressed Larry Fitzgerald in the playoffs. Had the Cards had one more like him they would have won the Superbowl.
He always gives a 100% and its obvious when you watch him play and now this USO tour, this is fantastic. But that all of them made the trip is just great.
The NFL and the WWF deserve a lot of credit for participating in the USO tours.
Posted by: Mark at March 8, 2009 04:03 PM
---
Amazing!! Each one of these men have close family members who are either serving or have served. Truly Great Americans.
Posted by: BobF at March 8, 2009 04:18 PM
---
Lynn, I agree so much. I remember how Bob Hope would do a lot of shows that aired on TV with the troops and football players. There was always a special Bob Hope show on TV too the night before the Super Bowl Sunday. He had the troops and showed film of them from some of his trips.
I miss those days so much, when there was more about our troops and the USO shown.
Posted by: Wild Thing at March 8, 2009 05:35 PM
---
Mark, I remember that, I was really pulling for the Cards and so was Nicholas.
There is a real bond between sports people like this and our troops. Both are physical and I love how these guys are just as in awe of the troops as the troops can't wait to meet their sports figures.
Thank you Mark for this article, I loved how one of them said how what our troops do is life and death compared to what he does playing ball and might make a mistake.
Posted by: Wild Thing at March 8, 2009 05:40 PM
---
BobF., I loved that part. I am so glad you noticed that in the article. Lots of times those that go visiti thwe troops might have a distant relative or sometimes a close one serving now, but few articles point it out and this one did. I loved it.
Posted by: Wild Thing at March 8, 2009 05:43 PM
---